The Homestretch: Counting Votes, Clashing Ads, Countering Claims

The Election Day countdown is melting from days into hours as candidates, voting offices, and the courts are girding for both traditional and unexpected challenges. In some spots, counting has already begun. In other battlegrounds, nominees are making their final pitches, wooing nontraditional supporters, and looking ahead.
STATEHOUSE CONTROL: ABORTION, VOTING LAWS AT STAKE
Political turnover is within reach for out-of-power parties in a handful of states where control of state legislatures is narrowly divided. Those races tend to get less attention than top-of-the-ticket statewide contests for governor and U.S. Senate but often determine who has the upper hand on state policy.
Abortion access could change in Arizona and Michigan. Tax cuts could get to governors' desks in Minnesota and Maine. Universal mail-in ballot laws could be upended in Nevada.—Keshia Clukey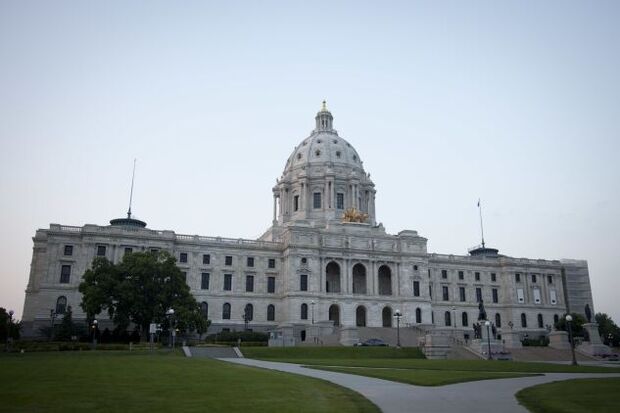 DISINFORMATION: OFFICIALS CONFRONT FLOOD OF RUMORS
Local officials face an increasing barrage of online disinformation ahead of the midterm election that they say they're ill-prepared to fight.
Foreign adversaries such as China are making a final push to discourage voting and undermine trust in the election through social media posts. Jen Easterly, head of the Cybersecurity and Infrastructure Security Agency, this week called threats from foreign actors a "significant concern."
But much of the responsibility to identify and debunk false claims falls to local election administrators, who say they lack the resources to get the job done. Some have built their own rumor-control websites or posted answers to frequently asked questions, but many have just two or three staffers to monitor social media platforms and flag disinformation.
"It's a daunting task and very few offices have the ability to monitor social media in a comprehensive way and just being aware of all the things being posted," said Wesley Wilcox, elections supervisor in Marion County, Fla. —Maria Curi
PENNSYLVANIA: COURT LIMITS BALLOT COUNTING
Pennsylvania counties may not count absentee or mail-in ballots with undated or incorrectly dated return envelopes, the state's Supreme Court said. County elections boards still must "segregate and preserve" those ballots. But in their order, the court's six justices were "evenly divided on the issue of whether failing to count such ballots violates" federal voting laws.
The question stems from a case involving fewer than 300 ballots in a county judicial race. Republicans had asked the Pennsylvania Supreme Court to intervene after Acting Secretary of State Leigh Chapman said counties should count those ballots, even after the US Supreme Court reversed a lower court's ruling that they should be counted even if voters leave the date off the outer envelopes. —Jennifer Kay
OHIO: VANCE PLEDGES TO ACCEPT RESULTS
Supporters of President Donald Trump's false claims that the 2020 election was rigged and stolen are running for key state and federal offices, in some cases pledging to take action against future results that don't go their way. But one former denier, Republican JD Vance, said he trusts the integrity of Ohio elections and he'd accept the results there if he loses the US Senate race to Democratic Rep. Tim Ryan.
"I expect to win," Vance, who's been endorsed by Trump, said at a town hall in Columbus on Tuesday. "But, of course, if things don't go the way that I expect, I'll support the guy who wins and I'll try to be as supportive as I possibly can."
Vance and Ryan are locked in an unexpectedly competitive race to replace retiring Republican Sen. Rob Portman. Republicans had thought the Ohio seat would be safe for the party in a state that Trump easily won twice, but Ryan has out-raised and outspent Vance, running a campaign to woo moderates and independents. —Mark Niquette
NEVADA: AAPI VOTE BECOMES A PRIZE
As the fastest growing group in the US, Asian American and Pacific Islander voters are being heavily courted this election season, when control of Congress and statehouses are at stake. In Nevada, the group makes up 10% of voters, a smaller percentage than Hispanics but big enough to make a difference in the state's multiple competitive races.
Days after Democrats Sen. Catherine Cortez Masto, Gov. Steve Sisolak, and Reps. Steven Horsford and Dina Titus headlined a Las Vegas dinner last month for Asian Americans and Pacific Islanders, Republicans hosted their own event at the Republican National Committee's Asian Pacific American Community Center, a former retail space decked out with GOP campaign signs. Republican Senate nominee Adam Laxalt has a version of his webpage in Tagalog, and RNC Chair Ronna McDaniel wrote an October op-ed in the Las Vegas Asian Journal titled "Filipino Americans Strengthen Our Country. Democrats Don't."
AAPI voters have typically leaned Democratic, but the group is not monolithic and there are signs of a shift. An October memo from Democratic and AAPI groups highlighted polling showing support for Democrats among AAPI voters fell to 51% from 56% in 2020. Meanwhile, support for Republicans grew to 36% from 34% in 2020.
Such gains might be small on paper, but Nainoa Johsens, the RNC's director of Asian American Pacific media, said it "could really be the difference in a lot of these races."
—Emily Wilkins
ARIZONA: RESTRAINTS ON DROP-BOX MONITORS
A federal judge put limits on ballot drop-box watchers in Arizona after a lawsuit alleged voter intimidation by a group that sent its members to the sites, including some in tactical gear. A temporary restraining order, signed Tuesday, prevents members of Clean Elections USA from coming within 75 feet of a drop box or following those who deposit ballots.
It also bans the would-be monitors from openly carrying a gun within 250 feet of a drop box, or from photographing voters and accusing them of fraud. Clean Elections USA also has to inform its members that Arizona law allows people to drop off the ballot of a family or household member.—Brenna Goth
KANSAS: A MICROCOSM FOR THE COUNTRY?
In the only election where a Democratic governor is running for re-election in a state Trump won in 2020, the former president is playing just a cameo role.
"He's been almost completely absent" in the contest between Kansas Gov. Laura Kelly, a Democrat, and her Republican opponent, Derek Schmidt, said Washburn University political science professor Bob Beatty.
Beatty said "there's no better example" than that race to study what voters are thinking about in 2022. A Kelly victory will mean voters were focused on Kansas-centered issues, she said. Kelly touts increased funding for public schools, recent infrastructure construction starts, and a $4 billion investment from Panasonic Corp., the largest in state history.
Schmidt argues for lower taxes, emphasizes inflation and criticizes President Joe Biden for profligate spending and being on the wrong side of social issues.
One Schmidt final campaign commercial shows Trump shaking hands with border agents and posing for a photo. Kelly also included Trump in her campaign's first commercial, showing Trump listening to what she has to say for almost three seconds, an attempt to show she can collaborate across partisan lines.—Stephen Joyce
OREGON: GOP LOOKS TO GAIN CONTROL
Oregon's unusually tight gubernatorial race could flip party control for the first time in 36 years, and is drawing eyes—and money—to competitive state legislative and congressional races.
Oregon GOP candidates are flush with cash and in-kind contributions in the final weeks before an election that could bring up to three more Oregon Republicans to Congress, flip the Oregon Senate, and erode the Oregon House's Democratic supermajority.
Three women—former Oregon House Speaker Tina Kotek (D), former House Minority Leader Christine Drazan (R), and Betsy Johnson, a former state senator who left the Democratic party to run as an independent—have their sights on the governor's mansion as Gov. Kate Brown (D) departs with a dismal 56% disapproval rating. The governor's race is listed a toss-up between the Republican and Democratic candidate by the top three political ratings scorecards.
The governor's election "has brought national attention to what's going on here," said Oregon political analyst Jim Moore, an associate professor at Pacific University. "There's a spotlight that goes to the other races, especially the Oregon Senate."
Out-of-state donors have poured more than $9 million into the candidates' accounts in the month before Election Day, according to a Bloomberg Government analysis of campaign finance data. —Tiffany Stecker
JUDICIAL ELECTIONS: STATE SUPREME COURTS UP FOR GRABS
State supreme court elections—including some where control could change with the flip of a single seat—are driving $57 million in political ads as Republicans and Democrats vie for judicial power.
Roughly a quarter of all state supreme court seats are on the line, with 84 races across 30 states. The races attracting the most attention—and money—are "where democracy in general is going to run through state courts," said Garrett Arwa, interim executive director for the National Democratic Redistricting Committee. Abortion has heightened partisanship in some races.
Roughly $47 million of the spending has been concentrated in Illinois, North Carolina, Ohio, and Michigan—states where the flip of just one seat could change which party's in the majority—according to the tracking firm AdImpact.
Republican campaigns and groups supporting them have bought the lions share, with $31 million worth of ads, versus $24 million from Democratic judicial candidates and their backers.— Alex Ebert
PENNSYLVANIA: GOP NOMINEE AVOIDS THE SPOTLIGHT
Republican gubernatorial nominee Doug Mastriano may be the GOP's best example of the trend in low-profile campaigns—skipping debates, refusing to take reporters' questions, and spending little on traditional political advertising.
Mastriano has turned down major media interview requests and refused to debate his opponent, Attorney General Josh Shapiro (D), unless he could choose his own moderator. Instead, he relies on social-media posts that highlight his Christian faith and military service, plus his core promises to fully ban abortion, allow more oil and gas drilling, push an overhaul of election laws and give parents more power in education.
Nothing in Mastriano's digital-only approach attempts to breach a divide with independents, swing voters, or the GOP establishment, said Alison Dagnes, a Shippensburg University political scientist.
"What he's basically saying to the voters of Pennsylvania is, 'I'm just reaching out to the people who not only already like me, but who already speak a language that I know half of Pennsylvania does not speak,'" she said. —Jennifer Kay
MICHIGAN: COURT CORRALS CHALLENGERS
The Michigan Supreme Court saved Detroit election workers from potential calamity with a ruling upholding—for now—a set of rules meant to limit disruptive behavior by ballot challengers and poll watchers.
In October, a lower court had blocked state rules that Democratic Secretary of State Jocelyn Benson wrote to prevent a repeat of the chaos that occurred at absentee-ballot counting locations in November 2020. The rules prevent challengers from bringing electronic devices into counting areas, give officials the authority to eject them for making bogus challenges to ballots, and prohibit political parties from designating additional challengers on Election Day. The Michigan Republican Party challenged the rules, contending they had not been subject to the proper notice-and-comment process.
In its ruling Thursday, the state's high court stayed that ruling until after the election. In a concurrence, Justice Richard Bernstein said, "the August 2022 primary election was conducted without any problems or objections" using these restrictions, and "if August 2nd went smoothly, I have no reason to believe November 8th will be any different."
Justice David Viviano, a Republican, in a dissenting opinion said the majority ruling was "barren of any legal analysis" and ensures "that the present election will not be governed by Michigan law."—Alex Ebert
NEW YORK: ABSENTEE BALLOT LAWS UPHELD
A state appeals court turned aside a last-minute challenge to voting laws that permit absentee ballots to be canvassed prior to Election Day and let voters "cure" or fix errors on their absentee ballots.
In its ruling Tuesday, the Appellate Division of the New York state Supreme Court sided with the state, finding that Republican and conservative petitioners waited too long to file suit against the laws, one of which was passed in 2021.
"Additionally, election matters are extremely time-sensitive and finding these statutes unconstitutional at this late date would impose 'impossible burdens' upon the State and local Boards of Elections to conduct this election in a timely and fair manner," the decision said.
Absentee and early voting is already underway in the state.—Keshia Clukey
FLORIDA: OPENING SALVOS FOR 2024?
Biden's assertion that Gov. Ron DeSantis is "Donald Trump incarnate" seemed to preview how the incumbent might handle a potential 2024 showdown with the Florida governor.
The criticism, leveled during a fundraiser in Miami, was a marked difference from the president's trip to Florida last month when he and DeSantis traded niceties while consoling victims of Hurricane Ian. But with the midterm elections approaching—and DeSantis holding a double-digit lead in his own reelection bid—the president asserted the Florida governor had displayed a callousness that toxified politics.
"This guy is not—he doesn't fit any of the categories I talked about," the president said. "The way he deals, the way he denies."
Biden turns 80 this month and has said he won't announce until after the Nov. 8 midterms whether he will seek reelection. He has repeatedly expressed confidence he would beat Trump in a rematch of their 2020 race, but had said comparatively little about DeSantis. —Josh Wingrove, Jordan Fabian, Justin Sink
(Was this newsletter forwarded? It's free! GET YOUR OWN. Tomorrow, we'll run through all the major statewide ballot questions.)
Razor's Edge Races
We've been chronicling the impact of redistricting by highlighting a different too-close-for-the-professionals-to-call contest each week. Here's a look at all of them, pulled together in a handy downloadable format: BGOV OnPoint: Razor's Edge Races
Resources
Add Us to Your Inbox
SIGN UP for Ballots & Boundaries, your check-in on ballot initiatives, state voting laws, and redistricting.
To contact the reporters on this story: Brenna Goth in Phoenix at bgoth@bloomberglaw.com; Emily Wilkins in Washington at ewilkins@bgov.com; Jennifer Kay in Miami at jkay@bloomberglaw.com; Stephen Joyce in Chicago at sjoyce@bloomberglaw.com; Keshia Clukey in Albany, N.Y. at kclukey@bloomberglaw.com; Tiffany Stecker in Sacramento, Calif. at tstecker@bgov.com; Alex Ebert in Madison, Wisconsin at aebert@bloomberglaw.com
To contact the editors responsible for this story: John P. Martin at jmartin@bloombergindustry.com; Angela Greiling Keane at agreilingkeane@bloombergindustry.com