Texas Republicans Outperformed Trump to Fend Off House Democrats
Van Duyne won only district that voted Biden, Republican for House
Dan Crenshaw outran Trump by largest margin of any GOP member
Only one out of 36 congressional districts in Texas voted for a different party for president and the House, as Joe Biden outperforming recent Democratic presidential nominees failed to translate to down-ballot wins.
According to data compiled by Bloomberg Government, House Republicans received more votes than Donald Trump in well-educated suburban districts that were strongly Republican a decade ago but have become more competitive for Democrats. That helped them maintain a 23 to 13 advantage in the House delegation, winning one more seat than Trump was able to carry.
The outlier was Republican Beth Van Duyne, a former Irving mayor who won a metropolitan Dallas-Fort Worth district by 2 percentage points even as Trump lost it by more than 5 points. Van Duyne received about 6,200 more votes than Trump, while Democrat Candace Valenzuela, an educator who sought to become the first Afro-Latina member of Congress, received about 17,300 fewer votes than Biden.
"Candidate quality matters, and Beth is a known, hard-working pragmatist who had tremendous success for the city of Irving while she was there," Chris Homan, Van Duyne's campaign consultant, said in an interview.
Homan said Van Duyne had strong ties to the local law enforcement community and that Valenzuela was "the most radical candidate" the Democrats could have nominated. But from the Van Duyne campaign's research and polling, "we could see that we were having to run ahead of the president and create that lift and separation in order for her to be successful," Homan said.
Click here to download a chart with the Texas presidential election results by congressional district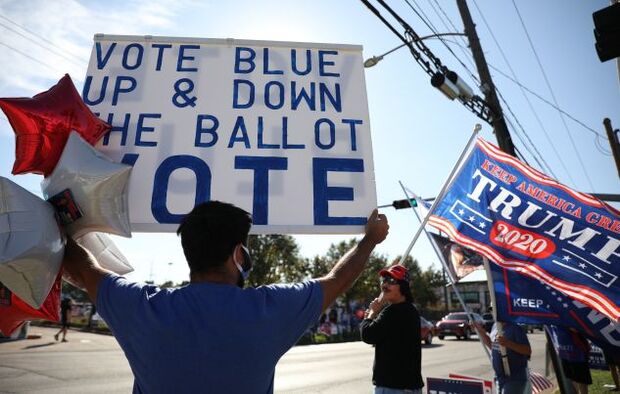 Biden came closer to carrying Texas than any Democratic presidential nominee since 1996 but still lost it by 5.6 percentage points and, thanks to the way the lines were drawn, only carried 14 of the state's 36 districts.
The Democratic House contender losing the 24th District as Biden carried it wasn't the only race that stung Democrats. The Hispanic-majority 23rd District, which stretches hundreds of miles from San Antonio to El Paso and along the border with Mexico, was left open by the retirement of Will Hurd (R). But Democrat Gina Ortiz Jones, who came within one-half of one percentage point of unseating Hurd in 2018, fell to Republican Tony Gonzales by 4 points.
The 23rd, which voted for Hillary Clinton over Trump by more than 3 points in 2016, shifted to back Trump by 2 points in 2020 and also voted to re-elect Sen. John Cornyn (R) by 5 points.
Outperforming Trump
Republicans generally ran ahead of Trump's performance, suggesting they built personal brands in their districts and were able to separate themselves from an unpopular president. Rather than Trump dragging them down by running on the same ticket, voters with a distaste for Trump could oppose him at the top of their ballots and still vote Republican for Congress.
Notable performances by Republicans included Rep. Dan Crenshaw, who was re-elected by 13 percentage points in a metropolitan Houston district Trump won by 1.3 points, and Rep. Van Taylor, who was re-elected by 12 points in a metropolitan Dallas district Trump carried by 1 point.
If Sen. Ted Cruz (R) doesn't seek re-election in 2024, Crenshaw could be a formidable potential candidate because he "has demonstrated an ability to outperform the GOP baseline to a better degree than anyone else," Mark P. Jones, a political scientist at Rice University in Houston, said in an e-mail.
Other Republicans who outperformed Trump and defeated well-funded Democrats include Rep. Chip Roy in the 21st District, which includes parts of Austin and San Antonio, and Troy Nehls in the 22nd District, a suburban Houston district left open by the retirement of Pete Olson (R).
Perhaps no Texas member of Congress has more crossover appeal than Henry Cuellar, a nine-term Democrat who ran about 7 points ahead of Biden in the Laredo-area 28th District. Cuellar was more popular with the general electorate than with Democratic primary voters in 2020: His bipartisan record almost led to his ouster in the primary by a well-funded progressive challenger, Jessica Cisneros.
In the adjacent 15th District, a Hispanic-majority area that runs from near San Antonio south to McAllen on the border, Rep. Vicente Gonzalez (D) was re-elected by just 3 points as Biden carried the district by 2 points and Cornyn won it by 0.5 points.
A bright spot for Texas Democrats was their retention of the 7th and 32nd districts, which they wrested from Republican control in 2018. In the 7th, which includes western Harris County in the Houston area, Rep. Lizzie Fletcher was re-elected by 3.3 points as Biden won the district by 8.5 points.
Fresh Set of Lines
The fast-growing state is expected to add three House districts after official state population counts are released in the next few weeks. And the 2020 election data will influence how Texas legislators redraw the state's districts before the 2022 midterm elections.
For instance, Republican mapmakers will weigh whether to add Republicans to Fletcher's district to make her more politically vulnerable, or decide instead to shore up nearby Republican-held districts where Democrats are becoming more competitive.
"Democrats won two new U.S. House seats in 2018 but were denied further gains in 2020 while Republicans maintained complete control of statewide offices and both houses of the legislature," Cal Jillson, a political scientist at Southern Methodist University in Dallas, said in an e-mail. "Hence, Republicans will again dominate redistricting once the 2020 census numbers are out and will seek to rebuild their electoral advantages."
To contact the reporter on this story: Greg Giroux in Washington at ggiroux@bgov.com
To contact the editors responsible for this story: Kyle Trygstad at ktrygstad@bgov.com; Bennett Roth at broth@bgov.com