Texas Lieutenant Governor Sued Over Senate Covid-Testing Rules
Senate requires tests for visitors entering chamber, gallery
Opponents say rules violate state constitution, free speech
Texas Agriculture Commissioner Sid Miller is suing fellow Republican Lt. Gov. Dan Patrick and the Texas Senate to stop rules requiring visitors to take a Covid-19 test before entering the chamber.
Senate rules adopted in January require a negative test—performed in a tent outside the Capitol building—before anyone can enter the chamber, gallery, or attend a committee meeting. Visitors testing negative get a wristband so they can go in.
Joined by Houston-area conservative GOP activist Dr. Steven Hotze, Miller's 18-page lawsuit filed Tuesday seeks a court order halting the testing requirement, calling it a violation of free speech and the right to petition the government under the Texas Constitution.
"Government power cannot be exercised in conflict with the constitution, even in a pandemic," according to the lawsuit filed in Travis County District Court. "Texas law does not and cannot empower Patrick or the Texas Senate to impose a medical test before one is able to participate in government."
The lawsuit seeks a temporary restraining order and declaration of the Senate testing rule as invalid.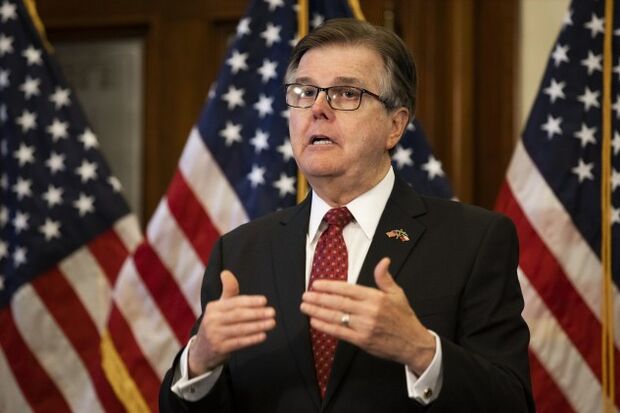 Patrick spokesman Steven Aranyi said the lieutenant governor agrees with the Senate testing rule to protect the public, lawmakers, and "Capitol staff who interact with hundreds of visitors every day."
Testing took effect Jan. 13 after the Senate passed a resolution (S.R.1) 31 to 0.
Houston attorney Jared Woodfill, who filed the suit, said the chamber's rule is "egregious" because undergoing a Covid test is not a requirement for sitting in the Texas House and public areas of the Capitol.
"Patrick is leading an unconstitutional effort to shut down Texan's access to their government," he said. "A medical procedure has never been required to access one's government."
The case is In re: Hotze, Tex. Dist. Ct., Original petition and applications for emergency temporary restraining order, temporary injunction, and permanent injunction 3/23/21
To contact the reporter on this story: Paul Stinson in Austin, Texas at pstinson@bloomberglaw.com
To contact the editors responsible for this story: Tina May at tmay@bloomberglaw.com; Meghashyam Mali at mmali@bloombergindustry.com