Texas GOP Creates House Pickup Opportunity in Hispanic District
Party seeks to build on 2020 gains in Rio Grande Valley
Incumbent Democrat running for a neighboring seat
A Hispanic-majority congressional district in south Texas that was a Democratic stronghold until the 2020 election emerged from redistricting as the state's only battleground district and a test case for Republicans.
The GOP is eyeing the 15th District, which runs from near San Antonio south to populous Hidalgo County on the U.S.-Mexico border, after making surprising gains in the heavily Hispanic Rio Grande Valley in 2020 that eroded the Democratic Party's longtime dominance.
The race for the open seat in 2022 will indicate whether the Republican surge was a one-off or if the party can sustain its gains.
"It is an opportunity that Republicans haven't seen in a while," said Matt Langston, a Texas-based Republican strategist.
Under the current Texas congressional map, the 15th voted for Hillary Clinton by 17 percentage points in the 2016 presidential election, then backed Joe Biden by only 2 points in 2020. Under the redrawn map Gov. Greg Abbott (R) signed into law Monday, the reconfigured 15th would have voted for Donald Trump by 3 points.
While the new and current 15th are both 81% Hispanic, the new district is more Republican-friendly after mapmakers made changes that included replacing more Democratic-leaning parts of Hidalgo County with parts that were slightly less pro-Biden.
Democrats are challenging the map in court.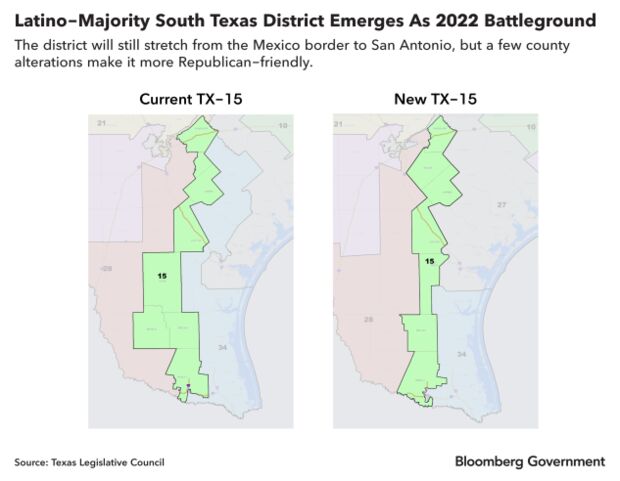 No Republican in the current 117th Congress represents a district as heavily Hispanic as the new 15th. Aiding Republicans' quest to win it in 2022 is that Rep. Vicente Gonzalez (D), who was re-elected 51%-48% in 2020, is running next door in the 34th District, a more Democratic-friendly area where Rep. Filemon Vela (D) isn't seeking re-election. A late change to the Texas map shifted Gonzalez's home into the 34th District.
The leading Republican candidate in the 15th is Monica De La Cruz, a businesswoman who nearly unseated Gonzalez in 2020 and who reported $422,000 in cash on hand as of Sept. 30. Ryan Krause, who lost to De La Cruz in the 2020 Republican primary runoff, filed paperwork with the Federal Election Commission on Monday to run again.
Democratic candidates include Ruben Ramirez, a lawyer and Army veteran who served in Afghanistan and was awarded the Bronze Star, and Eliza Alvarado, who works for a regional education service center and previously was an aide to Gonzalez's predecessor, Rubén Hinojosa (D).
Without Gonzalez, "Democrats are starting from scratch to both field a candidate and raise money in that district," said Dave Wasserman, the House editor of The Cook Political Report with Amy Walter.
How GOP Made Gains
How Republicans improved in the Rio Grande Valley in the 2020 election is still a subject of discussion and debate. But Democratic and Republican officials and independent political analysts pointed to statements by Democratic politicians about the oil and gas industry, a major employer in south Texas.
During a 2020 presidential debate with Trump, Biden's comment that "I would transition from the oil industry" to combat climate change attracted unwelcome attention.
Biden's statement "was bound to have a negative effect on the voting in south Texas," said Norma Ramirez, chair of the Hidalgo County Democratic Party. "Nearly every family in south Texas has someone that works in the industry and is the breadwinner of the house. Candidate Biden's comments about the oil and gas industry during the presidential debate was not helpful."
Clyde Barrow, a political scientist at the University of Texas Rio Grande Valley in Edinburg, cited a "massive expansion of the border-industrial complex," including an influx of thousands of more state police and immigration enforcement officials. "They're voting their jobs," he said.
Barrow also said south Texas Hispanics tend to have a culturally conservative bent and are "not liberal by any stretch of the imagination."
Langston said the Trump campaign specifically targeted voters in the area with a "face-to-face message that was constantly there." He said Republicans should focus on recruiting candidates who can "speak to the community without barriers" and on crafting locally focused campaign messages that don't "get caught up in the national fray."
In Hidalgo County, which accounts for 75% of the population in the redrawn 15th District, Ramirez said Democrats "have redoubled efforts" after Republicans did better than expected because of Biden's comments about the oil and gas industry, Democrats pulling back on in-person get-out-the-vote efforts during the coronavirus pandemic, and the 2018 election of a county judge who ran as a Democrat but has supported Texas Republicans.
"We are educating statewide and national candidates on the unique political culture of south Texas and will continue to redouble our GOTV efforts including enhanced voter registration and canvassing," Ramirez said.
With assistance from Jonathan Hurtarte
To contact the reporter on this story: Greg Giroux in Washington at ggiroux@bgov.com
To contact the editors responsible for this story: Kyle Trygstad at ktrygstad@bloombergindustry.com; Bennett Roth at broth@bgov.com