Texas Courts at a Redistricting Crossroads: Ballots & Boundaries
Bloomberg Government subscribers get the stories like this first. Act now and gain unlimited access to everything you need to know. Learn more.

In 2020, voters in one of Texas's appellate court districts elected the state's first Latina chief justice.
This week, the state Senate could move toward making it harder for her to win re-election.
The legislation (S.B. 11) ready for a floor vote would dump half of the appeals court districts, forcing Chief Justice Yvonne Rodriguez and her colleagues to stand before twice as many voters and campaign across far wider areas.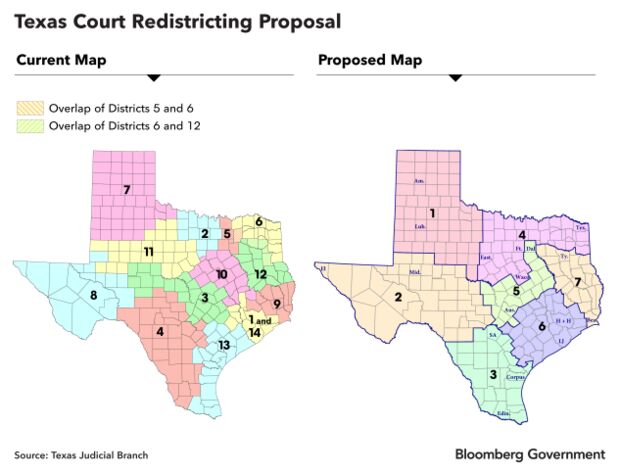 Republicans control every stage of the process in Texas. They say the goal is a more efficient court system. READ MORE from Paul Stinson.
ARIZONA: WHO'S AT THE DOOR?
Knocking on doors to question voters is one of the methods used by the firm that Arizona's Republican-controlled state Senate hired to audit the 2020 election to verify whether Joe Biden really won the presidential vote.
The $150,000 agreement with Cyber Ninjas seeks an audit of 2.1 million ballots, and allows phone calls and physical canvassing to gather information on voting history for comparison with Maricopa County data.
Voters won't be asked who they voted for, according to the scope of work. The company intends to recount all ballots for federal races, with a workforce mostly of former law enforcement members, veterans, and retirees.
The founder of Cyber Ninjas "has used social media to promote a range of unfounded election fraud claims and was involved with a previous effort to overturn election results in Michigan," according to the Arizona Republic. — Brenna Goth
OREGON: INTRAPARTY FIGHT
There's a Democrat-on-Democrat redistricting fight in Oregon, where the Legislature sued the secretary of state in state Supreme Court over how to deal with compressed deadlines, delayed U.S. Census data, and who will draw new borders. The high court still must determine whether it even has jurisdiction, though it had some suggestions.
The Democratic supermajority Legislature wants to block fellow Democrat and Secretary of State Shemia Fagan from reapportioning legislative districts until three calendar months after 2020 Census data arrives.
Only twice in the past 100 years has the Legislature met its July 1 redistricting plan deadline without secretary of state or court intervention, according to Common Cause Oregon. The fight comes as Oregon is expected to add a congressional seat once Census numbers arrive in late September.
Fagan argues that the final lawful map wouldn't be enacted before the May 2022 primary and in fact wouldn't arrive before July 2022. The court suggested an Oct. 15 deadline for lawmakers to devise a plan before it falls to Fagan to draft district lines a week later. — Joyce E. Cutler
COLORADO: ROCK, COMMISSION, HARD PLACE
State legislative leaders and the governor have urged Colorado's redistricting commissions to start their work, using American Community Survey estimates if they have to.
But that survey only covers about 2.7% of households every year, and since the state's constitution (Amendments Y and Z) requires the commissions to rely on "necessary census data" for preliminary map-drawing, using that could invite litigation, said Jerry Barry, assistant director of the Colorado Legislative Council.
The key is finding out what "necessary Census data" means. Barry said it might be best to ask the Colorado Supreme Court. Either chamber of the General Assembly could do that, but the commissions don't have that authority, he said.
See also: One of Colorado's remapping commissions demoted the guy initially given the gavel, in part because of social media comments questioning the outcome of the 2020 presidential election. — Tripp Baltz
ILLINOIS: A TARGET OF 20
Illinois redistricting map makers should include 20 state legislative districts with populations of at least 50% Latino residents to comply with federal civil rights requirements, Roberto Valdez, a spokesman for the Latino Policy Forum, told a state Senate Redistricting Committee.
About 2.2 million Latinos live in Illinois, or roughly 17% of the state's population. Based on that, Valdez concluded that map makers should draw 15 state House districts and five state Senate districts with populations that are at least 50% Latino. — Stephen Joyce
WYOMING: LONG-REMEMBERED LESSON
In urging support for a voter identification bill, Wyoming state Sen. Charles Scott (R) said that while Wyoming's "blessed with very honest elections," there have been abuses elsewhere.
"I've seen it," he said.
In college.
More than 50 years ago.
"The city the school was located in, there'd been a whole number of dead people that had voted in the previous presidential election when I was there," Scott said during debate on the bill (H.B. 75). "That was just the way they did business. They wanted to make sure their hometown guy got a good vote, and somebody voted claiming to be somebody who was dead. We don't want that in Wyoming."
Scott graduated from Harvard College in 1967 and earned an MBA from Harvard Business School in 1969. — Tripp Baltz
GEORGIA: THE REPERCUSSIONS
If you follow Major League Baseball, you already know that MLB moved the All-Star Game to Denver from Atlanta because of Georgia's new voting law.
Here's a taste of the Twitter response from the destination state's attorney general, Phil Weiser (D), from former Secretary of State Mike Pompeo (R), and from Republicans in Congress:
See Also:
McConnell Slams `Outrage-Industrial Complex' on Voting Laws
Rubio Asks MLB Commissioner If He'll Give Up Augusta Membership
American Air Pans Texas Vote Bill in Echo of Delta-Georgia Feud
Black CEOs Condemn Voter Curbs, Urge Peers to Fight Back
Georgia Election Officials Sued Over New Voting Rules
Ballots & Boundaries is your weekly check-in on what states are doing to change voting laws and reconfigure political boundaries in once-a-decade redistricting.
To contact the reporters on this story: Stephen Joyce in Chicago at sjoyce@bloomberglaw.com; Paul Stinson in Austin, Texas at pstinson@bloomberglaw.com; Tripp Baltz in Denver at abaltz@bloomberglaw.com; Brenna Goth in Phoenix at bgoth@bloomberglaw.com; Joyce E. Cutler in San Francisco at jcutler@bloomberglaw.com
To contact the editors responsible for this story: Tina May at tmay@bloomberglaw.com; Katherine Rizzo at krizzo@bgov.com
Stay informed with more news like this – from the largest team of reporters on Capitol Hill – subscribe to Bloomberg Government today. Learn more.