Tech Spending Boosted by Covid-19 in Second Quarter: This Is IT
Bloomberg Government subscribers get the stories like this first. Act now and gain unlimited access to everything you need to grow your opportunities. Learn more.
Civilian information technology contracting obligations have continued to increase despite concerns that Covid-19 could slow contract awards and payments to contractors.
Civilian agencies obligated $7.7 billion on IT contracts in the second quarter of fiscal 2020, up 15% from $6.7 billion in fiscal 2019. That's the second year of double-digit IT market growth in the second quarter. In fiscal 2019, obligations during the quarter were up 17%. Related spending had been down or flat in the two years prior. Defense Department obligations aren't considered because the agency reports spending on a 90-day delay for national security reasons.
The increase in fiscal 2019 may be partially explained by agencies trying to spend their newly appropriated budgets; the full fiscal 2019 budget wasn't signed until Feb. 15, about halfway through the second quarter. The fiscal 2020 budget was appropriated in December 2019. So even though funding wasn't made available by the start of the fiscal year, agencies didn't have the same delays or need to spend larger budgets in reduced timeframes.
Virus Indirectly Pushing Earlier Awards, More Contracts
There's not a direct link between the IT spending increase and Covid-19. About $98 million was spent on civilian agency Covid-19-related contracts and task orders in the second quarter of fiscal 2020. While that is a substantial amount, it's only about 10% of the $1 billion increase. It's possible that Covid-19 could become a bigger driver of increased IT spending in the third quarter, with Covid-19-related IT obligations in April reaching more than $325 million to date.
Instead, Covid-19 has influenced awards and obligations in a more indirect way in the second quarter. Increased work from home arrangements have led to the Navy's acquisition community working to award contracts ahead of schedule in anticipation of many contract adjustments once the effects of the pandemic play out. One contract at the Space Force was awarded four months ahead of schedule. It's likely that acquisition offices in civilian agencies are preparing in the same way.
Comparing IT spending in March and April further supports this theory. Civilian IT spending in March and April of 2020 is up almost $500 million compared with the same months in fiscal 2019.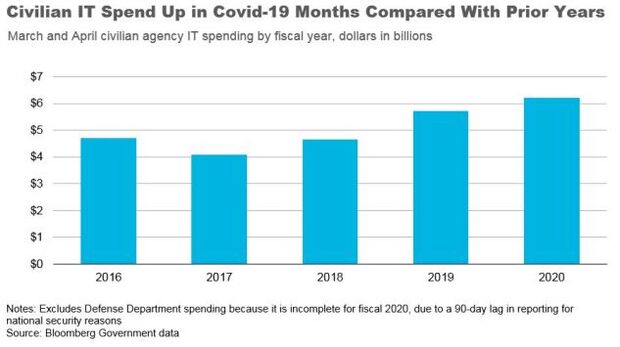 A small amount of that increased spending is also due to telework and telehealth-related IT, such as virtual private networks and teleconferencing technologies, which is a big need as agencies have to telework during the outbreak. Civilian spending in March and April 2020 for these technologies was $60 million, according to Bloomberg Government data. In comparison, similar spending was $6 million and $12 million in fiscal March and April of 2018 and 2019, respectively.
In addition to increased spending, there were more IT solicitations released in the second quarter of fiscal 2020 than in the second quarter of any of the previous four fiscal years. The amount of solicitations released by civilian agencies and the Pentagon increased in each month of fiscal 2020's second quarter. Their continued increase in April indicates that the uptick in solicitations isn't slowing down. Instead, they are speeding up, possibly for the same reason that the acquisition offices are awarding contracts early.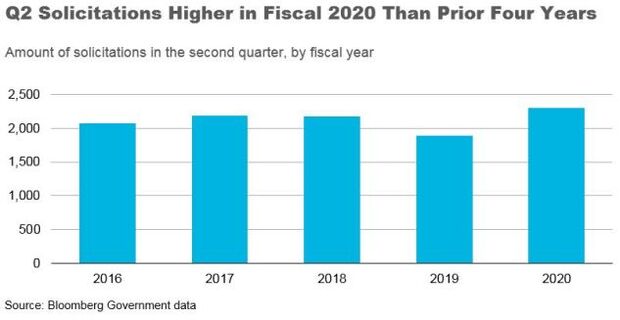 What's Ahead
Despite April showing a continuation of increased awards and solicitations, contractors should be prepared for a possible drop in IT awards and solicitations in this year's third and fourth quarters.
On the other hand, the money provided in the CARES Act for IT modernization, and products and services that support telehealth and telework is available through the end of fiscal 2021. That extra money will increase the overall budget for IT and could mean that spending will continue to increase over the course of the entire fiscal year.
With assistance from Paul Murphy
To contact the analyst: Laura Criste in Salt Lake City, Utah at lcriste@bgov.com
To contact the editor responsible: Daniel Snyder at dsnyder@bgov.com
Stay informed with more news like this – the intel you need to win new federal business – subscribe to Bloomberg Government today. Learn more.