Tech Fund May Struggle to Spend Potential $1B Boost: This Is IT
Bloomberg Government subscribers get the stories like this first. Act now and gain unlimited access to everything you need to grow your opportunities. Learn more.
A House bill that's part of another proposed Covid-19 relief package would include an additional $1 billion for the Technology Modernization Fund, a government-wide investment fund that supports information technology upgrades. But it's not likely that that the TMF would receive that large of a boost — and it's even less clear that it could spend all the money before the funding expired.
Eight months into fiscal 2020, the fund has only awarded a little more than half of the existing TMF money — $81 million of the $150 million already appropriated — to modernization projects. The existing fiscal 2020 appropriations will "remain available until expended," according to the law, but at the current pace, new money from the latest proposal could not be completely expended on IT modernization before it expired at the end of fiscal 2022, as the bill proposes. The TMF's low spending rate could be due to several factors, such as conservative project choices or lack of qualifying proposals.
The $1 billion included in H.R. 6800, called the HEROES Act, would be for "technology-related modernization activities to prevent, prepare for, and respond to coronavirus, domestically or internationally." That type of IT modernization could include public health-related IT upgrades, electronic medical records, systems to support relief efforts, systems to support welfare assistance and social services programs, systems and hardware that support telework and telehealth services, and more.
Contractors that already provided such services to the government may be able to help agencies identify new projects that could be funded through the TMF.
More Projects Needed
If the TMF received a large boost, it's unclear how it would increase government IT spending. Of the $81 million that has been awarded, the TMF has transferred $50 million of that money to agencies, and agencies have spent just $34 million.
The TMF board has selected nine projects so far, two of which have been added since the last time Bloomberg Government reported on the TMF in February 2019. Three of the projects have been with the Agriculture Department, and the remaining six projects have been with five different agencies, so the fund isn't reaching a wide range of government agencies yet.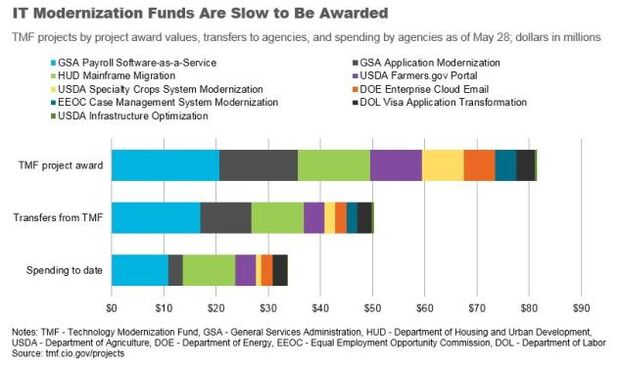 To win funding from the TMF, agencies must submit project proposals which are then considered by the fund's board, a group of seven voting members that evaluates and chooses which programs to support and monitors their progress. The fund was created by the Fiscal 2018 National Defense Authorization Act (Public Law 115-91), which authorized as much as $250 million in appropriations in fiscal years 2018 and 2019. The fund received $125 million during that period, leaving the remaining $325 million to expire. In fiscal 2020, another $25 million for the TMF was included in the Consolidated Appropriations Act of 2020 (Public Law 116-93).
It's possible that TMF spending has been slow because agency IT modernization requirements don't align with the requirements of the fund, but that's unlikely. The TMF board has specified that it's looking for projects that emphasize shared services and services for citizens, and Bloomberg Government data shows that dozens of agencies have spent $1.7 billion on citizen-facing digital services in fiscal 2019.
Agencies may also be concerned about the modernization process or oversight required to receive the money. The board doesn't provide all the money for a project in one payment, and has so far transferred just $34 million to agencies. Agencies have five years to pay back the fund using the savings that the modernization investments are supposed to make possible. Once those funds are repaid, the board can award more IT modernization projects, continuing the cycle.
The most likely explanation is that the board is being conservative with its project choices to ensure that the fund is repaid. With more money, there would be less of a risk that a failed project would be a threat to the long term health of the fund. It's also possible that proposal submissions have slowed. As of November 2018, more than 40 proposals had been submitted and $70 million had been allocated. Since then, the TMF has distributed just $11 million more to projects.
The board wants agencies to use an Agile development process and provide periodic updates in exchange for incremental funds to ensure that if a project fails or the agency is unable to pay back the TMF, the full award amount isn't lost.
If the TMF received a substantial increase in funds, a larger number of agencies would need to submit many more proposals for projects that address urgent problems, help citizens, and can be implemented at other agencies, to ensure the funds don't expire.
$1 Billion Is a Stretch
If a TMF increase makes it into law, that $1 billion figure is probably unrealistic. Not only is the value about seven times higher than the $150 million that's been appropriated to the fund since fiscal 2018, but in each budget since fiscal 2018, more money has been requested for the fund than what has actually been appropriated. The fact that a TMF funding increase is in the bill only means that it's in the negotiating mix. However, even if final value doesn't get close to the $1 billion request, just a portion of that request could still more than double the amount appropriated to the fund so far.
It's likely that many of the projects will be funded through task orders on contracts that have already been awarded, such as with GSA's NewPay project. Government contractors on contracts or task orders that could use additional money to fulfill ideal TMF project criteria — such as like digital or shared services that also support Covid-19 prevention, preparation, and response — can help agencies identify those projects and submit proposals, along with helping them follow an iterative process throughout the project life cycle to ensure success and keep the TMF running.
To learn more about the types of Covid-19-related technology that agencies need, use Bloomberg Government's Contracts Intelligence Tool, where you can view details on how federal agencies have spent $733 million on IT products and services as of June 3. BGOV's shared services and citizen-facing digital services markets are also good resources for understanding historical requirements in markets that the TMF has emphasized.
To contact the analyst: Laura Criste in Salt Lake City, Utah at lcriste@bgov.com
To contact the editor responsible: Daniel Snyder at dsnyder@bgov.com
Stay informed with more news like this – the intel you need to win new federal business – subscribe to Bloomberg Government today. Learn more.