Tech Companies Couldn't Force Arbitration Under Draft Bill (2)
Cantwell's draft bill diverges from committee counterparts
Technology industry opposes private rights of action
(Updates June 1 story with additional reporting throughout.)
Bloomberg Government subscribers get the stories like this first. Act now and gain unlimited access to everything you need to know. Learn more.
People who sue technology companies for certain privacy violations wouldn't be forced into arbitration under a bill Sen. Maria Cantwell (D-Wash.) has drafted.
Lawmakers for years have been trying to pass a federal privacy law as consumers fret over how their data is used, while the tech industry fears having to comply with a patchwork of state regulations. Negotiations had stalled since 2019 until now, as three out of four key committee leaders have come to an agreement.
"As an entity focused on promoting privacy protections, it's tremendously exciting to see bipartisan interest and the potential for the real action we've been waiting for for many years," said Alan Butler, executive director and president of the Electronic Privacy Information Center.
A major sticking point has been whether to allow individuals to directly sue companies such as Twitter Inc. and Zoom Video Communications Inc. over alleged privacy violations. Both companies have faced lawsuits from individuals in California, where the state's privacy law allows for limited private rights of action.
Cantwell, the chair of the Senate Commerce, Science, and Transportation Committee, and the panel's ranking member Roger Wicker (R-Miss.) had agreed to allow for private rights of action—when a regular person can enforce their own rights, rather than relying on a state or the Federal Trade Commission to sue. But negotiations faltered when it came to mandatory arbitration, a source familiar with the discussions said on Wednesday.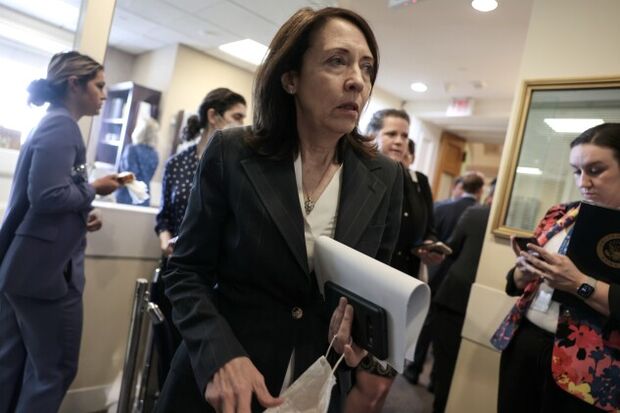 Cantwell, in a draft bill obtained by Bloomberg Government, stipulates that consumers can pursue their disputes in a public court of law, even if their product's terms of service says disputes will be handled through binding arbitration. Specifically, consumers wouldn't have to go through forced arbitration for a "substantial privacy harm," which the draft bill defines as harm to an individual worth $1,000 or more, or certain physical and mental harm.
Giving consumers the choice to pursue a lawsuit in court is important because arbitration is confidential, relies on a paid arbiter, and tends to favor companies over consumers, according to the source.
But Butler argues that prohibiting forced arbitration in private rights of action shouldn't be a dealbreaker for any legislation. It is a piece of a piece in a bigger enforcement tool box, and it is more important to ensure there is adequate funding for the FTC and states to enforce the law, he contended.
Wicker's office didn't respond to repeated requests for comment.
Read More: Consumer Privacy Opt-Outs Specified in California Draft Rules
Reconciling Drafts
Cantwell's draft bill also includes a duty of loyalty provision, which stipulates companies are prohibited from engaging in deceptive or harmful data practices. This was another area where Cantwell and Wicker came to an impasse, the source said, adding the language in the bill is a placeholder and doesn't represent a firm position.
Cantwell has been sharing the draft over the last several days with stakeholders and other lawmakers, working on garnering support and reconciling her bill with the others, a staffer for Cantwell's office said.
Meanwhile, Wicker, as well as House Energy and Commerce Committee Chair Frank Pallone (D-N.J.) and ranking member Cathy McMorris Rodgers (R-Wash.) have agreed on a separate draft, according to two sources familiar with the issue. Binding arbitration is one major sticking point between the two drafts.
Tech companies continue to oppose any form of private rights of action in federal privacy legislation. The Chamber of Commerce this week warned committee leaders against the practice, arguing that it would lead to abusive lawsuits.
A duty of loyalty provision would make private rights of action even less palatable for industry because it could lead to years of trying to figure out what constitutes a privacy harm, and companies would fear litigating and just settle, according to an industry source who spoke on background to discuss sensitive conversations.
The Cantwell staffer said her office is working to overcome the Chamber of Commerce's opposition.
Jeff Joseph, president of the Software & Information Industry Association industry group, said the parameters in Cantwell's bill for a substantial privacy harm "begin to approach some level of reasonableness."
"We support a limited, specific allowance for private rights of action. We just don't want it to be an excuse for new revenue streams for trial attorneys," he said, adding any duty of loyalty language also must be very specific.
To contact the reporter on this story: Maria Curi in Washington at mcuri@bloombergindustry.com
To contact the editors responsible for this story: Anna Yukhananov at ayukhananov@bloombergindustry.com; Meghashyam Mali at mmali@bloombergindustry.com; Robin Meszoly at rmeszoly@bgov.com
Stay informed with more news like this – from the largest team of reporters on Capitol Hill – subscribe to Bloomberg Government today. Learn more.