Tech Antitrust Bill Stokes Content-Moderation Worries (Correct)
Schumer has 'pledged' to hold vote on bill, Klobuchar says
Meta, Amazon warn about measure's unintended effects
(Clarifies Sen. Booker's position on the legislation in 13th paragraph.)
Bloomberg Government subscribers get the stories like this first. Act now and gain unlimited access to everything you need to know. Learn more.
Privacy and content-moderation concerns are festering as Sen. Amy Klobuchar (D-Minn.) pushes ahead with legislation to thwart anti-competitive practices online.
Lawmakers are united over the need to rein in big technology companies. Members of both parties are working on a sweeping bicameral effort involving various bills aimed at promoting competition, protecting consumers, and holding companies accountable for the spread of disinformation online.
One of the most prominent measures, Klobuchar's (S. 2992), would prohibit companies such as Alphabet Inc.'s Google and Amazon.com Inc. from giving preference to their own products, by placing them at the top of search results, for example. The senator's American Innovation and Choice Online Act also would bar businesses from restricting competitors' access to data generated on their platforms.
The measure has drawn heavy lobbying from tech companies. They say limiting a company's ability to demote and remove other businesses on its platform would interfere with efforts to moderate harmful content. Their arguments are weighing on undecided lawmakers.
"I agree with the spirit of what we're trying to achieve here, but making sure the language is right matters," Sen. Alex Padilla (D-Calif.), whose state is home to many of the tech heavyweights' headquarters, said in an interview. "The best example is making sure we're not inadvertently facilitating hate speech."
Many Democrats worry disinformation online risks compromising voter faith in the country's electoral system and could lead to violence such as the Jan. 6, 2021 attack on the Capitol.
Klobuchar said Senate Majority Leader Chuck Schumer (D-N.Y.) has "pledged" to find floor time for the legislation despite the chamber's crowded schedule. Negotiations on the bill's language are continuing.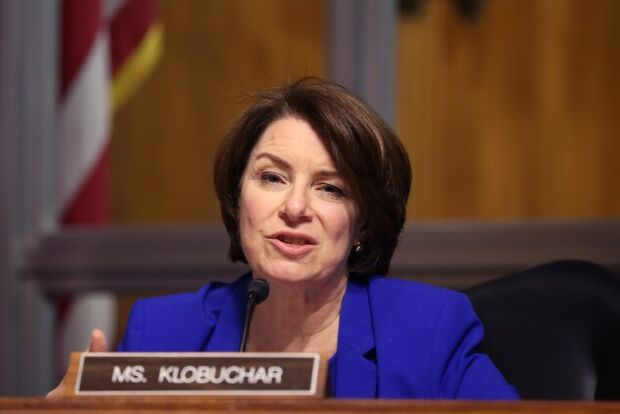 Padilla voiced concerns about the bill during a Senate Judiciary Committee markup but ultimately voted for it. Adding definitions for terms such as "preferencing" would help strike the right balance of protecting consumers while not taking away the services they enjoy, he said.
Padilla also said that while consumer data portability is important for promoting competition, he is concerned that privacy isn't given equal priority in the bill.
Under the measure, platforms would have only a limited ability to restrict competitors' access to customers' data. Platforms also wouldn't be able to use privacy as a pretext to block competition.
Padilla said his staff has had preliminary conversations with Klobuchar's but no revised language has been received or agreed to.
On the Fence
Klobuchar tried to address her colleagues' concerns in a Democratic caucus lunch last month, according to Sen. Mazie Hirono (D-Hawaii), a cosponsor who still backs the legislation.
Since then, Senate Commerce, Science, and Transportation Committee Chair Maria Cantwell (D-Wash.), whose state is home to Amazon's headquarters, indicated she's undecided on how she would vote on the floor. Sen. Cory Booker (D-N.J.), a cosponsor of the measure, said he has some concerns with the bill.
Senate Intelligence Chairman Mark Warner (D-Va.), another cosponsor, said he is digging into concerns raised by former intelligence officials that the bill would unintentionally curtail platforms' ability to target disinformation and safeguard users in the US and abroad.
Some Republicans are also wary.
"We need to balance the needs of rural America with the bill because there are a lot of folks that do online shopping," said Sen. Joni Ernst (R-Iowa). She added that she has been expressing her concerns to Judiciary ranking member Chuck Grassley (R-Iowa), who is a cosponsor of the legislation.
A senior House aide working on companion legislation said content moderation and privacy fears aren't resonating in the lower chamber. The aide said the chambers are working hand and glove on final text and major changes to the bill are unlikely.
Lobbying Push
Tech giants including Google, Amazon, Apple Inc., and Meta Platforms Inc.'s Facebook have lobbied hard against Klobuchar's bill and other antitrust efforts. Free Press, an advocacy group that says it targets powerful platforms with outsized influence, shares the worries about content moderation.
Mark MacCarthy, nonresident senior fellow at the Brookings Center for Technology Innovation, agreed the standard for reconciling privacy and competition is too favorable toward competition.
On content moderation, MacCarthy said: "I'm very worried that in trying to deal with competition, they're wading into tricky territory that deserves its own bill."
Not all tech companies share the concerns.
Luther Lowe, Yelp Inc. senior vice president of public policy, said the content moderation issue is "an imaginary fear being peddled by people who coincidentally have made millions working at Google."
Lowe took issue with Google's behavior, saying the platform's own review content is bogged down by fake posts, yet it remains at the top of the page, swapping out the most relevant results for its own products.
The complaints aren't slowing Klobuchar down.
"We've been making changes to the bill all along and we've listened to concerns," Klobuchar said in an interview. "But let me be clear — this bill is not going to be some watered down version that ends up being a study of the problems with tech."
To contact the reporter on this story: Maria Curi in Washington at mcuri@bloombergindustry.com
To contact the editors responsible for this story: Sarah Babbage at sbabbage@bgov.com; Robin Meszoly at rmeszoly@bgov.com
Stay informed with more news like this – from the largest team of reporters on Capitol Hill – subscribe to Bloomberg Government today. Learn more.