Systemic Flaws or Bad Apples? Parties Split on Police Overhaul
Bloomberg Government subscribers get the stories like this first. Act now and gain unlimited access to everything you need to know. Learn more.
Democrats and Republicans sharpened their divide over whether police abuses and killings are caused by bad actors bolstered by irresponsible unions, or reflect a system that creates racist outcomes without accountability.
Democrats are pushing a measure (H.R. 7120) that would condition eligibility for several federal grant programs on meeting new use of force standards, ending choke-holds, and banning no-knock warrants for drug cases.
"This bold, transformative legislation would help re-imagine the culture of policing while holding accountable those officers who fail to uphold the ethic of serving and protecting their communities," Rep. Karen Bass (D-Calif.), chair of the Congressional Black Caucus, said Wednesday at a Judiciary Committee hearing.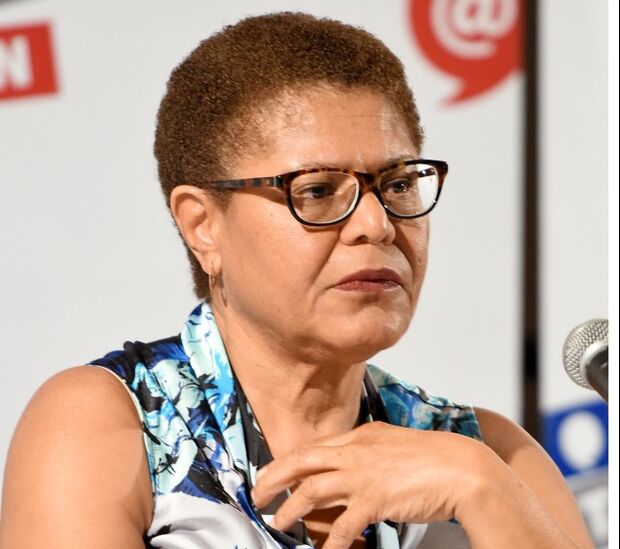 Republicans dismissed the Democrats' bill, which has no GOP co-sponsors, as partisan, and broadly criticized calls from some progressives to de-fund the police, though the bill wouldn't do so.
The gulf between Democrats and Republicans in Congress will make it exceedingly difficult to secure passage and President Donald Trump's signature on a serious legislative response to the police brutality on display most recently on the street in Minneapolis on Memorial Day.
Lawmakers laid out their perspectives on what is wrong with policing in America and how to fix it as they heard testimony from, among others, Philonise Floyd, whose brother George's death in police custody sparked protests and the push for legislation, and Angela Underwood Jacobs, sister of a federal police officer killed during a night of protests in Oakland, Calif.
The stakes are high, said Underwood Jacobs, "If you can't get it right, there's no hope for the rest of us."
`Bad Cops'
The problem has more to do with a few bad cops who are protected by powerful police unions than with policing as a whole, several GOP lawmakers argued.
"The sooner we get the bad cops off the force, the sooner there will no longer be any bad apples to spoil the whole barrel," Rep. Jim Sensenbrenner (R-Wis.) said.
Sensenbrenner called on Democrats, who he said are closer to police unions, to get the unions to go after "bad cops" more aggressively.
Republicans and their witnesses also focused on what they saw as the effects on communities if police departments lose their funding or individual officers can be held accountable under liability changes.
"It is a ridiculous solution to proclaim that defunding police departments is a solution to police brutality and discrimination," Jacobs said.
The Democratic bill would end qualified immunity and make it possible to sue for civil rights violations. That could have the unintended effect of hurting the communities most in need of police presence, over fears of litigation, said Daniel Bongino, a conservative radio host.
Democrats See Racism
Democrats see a policing system in America that is rife with racism, that discriminates against minorities sometimes at the cost of a life, and then obscures those wrongs behind a legal system that benefits the police and leaves individuals harmed with little recourse.
The bill calls for independent investigations into law enforcement misconduct or excessive use of force.
When cases are resolved, for instance, by a grand jury closed to the public and officers aren't indicted, "it becomes just another justified killing of a black person by the police in America" Rep. Hank Johnson (D-Ga.) said.
Likewise the move to end qualified immunity would make it more difficult for officers to elude accountability. Qualified immunity currently is so broadly interpreted in courts that it "provides near impunity for police officers who engage in unconstitutional acts of violence," said Sherrilyn Ifill, president and director-counsel of the NAACP Legal Defense and Educational Fund.
Democrats plan committee action on their bill next week. Republicans in the House and Senate are both working on their own police overhaul proposals.
To contact the reporter on this story: Shaun Courtney in Washington at scourtney@bgov.com
To contact the editors responsible for this story: Paul Hendrie at phendrie@bgov.com; Robin Meszoly at rmeszoly@bgov.com
Stay informed with more news like this – from the largest team of reporters on Capitol Hill – subscribe to Bloomberg Government today. Learn more.