Super PACs, Party Committees Load Up for Congressional Campaigns
Bloomberg Government subscribers get the stories like this first. Act now and gain unlimited access to everything you need to know. Learn more.
Democratic super PACs again led the way in fundraising in the first quarter of the year, but their Republican counterparts narrowed the gap, as both parties raced to stockpile the cash they'll need to wage a campaign ad war set to cost hundreds of millions of dollars.
The two independent expenditure-only political action committees endorsed by Democratic Senate and House leaders ended the quarter with $98.7 million in cash on hand combined. That was 20% more than the $82.2 million amassed by their GOP counterparts, according to reports filed Monday with the Federal Election Commission. At the end of 2019, the Democratic PACs enjoyed a 45% cash advantage.
The money is expected to be spent in a handful of states and some three dozen congressional districts where the battle over control of Congress is concentrated. Democrats need a net gain of three or four seats to win the Senate, depending on who is elected president, and Republicans need a dozen and a half to take back the House after losing it in 2018.
"Momentum is on the side of Democrats as we continue to expand the map and put more seats in play heading into one of the most important elections of our lifetime," Senate Majority PAC President J.B. Poersch said in a statement.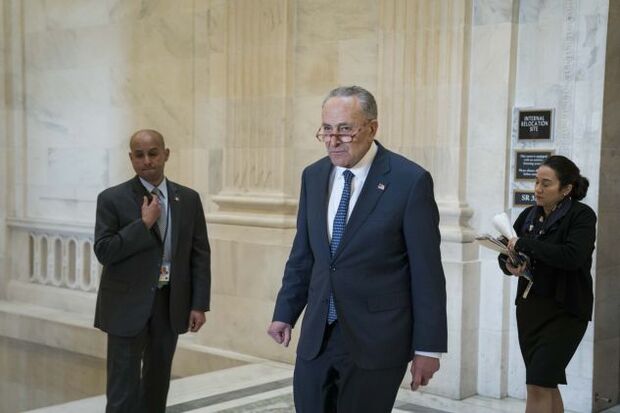 SMP, which is aligned with Senate Minority Leader Chuck Schumer (D-N.Y.), led in fundraising with $35.3 million collected in the first three months of the year, bringing it to $95.8 million since the start of 2019. Senate Leadership Fund (SLF), aligned with Majority Leader Mitch McConnell(R-Ky.), raised $26.3 million in the first quarter and $54.6 million all cycle. SLF's three-month discrepancy was an improvement from 2019, when it hauled in less than half of SMP's total receipts.
Read More: Democratic Super PACs' 2019 Fundraising Dwarfs GOP Groups by 70%
The Senate PACs have far outraised those on the House side. House Majority PAC, aligned with Speaker Nancy Pelosi (D-Calif.), has raised $48.9 million cycle-to-date, which is $10 million more than Congressional Leadership Fund (CLF), an ally of Minority Leader Kevin McCarthy (R-Calif.).
Party Committees
Super PACs can raise unlimited contributions, including corporate and union money, but are restricted in coordinating activities with candidates. Federal candidates and traditional party committees face contribution limits and can't take money directly from companies or unions.
On the Senate side, Democratic candidates had another dominant quarter, but the National Republican Senatorial Committee continues to hold an edge over its Democratic counterpart. The latest FEC reports filed by the party committees showed the NRSC has raised $98 million this cycle, compared to $91.4 million for the Democratic Senatorial Campaign Committee. The NRSC, which is led by Chairman Todd Young (Ind.), also led in cash on hand, $32.5 million compared to $24.9 million, as of March 31.
"The Republican grassroots is energized heading into an important election this fall, and Chairman Young, Leader McConnell and the entire Republican conference has worked diligently with the team here at the NRSC to harness that support," NRSC spokesman Jesse Hunt said.
The results flipped for the House campaign committees. The Democratic Congressional Campaign Committee has raised $168.4 million and had $80.7 million in cash on hand at the end of the quarter. The National Republican Congressional Committee has raised $124.5 million and had $48.8 million in cash—60% of the DCCC's total.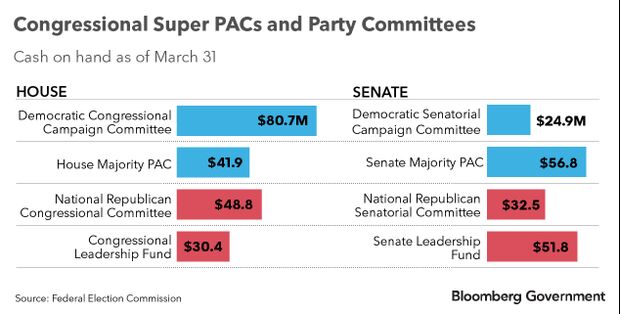 The GOP's biggest advantage was in fundraising by the Republican National Committee, which has been aided by Trump's re-election campaign. The RNC has raised $318.6 million this cycle and had $77.1 million on hand at the end of the quarter. The Democratic National Committee raised $115.1 million and had $35.9 million on hand. The DNC also reported more than $5 million in debts.
Read More: Coming This Fall to TVs in Iowa and Maine: Lots of Political Ads
The race to fund campaign ads has put pressure on both parties to raise money for their super PACs, even if they're supposed to remain independent, experts said.
Former FEC Commissioner Trevor Potter, who was counsel to John McCain's presidential campaign, said in a recent podcast produced by the nonprofit Issue One that leaders skirt rules barring coordination with super PACs by getting someone else to make the explicit ask for money.
"What you routinely see the leaders of Congress in both parties do is go to a room full of literally billionaires and say, 'This PAC is doing great work. It's really important to us retaining control of Congress,'" Potter said.
In addition to super PACs, which disclose their finances to the FEC, both Democrats and Republicans have allied nonprofit groups that spend millions of dollars to influence elections but don't disclose their donors.
Big Donors
Republicans were aided by big donors including Stephen Schwarzman, chief executive of the private equity firm Blackstone Group. Schwarzman in February provided $10 million to the GOP's Senate super PAC and $2.5 million to CLF.
Another major Republican donor, Timothy Mellon, gave $10 million to SLF last quarter after donating $10 million to CLF in November. Mellon is chairman of the transportation holding company Pan Am Systems and grandson of 20th century banker and industrialist Andrew Mellon.
Republican donors last quarter included coal magnate Joe Craft, who gave $1 million through the Joseph W. Craft III Revocable Trust. Craft is a Kentuckian who heads Alliance Resource Partners and is married to Kelly Craft, the U.S. ambassador to the United Nations. Also giving $1 million were Geoffrey Palmer, a Los Angeles real estate developer, and Laura Perlmutter, a philanthropist married to Israeli-American businessman Isaac Perlmutter, who heads Marvel Entertainment.
The Democratic super PACs also relied on wealthy individuals for most of their funding, including George Soros. The investor and philanthropist has provided $7 million this year to their Senate Majority PAC, through another group called Democracy PAC, which Soros funds exclusively.
Former New York City Mayor Michael Bloomberg gave HMP $1.4 million more this year after a $10 million donation to that group in December, as the House considered the impeachment of President Donald Trump. Bloomberg, the majority owner of Bloomberg Government's parent company, also sought the Democratic presidential nomination. He endorsed Joe Biden on March 4, and his campaign transferred $18 million to the DNC on March 13.
SMP received $4 million in February from Fred Eychaner, chairman of Newsweb Corp., $2 million from the union-funded Working for Working Americans, and $1 million from the Greater New York Hospital Association Management Corp., which is linked to a lobbying organization for New York City hospitals and health systems.
To contact the reporter on this story: Kenneth P. Doyle in Washington at kdoyle@bgov.com
To contact the editors responsible for this story: Bennett Roth at broth@bgov.com; Kyle Trygstad at ktrygstad@bgov.com
Stay informed with more news like this – from the largest team of reporters on Capitol Hill – subscribe to Bloomberg Government today. Learn more.