Super PACs Flood Consequential Kansas GOP Primary's Final Days
Bloomberg Government subscribers get the stories like this first. Act now and gain unlimited access to everything you need to know. Learn more.
Kris Kobach's candidacy invited summer storms of campaign spending from across the political spectrum as Kansas Republicans pick their nominee to succeed veteran Sen. Pat Roberts.
A primary victory by Kobach, a polarizing politician who lost the 2018 governor's race, is seen by congressional Republicans and Democrats alike as threatening the GOP's eight-decade monopoly on the state's two Senate seats.
So Republican voters are caught in a crossfire of ads that political action committees linked to both major parties are spending millions of dollars to air before the Aug. 4 primary.
Republican-linked super PACs, the Senate Leadership Fund and Plains PAC, are backing two-term Rep. Roger Marshalland attacking Kobach. A Democratic-linked group, Sunflower State, is airing ads attacking Marshall that also slyly help Kobach by calling him "too conservative" on issues such as China and President Donald Trump's border wall.
The ad barrage "could potentially be very confusing for voters and it could potentially become white noise" because Republicans in the vote-rich Kansas City suburbs "have no idea who Roger Marshall is," said Michael Smith, a political scientist at Emporia State University.
"This is a battle to define Marshall," who represents a rural House district in western Kansas, Smith said. "Everyone knows Kobach — either they love him or hate him."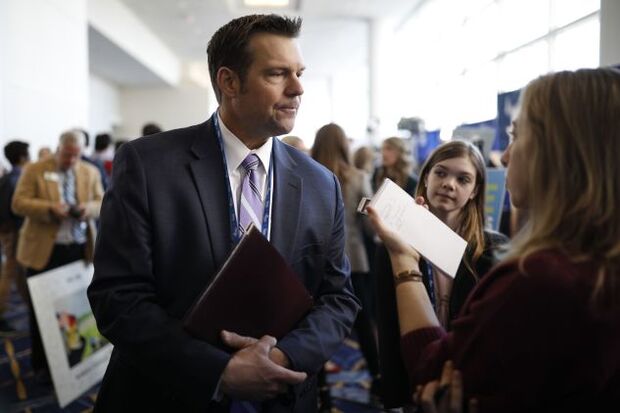 Plains PAC, another recently registered super PAC, fired an early salvo against Kobach. The ad charged that Kobach accepted "thousands in campaign contributions from white nationalists" during the governor's race that he lost to Laura Kelly (D). Kobach, best known nationally for co-chairing Trump's short-lived commission to investigate election fraud, "can't represent Kansas," the ad says.
Plains PAC reported paying Mentzer Media, a Maryland-based Republican media-buying firm, almost $1.4 million for its ad campaign, according to Federal Election Commission reports.
Both Sunflower State and Plains PAC registered with the FEC earlier this month and won't have to file reports disclosing their donors until Aug. 20 — more than two weeks after the election.
Picking Their Opponent
A Kobach victory would set up a general election contest against state Sen. Barbara Bollier (D), a former Republican who has led all candidates in fundraising. And it's clear whom Democrats want her to face.
A Sunflower State ad appeared to be a thinly veiled effort to promote Kobach to conservative voters. The group paid $2.6 million to Old Town Media, a Washington-area media-buying firm used by pro-Democratic committees for ads.
These ads are "a Democratic effort to sabotage the Republican primary and get the weakest, worst-possible Republican, Kris Kobach," said David Kensinger, a Republican consultant who's worked for Roberts and Sam Brownback, a former Kansas senator and governor.
Marshall's campaign has aired an ad telling voters "Kris Kobach is getting some help" as "Democrats have an ad out" attacking the congressman. "Don't Fall For It,'' the ad warns voters.
Stealth spending by outside groups that avoid disclosing their donations, and therefore the true intention of their ads, is a tactic political operatives have deployed in other hotly contested Senate races.
Earlier this year, SLF helped finance a $2.4 million TV ad campaign in North Carolina's Democratic Senate primary. The ads marked an unsuccessful attempt to boost Sen. Thom Tillis' (R) re-election campaign by derailing the candidacy of Democratic state Sen. Cal Cunningham.
A similar "dog whistle" tactic worked in Missouri in 2012. Claire McCaskill (D), seeking re-election to the Senate, aired a reverse-psychology ad boosting then-Rep. Todd Akin (R). She revealed in her 2015 memoir that she thought Akin would be an easier opponent to defeat and that her campaign pollster even provided guidance directly to the Akin campaign. She won the race but lost six years later to Sen. Josh Hawley (R).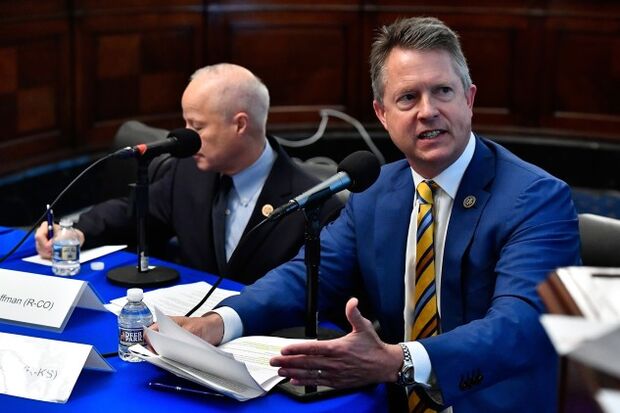 Half-Dozen Groups Spending
More than a half-dozen independent campaign groups have reported spending more than $5.7 million in the primary as of Friday, with money continuing to pour in. That's far more than what the leading candidates, Kobach and Marshall, had spent by mid-July. Pre-primary reports filed with the FEC showed Kobach's campaign has spent just over $800,000 and had nearly $140,000 in cash on July 15, while Marshall has spent $2.4 million and had $1 million on hand.
There are nine other Republicans in the field, including Bob Hamilton, a Kansas City-area plumber known for his business advertising who Smith says would likely take votes from Kobach. Also running is Dave Lindstrom, a former defensive end for the Kansas City Chiefs.
Democrats need a net gain of at least three seats to take the Senate majority. The party's opportunities to pick up seats expanded as Democratic fundraising outstripped Republicans in several key contests. So Republicans want to avoid adding a historically safe state to a map already stacked against them.
In what may be an indication of Kobach's standing in the primary, SLF, which is aligned with Senate Majority Leader Mitch McConnell (R-Ky.), jumped in late with a major buy. Its first ad, promoting Marshall's work for veterans and linking him with Trump, aired Thursday, according to Advertising Analytics, a firm that tracks ad buys. The U.S. Chamber of Commerce aired a similarly themed ad last week to boost Marshall.
The Kansas race is rated Lean Republican by the Cook Political Report, but Bollier's odds would likely increase against Kobach. Democrats haven't elected a senator from Kansas since 1932, the year of Franklin D. Roosevelt's landslide presidential victory. That senator lost a re-election bid six years later.
A Kobach primary victory would put the Kansas Senate seat in play for Democrats, said Alan Cobb, president and CEO of the Kansas Chamber. "But can Kris win that? Yes."
Cobb's bigger concern is that a Kobach candidacy would put GOP state legislators "at risk" of losing. In the 2018 governor's race, "he lost the eight or nine urban counties and there is no reason to think he wouldn't do that again."
To contact the reporters on this story: James Rowley in Washington at jrowley@bgov.com; Kenneth P. Doyle in Washington at kdoyle@bgov.com
To contact the editors responsible for this story: Kyle Trygstad at ktrygstad@bgov.com; Bennett Roth at broth@bgov.com
Stay informed with more news like this – from the largest team of reporters on Capitol Hill – subscribe to Bloomberg Government today. Learn more.