Student Loan Discharge Bar Lower but Still Tough in New Proposal
Final rule on 'borrower defense' includes lower standard
Still needs OMB review, target for finalization is September
The Education Department plans to allow students to have their loans forgiven under a rule known as "borrower defense" if they can show there is a greater than 50% chance the school deceived them, according to a copy of its draft final rule. In a July 2018 proposed rule, the department considered using a higher standard of evidence, requiring students' claims to be "highly and substantially more probable to be true than not."
The department "has been persuaded that without subpoena power, discovery rights, or legal representation, the clear and convincing evidence standard may be too difficult for borrowers to satisfy," according to the updated regulation obtained by Bloomberg Government.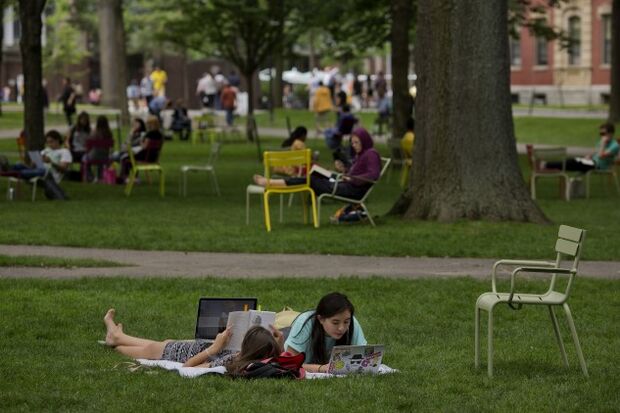 The change would be the latest chapter in a years-long dispute over how to compensate students who took out loans to attend colleges that made false claims about their graduates' success. In 2016, the Obama administration crafted the loan forgiveness regulation after a major for-profit college recruited students using exaggerated graduation and job placement rates. Since then, the department has received more than 200,000 claims from students asking to have their federal loans discharged.
The Trump administration halted the 2016 rule from going into effect and put out a draft for a new rule in July 2018 that was widely seen as less borrower-friendly. Several months later, a federal judge required the 2016 regulation be carried out while the department officials worked on overhauling the regulation.
The rule's language still could change, as the Office of Management and Budget also will review it. The department estimates the rule will be made final by September, according to a recent departmental list of regulatory priorities.
An Education Department spokeswoman, Liz Hill, said the department doesn't comment on leaked documents as they can't verify their authenticity.
'Safe Harbor of Deniability'
Even with a lower standard of proof, student borrowers would have a more difficult time proving their college misled them under the new regulation than they do now.
The new rule would remove a provision in the previously proposed language that students would need to show their college had an "intent to deceive" them. However, they would need to show that any deceptive statements or omissions made by the school were "made with knowledge of its false, misleading, or deceptive nature or with a reckless disregard for the truth."
While not asking student to prove intent might look easier on paper, most students would struggle to get evidence that a school knew it was making a false claim or was acting recklessly, said Eileen Connor, director of litigation at Harvard Law School's Project on Predatory Student Lending, who reviewed the two separate definitions.
"A borrower is not going to have access to this kind of information. The emphasis should be on the effect on the borrower," she said. "All this does is create a safe harbor of deniability for institutions."
Department officials said they wanted potential students to take responsibility for gathering and evaluating information on schools.
"The Department agrees that there may be inherent information asymmetries between students and institutions," they wrote in the updated rule, "but it also wishes to emphasize to consumers that given the sizeable [sic] investment one makes in a college education, it is incumbent upon students to shop wisely and get information in writing before making a decision largely dependent upon that information."
Final Touches
The new rule includes several other major changes previously reported by Bloomberg Government: students would not need to wait until they had defaulted on their loans to file a claim, and students whose schools closed while they were attending could have their loans forgiven through a separate process, regardless of whether the school offered a way for students to finish their programs or degrees.
To contact the reporter on this story: Emily Wilkins in Washington at ewilkins@bgov.com
To contact the editors responsible for this story: Paul Hendrie at phendrie@bgov.com; Jonathan Nicholson at jnicholson@bgov.com; Robin Meszoly at rmeszoly@bgov.com