Steve King Faces Well-Funded Primary Foe After Race Remarks
Feenstra has advantage over GOP incumbent in Iowa contest
Ocasio-Cortez rakes in big bucks from small donors in quarter
Rep. Steve King, who has provoked broad bipartisan criticism for his comments about race, will have to brace for a well-funded challenger from within his own party.
Randy Feenstra, an Iowa state senator seeking to oust King in the June 2020 Republican primary, reported raising $260,000 during this year's first quarter from donors including some political action committees and well-known Iowa Republicans, according to reports filed with the Federal Election Commission.
That's more than four times the $62,000 raised by King, whose campaign had $18,000 left in the bank after spending about $70,000 during the three-month period.
Feenstra's donations include $5,000 from the political action committee of United Parcel Service Inc. and $1,500 from the PAC of Hy-Vee Inc., an Iowa-based supermarket chain. Business PACs rarely donate against incumbents in primaries.
House Votes to Reject White Supremacy Remarks
Republicans stripped King of his committee assignments in the 116th Congress after he made statements about white supremacy and white nationalism that were widely condemned. King said he was still planning to seek re-election. "I have nothing to apologize for," he said in a February interview on "Iowa Press," a public affairs program.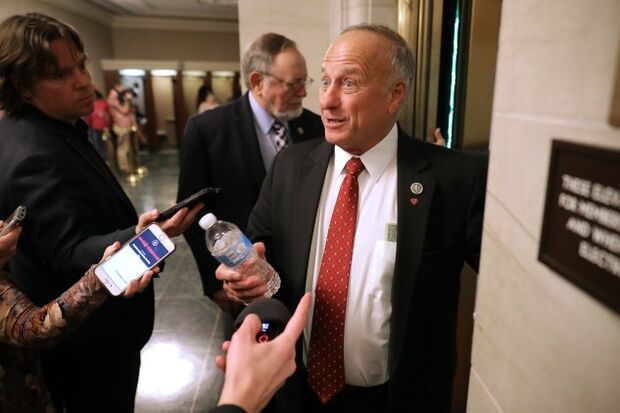 Individual donors to Feenstra's campaign included Ben Shapiro, a conservative activist and commentator; David Kochel, a veteran Iowa Republican political operative who was the chief strategist to Jeb Bush's presidential campaign; Doug Gross, the 2002 Republican nominee for Iowa governor and the chairman of Mitt Romney's 2008 presidential campaign in Iowa; and ex-Rep. Tom Tauke, who served in the House from 1979 to 1991.
King received donations from the campaign committee of ex-Rep. Lamar Smith (Texas) and the leadership political action committee of ex-Rep. Todd Akin (Mo.).
Two other Republicans seeking to oust King, former small-town mayor Bret Richards and county supervisor Jeremy Taylor, raised $66,000 and $57,000 respectively. Richards's total includes about $50,000 from the candidate. No Democrat has yet announced a campaign.
Iowa's 4th District, taking in the state's mostly rural northwestern quadrant, is a Republican bastion, but King won a ninth term in the 2018 election by just 3 percentage points.
Other Highlights
Alexandria Ocasio-Cortez continues to be a small-donor fundraising powerhouse. The first-term New York Democrat took in $728,000 during the first quarter, of which about $591,000, or 81 percent, came from donors who gave less than $200. She received no PAC money. Ocasio-Cortez, whose stature and fundraising spiked after she unseated 20-year congressman Joe Crowley in the 2018 Democratic primary, sent campaign funds to freshman Reps. Ilhan Omar (Minn.), Mike Levin (Calif.), and Rashida Tlaib (Mich.)
Omar raised about $832,000 in the first quarter, a period when her rhetoric about Israel attracted wide scrutiny. Majority Whip James Clyburn (S.C.) joined Ocasio-Cortez in sending a campaign contribution to Omar, who represents a heavily Democratic district in Minneapolis. Clyburn also donated to Omar's campaign through his leadership political action committee. Omar sent more than $27,000 in campaign funds to the Minnesota Democratic Party and also gave a total of $7,000 to four other first-term Democratic women: Jahana Hayes (Conn.), Lucy McBath (Ga.), Haley Stevens (Mich.), and Lauren Underwood (Ill.).
Trump-District Democrats' First-Quarter Fundraising
The House member with the biggest campaign fund isn't a member of leadership or a veteran legislator, but a second-term representative from suburban Chicago. Rep. Raja Krishnamoorthi (D), who represents Illinois's 8th District, had $5.2 million cash-on-hand after raising more than $1 million in the first quarter, according to FEC filings. That's the highest total among House members.
Rep. Josh Gottheimer (D-N.J.), a Financial Services Committee member who represents a metropolitan New York City district President Donald Trump narrowly won in the 2016 election, ended the quarter with $4.9 million in the bank, the second-highest total. Democrats also accounted for the four next-highest cash totals: Lloyd Doggett (Texas), with $4.3 million; Joe Kennedy III (Mass.), with $4.2 million; Derek Kilmer (Wash.), with $3 million; and Bill Foster (Ill.), with $2.9 million.
The most cash-rich House Republican is Minority Leader Kevin McCarthy (Calif.), with $2.8 million in his campaign fund.
Trump-District Democrats' First-Quarter Fundraising
To contact the reporter on this story: Greg Giroux in Washington at ggiroux@bgov.com
To contact the editor responsible for this story: Bennett Roth at broth@bgov.com