States With Deployed U.S. Troops to Count Votes After Nov. 3
29 states allow transit periods for overseas ballots
Advocacy groups against warn early declarations
Bloomberg Government subscribers get the stories like this first. Act now and gain unlimited access to everything you need to know. Learn more.
A tie or close call for either President Donald Trump or former Vice President Joe Biden means that the military ballots coming from overseas could swing the election possibly days after Nov. 3.
Trump's public insistence that mail-in ballots shouldn't be counted after Election Day—a position likely to be disputed in courts—has raised concern among military communities who fear that they would be disenfranchised.
"President Trump and Republicans' meritless insistence that vote counting stop on Nov. 3 threatens to disenfranchise thousands of voters, including our brave men and women in uniform," said Anthony Brown (D-Md.), the vice chairman of the House Armed Services Committee.
"Vote by mail has long been trusted among military personnel serving abroad—millions of whom have voted by mail for decades," Brown said in a statement. "When I served in Iraq in 2004, I was one of them. Ballots postmarked on election day coming from service members in Baghdad should count just the same as those coming from voters in Baltimore."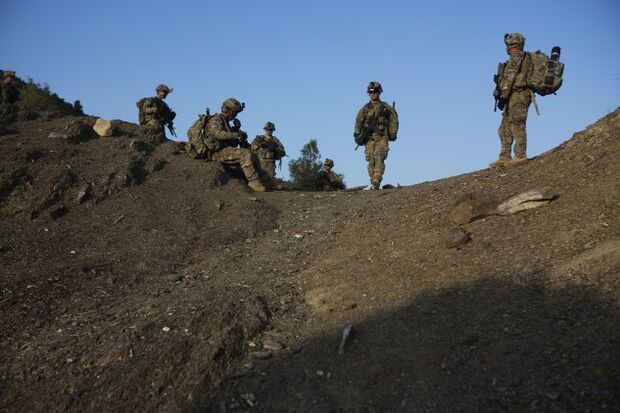 Counting Ballots
Overseas votes can have substantial electoral implications, according to the nonpartisan Count Every Hero campaign led by retired Marine Corps Gen. Anthony Zinni.
More than 70% of the available votes in the Electoral College will come from states counting overseas military ballots after Election Day and the states that accept ballots arriving a week after Nov. 3, or later, still account for a majority of the electoral votes, data published by Count Every Hero show. Ballots have to be sent before polls close.
About three-quarters of the 1.3 million active-duty military members are covered by the Uniformed and Overseas Citizens Absentee Voting Act of 1986, which affords them the right to vote absentee in federal elections with special protections. Most states have additional laws that extend these rights to state and local elections, according to Count Every Hero.
Eight States to Watch
With an eye towards eight states that could deliver victory to either Trump or Biden, here are the deadlines for the overseas ballots:
Arizona (with 11 electoral votes) and Wisconsin (with 10 electoral votes): no grace, or so-called transit period; ballots have to be in by Nov. 3. Michigan (with 16 electoral votes): ballots must to be postmarked by Nov. 2 and received by Nov. 3.
Florida (with 29 electoral votes): has a transit period of 10 days until Nov. 13. Georgia (with 16 electoral votes): has a grace period of three days to Nov. 6.
North Carolina (with 15 electoral votes): has a transit period of 10 days to Nov.12. Pennsylvania (with 20 electoral votes): ballots have to be signed by Nov. 2 and transit period from that date is eight days.
Minnesota (with 10 electoral votes): has a seven-day grace period to Nov. 10.
Large Military Populations
Overall, 28 states and the District of Columbia accept and count ballots from overseas service members that arrive after Election Day if they are sent before polls close.
Several states with large military populations such as Kentucky and Louisiana have no transit period. Texas, another state with large military representation and 38 electoral votes has a six-day transit period. Virginia, the home of the East Coast aircraft carrier base, Norfolk, has a three-day transit period.
A Quarter Million
More than 252,000 uniformed service members stationed away from home, and members of their families, voted in the 2016 general election, generally by absentee ballot. Turnout for this year's presidential election could very well be high, with hundreds of thousands of military ballots arriving by mail, Count Every Hero anticipates.
Any effort to end vote counts early or prematurely call races by Trump or the media will disproportionately disenfranchise absentee military voters, said Sarah Streyder, founder of the Military Vote Coalition, which advocates for election participation by troops.
"To do so really does a disservice to our community and we would urge them not to do that," she said during an interview.
Overseas ballots were essential to George W. Bush's 2000 victory in Florida, the state that propelled him to the presidency.
While their party affiliation is unknown, by number alone, overseas voters could tip a tight election one way or the other, according to Monica Duffy Toft, a professor of international politics and director of the Center for Strategic Studies at The Fletcher School of Law and Diplomacy, Tufts University "This is especially true in swing states that, like Virginia and North Carolina that have a large military presence," she wrote. Bush's campaign relied on 680 overseas military ballots to tilt Florida in his favor, Toft wrote.
States that will count military ballots arriving after Election Day send 392 electors to the Electoral College, more than 70% of the available votes, according to Count Every Hero. The states that accept ballots mailed before the close of polls and arriving a week after Election Day, or later, account for 292 votes in the Electoral College, a total still greater than the 50% plus one vote needed to capture the White House.
To contact the reporters on this story: Roxana Tiron in Washington at rtiron@bgov.com; Travis J. Tritten at ttritten@bgov.com
To contact the editors responsible for this story: Robin Meszoly at rmeszoly@bgov.com; Heather Rothman at hrothman@bgov.com
Stay informed with more news like this – from the largest team of reporters on Capitol Hill – subscribe to Bloomberg Government today. Learn more.