States Slow to Enforce Age-21 Law on Selling Tobacco, Vape Items
Bloomberg Government subscribers get the stories like this first. Act now and gain unlimited access to everything you need to know. Learn more.
Several states have yet to enforce the new law raising to 21 the age for buying cigarettes and e-cigarettes, weeks after President Donald Trump signed the legislation.
Law-enforcement agencies in North Carolina and Missouri are telling stores that sell cigarettes that while federal law prohibits selling cigarettes, e-cigarettes, or vaping devices to minors, their enforcement of tobacco rules isn't yet changing. Other states are likewise signaling they won't punish stores for selling tobacco to 20-year-olds.
"You can't just turn a battleship around on a dime," said Mike O'Connell, communications director for the Missouri Department of Public Safety.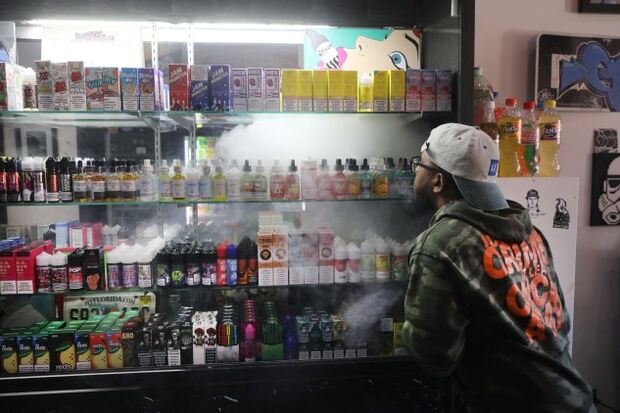 Congress, in a push led by Senate Majority Leader Mitch McConnell(R-Ky.) and Sen. Tim Kaine (D-Va.), two lawmakers from traditionally tobacco-friendly states, raised the federal age to buy tobacco products to 21 in an effort to curb youth use of e-cigarettes and traditional cigarettes. The age requirement was tucked into broader legislation (Public Law 116-94) funding domestic programs in the fiscal year ending Sept. 30.
Nineteen states had already increased to 21 the age requirement to buy tobacco products when the federal law passed. Raising the federal age limit was intended to force the remaining 31 states to follow suit.
However, public health advocates say the Food and Drug Administration hasn't made clear how state and local authorities that enforce tobacco-age laws are supposed to react. One advocate said many were caught off guard when the FDA simply announced with a notice on its website that the new law is in effect.
"There's a fair amount of confusion and inconsistent enforcement of the new law," said Ericka Sward, national assistant vice president for advocacy with the American Lung Association.
A spokeswoman for the FDA referred questions to the agency's website, which says more guidance is coming on the issue.
Changing Enforcement
Shortly after Trump signed the underlying measure on Dec. 20, the FDA website said it is now illegal to sell any tobacco product to anyone under younger than 21.
In Alabama, the agency that enforces tobacco age rules heard about the change from a press release by the state's public health agency.
"There was an email sent to us and we started notifying immediately," said Dean Argo, government relations manager for the Alabama ABC Board. "If they have a tobacco permit they were sent a notice."
Argo said his agency will give stores in the state some time to comply with the new rules but wasn't sure when they'll start enforcing them.
Stores in North Carolina were similarly told the federal age was raised, but the North Carolina Department of Public Safety's Alcohol Law Enforcement Division will still enforce the state's law, which sets the limit at 18, said Erika Bean, a special agent for ALE and the agency's spokeswoman.
Tobacco laws are typically enforced by stings, where agencies like ALE send 17-year-olds to buy tobacco products and fine stores that sell to them.
Missouri's O'Connell said the FDA has privately told agencies like his to simply keep in place the same age-enforcement systems while reminding store owners the new federal age limit is 21.
Stores Want More Time
Stores that sell cigarettes and vaping products were likewise caught off-guard by the age-limit change, according to the National Association of Convenience Stores.
The NACS sent a letter to the FDA in late December asking the agency to state explicitly that it will take time to comply with the new rules. The group said it will take until April just to update the signs found in most convenience stores that state how old you have to be in order to buy tobacco products.
One thing store owners don't want is to be the ones breaking the news to young smokers they can't buy tobacco anymore.
"Retail clerks should not be the first to inform these customers that they cannot purchase the products they want," the NACS and a collection of other groups that represent tobacco sellers said in their letter to the FDA. "Consumer education is desperately needed to avoid angry confrontations in stores across the nation."
The spending bill that raised the age limit says the FDA had 180 days after its passage to write regulations to carry out the change and that those regulations wouldn't go into effect until 90 days after those regulations were posted.
(Michael Bloomberg, the majority owner of Bloomberg Government's parent company, has campaigned and given money in support of a ban on flavored e-cigarettes and tobacco.)
To contact the reporter on this story: Alex Ruoff in Washington at aruoff@bgov.com
To contact the editors responsible for this story: Paul Hendrie at phendrie@bgov.com; Robin Meszoly at rmeszoly@bgov.com
Stay informed with more news like this – from the largest team of reporters on Capitol Hill – subscribe to Bloomberg Government today. Learn more.