States Ready to Jump on Census Bureau Data: Ballots & Boundaries
Bloomberg Government subscribers get the stories like this first. Act now and gain unlimited access to everything you need to know. Learn more.

This is the week that states with early redistricting deadlines get what they need to start revising the borders of congressional seats.
The Census Bureau on Thursday will release Version No. 1 of the detailed population data gathered in 2020.
The information on exactly where and how populations have changed is vital to getting the number of people about the same in each district. In some states, including Virginia and Ohio, there's not a lot of time reconfigure those lines. (Colorado, meanwhile, already roughed out draft boundaries.)
Colorado's Boebert Could Breathe Easy Under First Draft of Remap
Data will be released to the bureau's FTP site in a "legacy format" designed for experienced data users. The bureau will release the same data by Sept. 30 in easier-to-use formats, including on its data.census.gov website.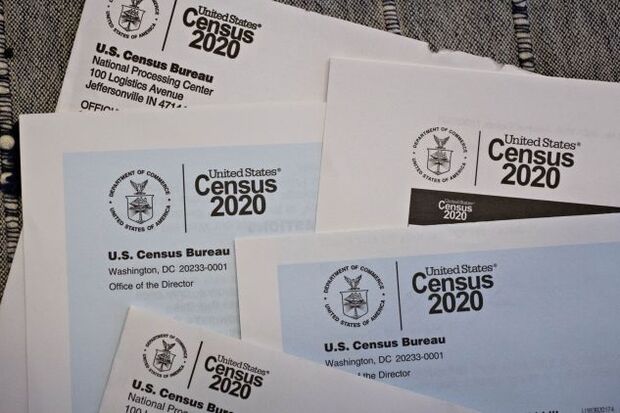 The Census Bureau is incorporating a "differential privacy" technique to try to protect individuals' information from sophisticated data miners.
Census Data Likely To Reveal All Population Growth Driven by Minorities (Washington Post)
In April, the bureau released the first data from the 2020 census—the national and state population counts along with the reapportionment of the 435 congressional districts among the states.
(Were you forwarded this newsletter? Subscribe for free.)
OREGON: CITIZENS ON DECK
The Oregon Secretary of State's office is seeking volunteers to serve on a People's Commission that would convene if the state Legislature blows the boundary-drawing deadline set by the state Supreme Court. "Today, redistricting is the Legislature's job. While I am optimistic they will pass a redistricting bill by the September 27 deadline, I owe it to Oregonians to be ready to go if they don't," Secretary of State Shemia Fagan (D) said in a news release.
A missed deadline would put proposing new legislative districts in the hands of Fagan's office and the commission would "inform and advise" the office during the process. — Joyce E. Cutler
TEXAS: LAWSUIT AND LOCKDOWN
The Texas House started the week without enough members present to begin conducting official business in a second special session, so it voted for a procedural move, known as a "call of the House," that locked the chambers' doors to keep members from leaving the latest special session.
The state Supreme Court today voided a temporary restraining order blocking the arrest of House Democrats who are staying away to block the quorum needed to change election law. — Texas Tribune
ARIZONA: SUBPOENA BATTLE ESCALATES
Arizona Attorney General Mark Brnovich (R) is wading into the state Senate's unconventional review of Maricopa County ballots by announcing he'll investigate whether the Republican-led Board of Supervisors violated state law by not providing everything that was subpoenaed.
Meanwhile, Supervisor Bill Gates (R) told CNN that supervisors have received death threats over the partisan audit. — Brenna Goth
COLORADO: VOTING SYSTEM PASSWORDS POSTED ONLINE
Colorado Secretary of State Jena Griswold (D) warned Mesa County on Monday that she'll decertify its voting systems unless it fixes an "extremely serious" security breach. Griswold ordered the county to handle the situation after passwords for its election equipment wound up online and on a far right-wing website.
Public disclosure of the passwords for one or more components of Mesa County's voting system alone "constitutes a serious breach of voting system security protocols" and may involve criminal violations, Griswold said in her order. Mesa County Clerk Tina Peters wasn't available for comment. — Tripp Baltz.
NEW JERSEY: DEMS' CHOICE IS TIEBREAKER
New Jersey's Supreme Court sided with Democrats and picked a retired state Supreme Court justice to serve as the tiebreaking 13th member of the commission that will redraw the state's 12 congressional districts.
John E. Wallace Jr. was chosen after the six Democratic and six Republican commissioners couldn't agree on who should lead the line-drawing body. Democrats proposed Wallace and Republicans urged the selection of retired judge Marina Corodemus.
Democrats go into redistricting holding 10 of the 12 districts. Keep an eye on what the panel does with the area now represented by Democrat Tom Malinowski, who had a narrow victory in 2020 and faces a rematch with Republican Tom Kean. — Greg Giroux
WISCONSIN: GOVERNOR VETOES BILLS
Wisconsin Gov. Tony Evers (D) today vetoed a package of elections bills that would have changed the rules for absentee ballots and partisan vote-count observers. Republicans control both state legislative chambers but don't have enough votes to override the governor's vetoes. — Stephen Joyce
WISCONSIN: DROPPED FROM THE ROLLS
More than 90% of all registered voters receiving postcards from the Wisconsin Elections Commission were declared ineligible to vote after the commission's latest scrubbing of its voter-registration list, a statutorily required, routine action.
The commission mailed 186,982 postcards to people who were registered to vote during the past four years but didn't vote in any election. The commission announced that 112,008 addressees didn't respond, and 62,853 postcards were returned as undeliverable. — Stephen Joyce
CALIFORNIA: SENATOR SEEKS FEDERAL PRISON DATA
U.S. Sen. Alex Padilla (D-Calif.) is asking the Bureau of Prisons for the last known addresses of about 14,500 federal inmates in California to determine which ones will count in the state's population ahead of redistricting.
If their last known addresses weren't in California they won't be counted. — Tiffany Stecker
Resources
Add Us to Your Inbox
Click HERE to sign up for Ballots & Boundaries, your weekly check-in as states change voting laws and revise political districts, influencing power and policy decisions for the next decade.
To contact the reporters on this story: Greg Giroux in Washington at ggiroux@bgov.com; Joyce E. Cutler in San Francisco at jcutler@bloomberglaw.com; Stephen Joyce in Chicago at sjoyce@bloomberglaw.com; Alex Ebert in Columbus, Ohio at aebert@bloomberglaw.com; Tiffany Stecker in Sacramento, Calif. at tstecker@bgov.com; Tripp Baltz in Denver at abaltz@bloomberglaw.com
To contact the editors responsible for this story: Tina May at tmay@bloomberglaw.com; Katherine Rizzo at krizzo@bgov.com
Stay informed with more news like this – from the largest team of reporters on Capitol Hill – subscribe to Bloomberg Government today. Learn more.