States Push Paper Ballots With Aid From Revived Election Agency
More than 90% of Americans voting in the 2020 elections will use systems boasting a voter-verified paper trail, according to the new chairman of a previously ignored federal agency.
Benjamin Hovland said in an interview that the revived U.S. Election Assistance Commission, which was hamstrung by the lack of a quorum until 2019, is administering an infusion of $805 million in funding for state and local voting systems that enables them to better tackle election security challenges.
Most significantly, he said, the paper ballot backups it provides for the vast majority of voters ensures accurate results if computerized voting machines are hacked or otherwise fail.
"I have a lot of confidence it will pay dividends" in 2020 and beyond, Hovland said.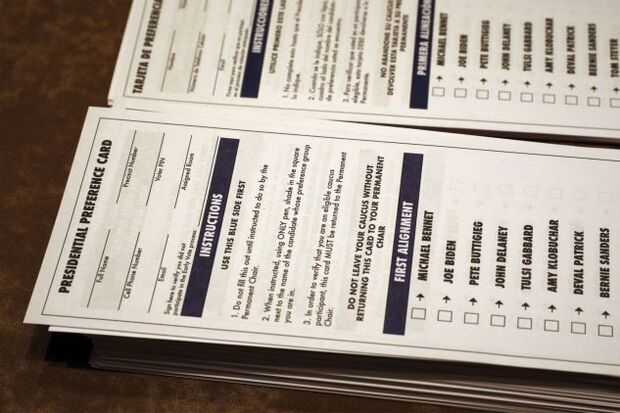 Hovland, who was confirmed to a Democratic seat on the commission in January 2019, said a restored quorum, bipartisan support and boosted funding for his tiny agency mean it's now seen as an effective link between federal, state and local officials struggling to counter recently highlighted threats to election integrity.
The agency received a boost when U.S. intelligence officials concluded Russian interests probed the vulnerabilities of America's election systems in 2016, prompting fears of a cyberattack that could alter or cripple a vote. Congress approved new federal grants in 2018 aimed mainly at hardening voting systems against cyberattack.
Vice Chairman Donald Palmer, who was confirmed at the same time as Hovland for a Republican seat on the commission, agreed the election security threat highlighted the need to communicate with and provide resources to state and election officials.
"If you have a base of resources to help states upgrade their systems, they're going to do it," Palmer said in an interview, pointing to progress made with the help of federal grants to phase out paperless voting systems. Palmer, who previously served as an election official in Virginia and Florida, said it was also important for the commission to partner with state and local officials and help upgrade other election-related systems, such as voter registration databases connected to the internet, which are particularly vulnerable to potential interference.
Most recently, Delaware, South Carolina and Pennsylvania used grants to help replace paperless voting systems employed in the last presidential election, Hovland said. Georgia, which was previously targeted in lawsuits over its paperless voting systems, said in 2018 that it would use federal grant money to help purchase new voting machines with a paper trail. Machines with voter-verified paper ballots are now being used in the state, as early voting begins for the March 24 presidential primary.
"The new paper-ballot voting system not only runs smoothly but seems to be a hit with voters around the state," Georgia Secretary of State Brad Raffensperger (R) said in a March 6 news release.
"There used to be a question of, 'Do we need this agency or not?'" Hovland said of the EAC. "Now, the question is how do we make the agency better," he said, noting that Congress gave the agency a 40% operating budget increase for fiscal 2020.
'Moscow Mitch'
The agency's future was in doubt a few years ago, when congressional Republicans said its mission was complete following the last election crisis in the 2000s and demanded it be terminated.
But after the 2016 election, GOP leaders were under pressure to boost ballot security, including Senate Majority Leader Mitch McConnell (R-Ky.) who relented last year and supported additional EAC grant funding after months of opposing it. Critics had called him "Moscow Mitch" and installed billboards in Kentucky slamming him on the issue.
Election Security Gets $250 Million in Senate Measure
Rep. Rodney Davis (R-Ill.) touted the latest election security grants this month at a conference of the National Association of Counties, saying the money plays "a critical part in helping states and counties update outdated election technology and increase security efforts."
But Davis, the top Republican on the House Administration Committee, which oversees the EAC, said he still differs from Democrats on how to handle election security efforts. Republican proposals differ from solutions pushed by Democrats, "who support federalizing the election process," he said. "I adamantly believe that the federal government has a role in assisting states, but we should leave states in charge of administering their own elections."
The EAC is a relatively tiny federal agency, with an $11.2 million budget for the current year and some 30 employees. The budget was increased from $7.95 million in fiscal 2019, which Hovland noted recently in congressional testimony was less than Kansas City spends in a year to repair potholes. He said it's startling to realize a single city's budget to protect cars is more than the country invests "in the only federal agency dedicated completely to improving election administration and helping more than 200 million registered voters cast their ballot."
To contact the reporter on this story: Kenneth P. Doyle in Washington at kdoyle@bgov.com
To contact the editors responsible for this story: Bennett Roth at broth@bgov.com; Kyle Trygstad at ktrygstad@bgov.com