Soaring Drug Costs Trigger House Effort to Ease Bite for Seniors
Lawmakers want to cap out-of-pocket expenses under Medicare
Limit on patients' spending would shift burden to industry
Leaders of two influential House committees, looking to help seniors save on their pharmacy bills, are grappling with where to shift the cost burden.
The Democratic and Republican heads of two House committees recently released a draft bill that would cap at $5,100 what seniors on Medicare's prescription drug benefit would pay out of pocket each year. At the same time, the lawmakers want to reduce the government's share of spending and are considering putting more of that expense on insurers and drugmakers.
Bringing a major public health insurance benefit in line with private insurers that typically offer caps on annual health spending could stand as a landmark achievement for a divided Congress.
"There is this sense that it needs to be brought in line with employer benefits," Joel White, president of the Council for Affordable Health Coverage and a former House staffer who helped design Medicare's prescription drug benefit, said. "But, the more robust you make the benefit the more you have to think about the costs."
Patients on Medicare, and the government, are spending more on medicine each year, particularly those who need specialty cancer drugs, according to a study published recently in the Journal of the American Medical Association.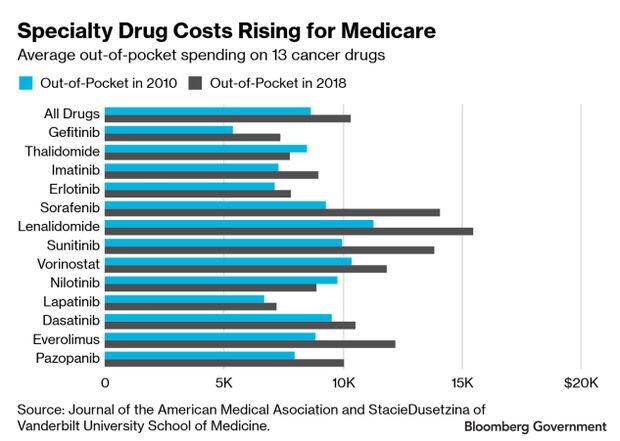 Creating a cap for beneficiaries in Medicare Part D is likely to be very pricey, even if those costs are spread across insurers, drugmakers and the federal government.
However, part of the proposal is meant to tackle how Medicare can influence the price of medicine for seniors and whether shifting costs to drugmakers or insurers could help encourage lower prices, an Energy and Commerce Committee staffer said.
The committees are looking for comment on altering Medicare Part D's coverage gap, its catastrophic threshold, its promotion of lower-cost generic alternatives and its low-income subsidy program. The hope, the staffer said, was to get ideas on how insurers offering Medicare Part D plans might be able to get better deals on medicines or how discounts are passed down to beneficiaries.
The chairmen of the House Energy and Commerce and Ways and Means committees —Frank Pallone Jr. (D-N.J.) and Richard Neal (D-Mass.), respectively — and ranking members Greg Walden(R-Ore.) and Kevin Brady (R-Texas) have asked for comments by June 6 on their proposal. Ways and Means staffers are weighing a June hearing on the issue, according to one lobbyist.
Big Bills
The mean expected out-of-pocket spending for Medicare beneficiaries for a slate of common, orally administered anticancer drugs rose to an expected $10,470 in 2019 from $8,794 in 2010, a $1,676 increase, according to JAMA.
Many cancer drugs are covered by Medicare Part B, but patients on Medicare Part D are expected to pay more each year as drug prices rise, researchers said.
Net spending on specialty drugs in Medicare Part D rose from $8.7 billion in 2010 to $32.8 billion in 2015, according to a Congressional Budget Office report. The CBO has also said ending cost-sharing for just generics for low-income beneficiaries would cost $18.7 billion over 10 years.
The federal government is also paying more for medicine as more seniors hit the catastrophic limit for out-of-pocket spending, the point which beneficiaries enter when their own costs exceed a certain threshold and the government foots a larger portion of the bill, Stacie Dusetzina, an associate professor of health policy at the Vanderbilt University School of Medicine, said.
Right now during the catastrophic phase the beneficiary pays 5%, the plan pays 15% and a federal reinsurance pool covers the remaining 80% of the cost. House lawmakers want to reduce the government's contribution to 20%.
There's also discussion about how Medicare determines when someone enters this catastrophic phase and how discounts negotiated by drug industry middlemen, known as pharmacy benefit managers or PBMs, are taken into account.
"Even though they may provide discounts on these list prices to PBMs and health plans, the Part D program uses list prices for drugs to determine when a person reaches catastrophic coverage," Dusetzina, one of the authors of the JAMA study, said. "This is one reason that we have seen a huge increase in catastrophic spending in Part D over time."
Federal payments for catastrophic coverage grew beyond $33 billion in 2015, which is more than triple the amount paid in 2010, according to a federal watchdog report.
To contact the reporter on this story: Alex Ruoff in Washington at aruoff@bgov.com
To contact the editors responsible for this story: Robin Meszoly at rmeszoly@bgov.com; Heather Rothman at hrothman@bgov.com