Six Vying to Replace Devin Nunes in Next Week's Special Election
All parties running on same ballot in California's 22nd District
The district won't exist next year after redistricting spliced it
Republicans are heavily favored to retain the California seat Devin Nunes vacated at the start of the year—the only question is whether any of the four can win the seat outright in Tuesday's first-round special election primary.
Connie Conway, a former state assemblywoman and county supervisor, is the Republican best-positioned to win a majority of the vote. But if she falls short in the all-party primary that also includes two Democrats, the top two vote-getters would advance to a June 7 runoff.
The 22nd District includes parts of Fresno and Tulare Counties and leans Republican. It backed Donald Trump over Joe Biden 52%-46% in the 2020 election. A six-candidate race makes it hard for the leader to top 50% of the vote, though Conway could do it if she can consolidate most of the Republican vote.
The district will elect a replacement under the current lines, but it was in effect dismantled by redistricting for the next decade of elections. Most of Nunes' former constituents were shifted to either the new 20th District, a heavily Republican area where Minority Leader Kevin McCarthy (R) is seeking re-election, or to the 21st District, a Democratic-leaning area where Rep. Jim Costa (D) is running.
"This is a seat that Republicans should hold, and I would expect Connie Conway to take the seat outright on Tuesday," Paul Mitchell, vice president of California-based Political Data Inc., said in an e-mail. "She can then get a quicker start on one of the shortest congressional careers in California history."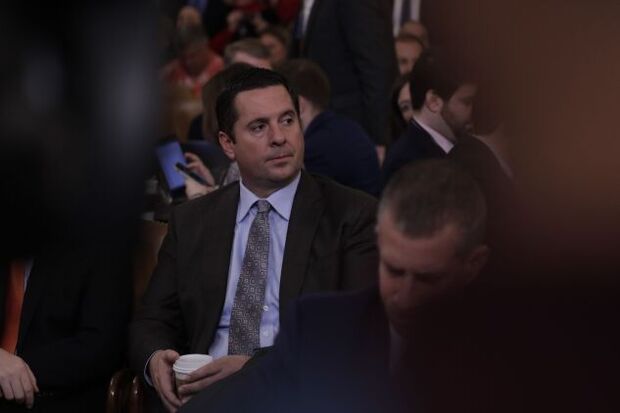 The three other Republicans on the ballot are Matt Stoll, a businessman and former Navy fighter pilot; businesswoman Elizabeth Heng, a former House aide who opposed Costa in the 2018 election; and businessman Michael Maher.
The two Democratic candidates are Eric Garcia, a therapist, and Lourin Hubbard, a water resources manager.
The district accounts for one of five vacancies in the House, which Democrats control 221-209. Jim Hagedorn (R-Minn.) died Feb. 17 and Don Young (R-Alaska) died March 18, while Jeff Fortenberry (R-Neb.) and Filemon Vela (D-Texas) both resigned Thursday. Fortenberry was convicted of lying about an illegal campaign contribution, while Vela is taking a job with the law and lobbying firm Akin Gump.
To contact the reporter on this story: Greg Giroux in Washington at ggiroux@bgov.com
To contact the editors responsible for this story: Bennett Roth at broth@bgov.com; Kyle Trygstad at ktrygstad@bloombergindustry.com