Sick of the 'Lesser Evil?' States Weigh How Winners Chosen (1)
Florida voters will consider switch to 'jungle primaries'
Ranked-choice voting on Alaska, Massachusetts ballots
(Updates with comment from Massachusetts governor.)
Bloomberg Government subscribers get the stories like this first. Act now and gain unlimited access to everything you need to know. Learn more.
Far down the Florida ballot, well below the polarizing choice for president, voters are being asked to sideline party affiliation entirely when it comes to future state leaders.
Switching to an all-in-one primary for state-level offices in Florida is one of several big decisions Americans will make about how they choose their state leaders. Two other states are considering giving second-choice candidates a chance.
"We think voters are sick of voting for the lesser of two evils," said Greg Dennis, policy director of Voter Choice Massachusetts, a group advocating for ranked-choice voting in that state.
Florida residents will consider allowing all voters—regardless of political affiliation—to participate in primary elections for state legislators, the governor, and other statewide offices. The top two candidates would advance to the general election, even if they're from the same party.
The proposed constitutional amendment to end closed, party-only primaries would take effect in 2024.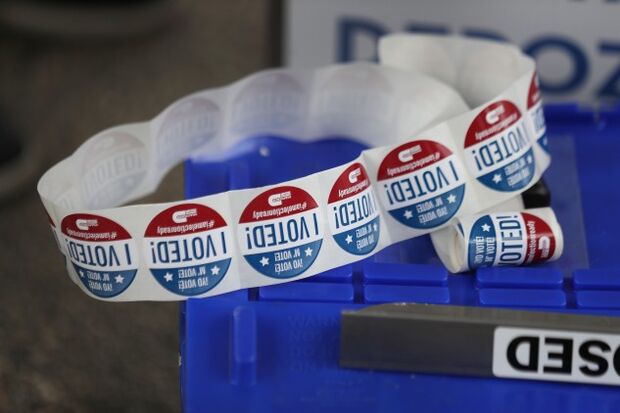 California, Washington, Louisiana, and Nebraska use similar "jungle primaries." But neither major political party wants to see it take root in the Sunshine State.
A last-minute lawsuit—funded by Florida's Republican Party and supported by state Democrats—filed after voting by mail already had begun asks the Florida Supreme Court to order elections officials not to certify the amendment, should it pass. It cites recent research showing the amendment "would result in cutting by more than half the number of districts in which Black voters currently comprise a majority of the electorate in a primary."
That argument doesn't consider that the amendment wouldn't take effect until after 2020 Census results are used to create newly apportioned legislative districts, attorneys for the group that sponsored the initiative, All Voters Vote, said in court filings.
Ranked Choice
Massachusetts voters will decide whether to switch to a ranked-choice voting system in 2022 for state and federal races, except for presidential elections.
If three or more candidates qualify for the ballot, voters would mark first-choice, second-choice, and third-choice candidates, and so on. If no one wins more than 50% of the vote, the last-place finisher would be dropped and voters who preferred the loser would have their second-choice options counted instead. There would be multiple rounds of vote-counting until one candidate tops 50%.
Former Democratic presidential candidate Andrew Yang and actor Jennifer Lawrence appear in a 30-second ad in favor of the new voting system. "If passed in Massachusetts, ranked-choice voting can contribute to a surge of democratic reforms that'll sweep the nation and fix a lot of what's wrong with our system today," Yang says in the ad.
State Republicans, including Gov. Charlie Baker, oppose the initiative, saying it sows confusion and undermines American democracy.
"At a time when we need to be promoting turnout and making it easier for voters to cast their ballots," the initiative would "add an additional layer of complication for both voters and election officials, while potentially delaying results and increasing the cost of elections," Baker said in a statement emailed Tuesday.
Voters in Alaska also will decide whether to implement ranked-choice voting in statewide general elections. Maine will be the first state to use ranked-choice voting for the presidential race Nov. 3.
Presidential Popular Vote
Colorado voters are being asked to consider joining a movement to change how the country elects a president. They will decide whether the state should agree to elect the president by a national popular vote, once enough states join the National Popular Vote Interstate Compact.
"Right now the way the president is elected favors some voices over others," said state Sen. Mike Foote (D), chief sponsor of the 2019 legislation creating the ballot measure. "The voice of Colorado should be every single person who votes in Colorado. One person will actually equal one vote, no matter where that person lives."
Other how-we-vote measures on the ballot this year:
With assistance from Tripp Baltz and Adrianne Appel
To contact the reporter on this story: Jennifer Kay in Miami at jkay@bloomberglaw.com
To contact the editors responsible for this story: Tina May at tmay@bloomberglaw.com; Katherine Rizzo at krizzo@bgov.com
Stay informed with more news like this – from the largest team of reporters on Capitol Hill – subscribe to Bloomberg Government today. Learn more.