Senators Seeking More Bipartisan Wins Face Election-Year Reality
Productivity gets harder closer to November midterms
Retirements, deadlines boost potential for successes
Bloomberg Government subscribers get the stories like this first. Act now and gain unlimited access to everything you need to know. Learn more.
Democrats and Republicans in the Senate came together last week to confront a common enemy: the disrupted sleep that comes with daylight saving time.
With little advance warning, and no objection, the Senate passed a bill (S. 623) to end the twice-a-year time change by unanimous consent.
It was just the latest example of bipartisan lawmaking, which is imperative for the chamber—split 50-50 between the two parties—to advance legislation outside of the budget reconciliation process. There are several factors that may help the trend continue in the coming months, but there's a looming pitfall threatening it: the midterm elections.
"The conventional wisdom is that it's harder to get things done in an election year, but certainly not impossible," said former Senate Majority Leader Tom Daschle (D-S.D.), who was minority leader when the Senate was last evenly split, in 2001.
There's recent precedent for it. In early 2020, senators voted overwhelmingly to clear a new trade deal for North America (Public Law 116-113). The CARES Act (Public Law 116-136) , the first major Covid-19 aid package, became law a couple of months later.
In recent weeks, the Senate cleared a $1.5 trillion spending package (Public Law 117-103) that also reauthorized the Violence Against Women Act and sent aid to Ukraine. It passed legislation that would overhaul the Postal Service (H.R. 3076), curb mandated arbitration in sexual assault or harassment cases (Public Law 117-90), and designate lynching as a hate crime (H.R. 55).
Senators noticed the rash of productivity.
"There was some good juju in the air," Sen. Chris Murphy (D-Conn.) said.
But Murphy acknowledged that may not be sustainable, nearly three months into the midterm election year.
"I know what the broader trend line is here, and it's not toward more stuff getting done here," he said. "It's toward less stuff getting done."
Senate Minority Whip John Thune (R-S.D.) agreed. He cautioned that it will "probably" get harder to get bipartisan work done closer to the election.
"Anything consequential gets harder the closer you get to the election, and I think that's kind of the nature of the beast in an even-numbered year," Thune said. "So if you look at the list of things that can still get done, it's probably not a long list, and most of them would be considered small-ball."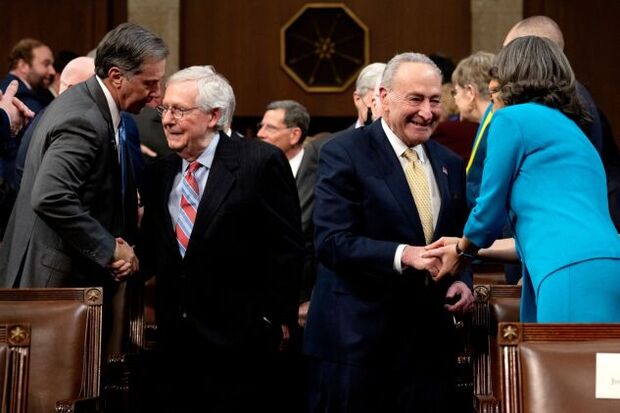 Helpful Factors
So what's the outlook for more bipartisan legislation in the coming months? Overcoming election-year dynamics, in which both parties are attempting to draw contrasts, may come down to a few variables.
Deadlines. Congress tends to act when it has to, especially when a key program is going to expire or departments are in danger of shuttering.
The omnibus bill Biden signed last week dries up Sept. 30, creating a pre-election deadline for another spending bill or stopgap measure. Senior appropriators have already begun talking about the next round of annual government appropriations, which will kick off in earnest after Biden sends over a budget proposal next week.
"I really do think Patrick Leahy wants to get this done on time," Sen. Jon Tester (D-Mont.), a senior appropriator, said of the Appropriations Committee chairman. "I think he's going to push the White House, committee chairs, ranking members, to try to get this done by the 30th of September. I think we have plenty of time to get it done by the September deadline."
Lawmakers also want to pass another National Defense Authorization Act, an annual military policy bill that has passed Congress every year for more than six decades.
Both must-pass measures could become vehicles for other legislative ideas that members want to pursue.
Retiring senators want to get stuff done. The Senate's top two appropriators, Leahy (D-Vt.) and Vice Chairman Richard Shelby (R-Ala.), aren't seeking re-election this fall. That reality presents "an opportunity" for a deal, Sen. Brian Schatz (D-Hawaii) said in a brief interview.
"We would be wise to under-promise and overdeliver," said Schatz, a senior appropriator. "That having been said, momentum begets momentum, and passing legislation is what we're here to do."
Sen. Jim Inhofe (R-Okla.), the top Republican on the Armed Services Committee, is resigning at the end of the year and would like to see one more NDAA pass before he leaves.
Sen. Richard Burr (R-N.C.), ranking member of the Senate Health, Education, Labor and Pensions Committee, is also in his last year in Congress. He and Chair Patty Murray (D-Wash.) are working on a committee-approved pandemic preparedness bill (S. 3799) that would also authorize ARPA-H, Biden's proposed new biomedical research agency. They're also looking to reshape the FDA's drug approval process and sign off on industry agreements on user fees. Burr wrote the last major reauthorization of the Pandemic and All-Hazards Preparedness Act (PAHPA), and it could be a legacy issue for him.
Some things are just bipartisan. Lawmakers in both chambers have rallied behind legislation supporting Ukraine during Russia's invasion.
After sending billions of dollars in humanitarian and military support to the U.S. ally in the government spending bill, the House overwhelmingly passed bills banning the importation of Russian oil (H.R. 6968) and ending normal trade relations with the country and Belarus (H.R. 7108). The Senate is still negotiating a path forward on both bills.
"I think what Russia is doing is so unconscionable, it's bringing people together not just in this country, but the transatlantic partnership has never been stronger," said Sen. Rob Portman (R-Ohio), the co-chair of the Senate Ukraine Caucus who has visited the region since the invasion along with colleagues. "My constituents, Republican, Democrat, independent, all feel strongly about the moral obligation for us to do all we can short of engaging in a fighting war with Russia. So it brought the country together, and I think we reflect that here in the Senate."
There are other priorities in the works.
Lawmakers in both chambers are working on the next Water Resources Development Act, which supports Army Corps of Engineers projects around the country. There's a long history of Republicans and Democrats working together on similar bills, even teaming up in 2007 to override George W. Bush's veto of a water projects bill (Public Law 110-114).
The Senate is running through the procedural hurdles of officially going to conference on the House-passed American COMPETES Act (H.R. 4521) and negotiate differences with the Senate version called the U.S. Innovation and Competition Act (S. 1260). Both are aimed at boosting U.S. economic competitiveness with China and would authorize funding for science programs. Lawmakers are especially eager to approve the bills' $52 billion for semiconductor manufacturing, a critical component of the supply chain for key consumer electronics like phones and cars.
It hasn't been seamless. Rep. Doris Matsui (D-Calif.), a member of the Energy and Commerce Committee, which contributed provisions to the House version, said: "It's no secret that as we get closer to an election, it gets harder to get things done."
What About Reconciliation?
Sen. Joe Manchin's (D-W.Va.) opposition to the House-passed Build Back Better Act (H.R. 5376) kept Democrats from achieving signature policy priorities, but it also played a role in forcing open a window for Democrats and Republicans to work across party lines. Sen. Ben Ray Lujan's (D-N.M.) extended absence as he recovered from a stroke also limited Democrats' chances of passing anything on a party-line vote, prompting a temporary pivot to more bipartisan efforts.
Democrats haven't given up on again using the reconciliation process, which requires only a simple majority rather than 60 votes to advance legislation, to pursue a smaller package capable of passing on a party-line vote. In his State of the Union address, Biden pointed to a number of items that could fit in a smaller package the Senate could take up. Democrats have already held a series of hearings on items such as prescription drug prices, child care, and climate solutions to build the case.
Regardless of what gets done before Nov. 8, there's one more window before January in the lame-duck session, when members may take one more swing for the fences on their legacy items.
Those periods are so productive "because a lot of pent-up stuff that didn't get done before the election gets done right afterwards," Daschle said. "And my guess is we're going to have a robust lame duck again this time."
Jack Fitzpatrick in Washington, Alex Ruoff in Washington and Daniel Flatley in Washington also contributed to this story.
To contact the reporter on this story: Zach C. Cohen in Washington at mailto:zcohen@bloombergindustry.com
To contact the editors responsible for this story: Kyle Trygstad at ktrygstad@bloombergindustry.com; Bennett Roth at broth@bgov.com
Stay informed with more news like this – from the largest team of reporters on Capitol Hill – subscribe to Bloomberg Government today. Learn more.