Senate Victory Gives Democrats Hope for Narrow Health Wins (1)
Democrats still lack votes for Biden's major health plans
Health groups spent heavily to oppose Democrats' health agenda
(Adds implications for health-care industry, beginning in second paragraph.)
Democrats, holding the slimmest-possible majority in the Senate, will set the health-care agenda in the new Congress but face an uphill battle in sending major legislation to the president's desk.
President-elect Joe Biden has vowed to build on the Affordable Care Act by expanding its insurance subsidies and creating a government-run insurance plan. Those ideas — which would transform the business landscape for UnitedHealth Group Inc., Anthem Inc., and other major insurers — face strong political headwinds.
Election runoff victories by Jon Ossoff and Raphael Warnock give Democrats control of Senate confirmations of political and judicial nominees. The bar is higher for passing legislation: Democrats must keep their caucus unified and win the support of 10 Republicans, unless they turn to budget tricks or change Senate rules.
Ossoff and Warnock both back Biden's health plans. Recently, Biden and congressional Democrats have largely focused on responding to the Covid-19 pandemic and improving the rollout of a vaccine to stop the spread of the virus. As the new Congress gets underway, Senate Democrats' agenda will shift to confirmation of Biden's pick to lead the Department of Health and Human Services, and finding ways to advance their health-care agenda without a commanding majority.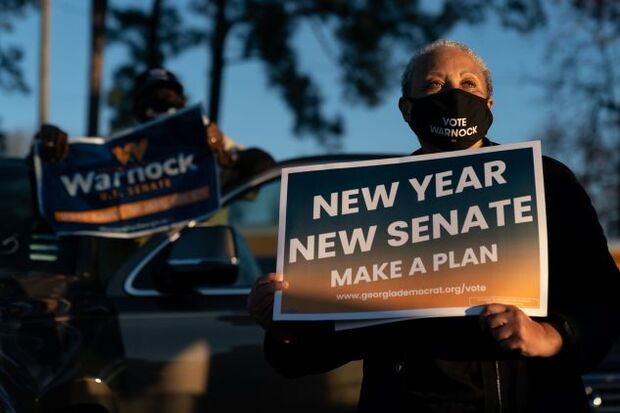 The Democratic health-care agenda has received major pushback from the pharmaceutical and health-care industry, which opposes efforts to create a government-run insurance plan and place controls on drug prices.
When House Democrats were advancing a bill that would direct the government to demand lower drug prices in 2019, the Pharmaceutical Research and Manufacturers of America — the lobbying arm for major drugmakers such as AbbVie Inc.,Bristol-Myers Squibb Co., Pfizer Inc., and Eli Lilly and Co. — spent record amounts opposing it.
PhRMA spent nearly $29 million lobbying in 2019, a record amount for the group. The American Hospital Association in 2019 spent $22 million, a three-year high.
Drugmakers, insurers, and hospital groups have banded together to oppose efforts to create a public option and appear to be gearing up for an expensive campaign against the policy. The Partnership for America's Health Care Future, which includes PhRMA, the Blue Cross and Blue Shield Association, HCA Healthcare Inc. and others, in 2019 raised more than $50 million but only spent about $20 million that year, according to tax records.
HHS Chief
A Senate majority means key members of Biden's Cabinet, such as his HHS pick, Xavier Becerra, will be easier to approve. Only 51 votes are required to confirm political appointees when there are no Senate vacancies. With the forthcoming Senate split 50-50 between Republicans and those who vote Democratic, Vice President-elect Kamala Harris will break any tie votes.
What Biden Gets With Slimmest Possible Control of U.S. Senate
Becerra has already started meeting with key Democrats ahead of confirmation hearings, according to a congressional aide. Becerra has spoken with the Senate Finance Committee's top Democrat, Ron Wyden (Ore.).
Wyden, in a statement, said he wants to confirm Becerra "as soon as possible so he can get on the job and start helping people during this unprecedented crisis."
A Democratic aide said the Finance Committee is gathering tax returns and other documents from Becerra and expects to hold a hearing on his nomination shortly after Biden's Jan. 20 inauguration. Becerra, California's attorney general and a former congressman, supports moving the U.S. to a "Medicare for all" system.
Democrats, with Senate control, can also seek to roll back some Trump administration regulations through the Congressional Review Act, a process that allows Congress to end recent regulations by a simple majority, Ilisa Halpern Paul, president of the District Policy Group at Faegre Drinker, said. However, the health-care regulations that Democrats want to target are generally too old to fall under the CRA.
"It is another check and balance within government," Paul said. "However, it is a tool with limitations."
Reconciliation
Big-ticket legislation such as a public health insurance option and expanding on the ACA aren't likely to pass the Senate through regular order. Democrats have signaled they are interested in using a congressional budget tool known as reconciliation that allows them to pass certain types of legislation by a simple majority.
BGOV Cheat Sheet: Budget Reconciliation
There are limits to relying on reconciliation instructions: Only provisions that have a budgetary effect can be passed under that process, according to the "Byrd Rule," named after the late Sen. Robert Byrd (D-W.Va.). Some provisions that fail to meet that requirement may be pulled out of the legislation under recommendation by the Senate Parliamentarian.
Those restrictions could be especially challenging for health-care legislation.
Creating government programs or establishing new health policies via reconciliation will be difficult because that move demands that any changes be directly related to government spending, said Tori Gorman, policy director for the Concord Coalition, a group that educates the public about the federal budget. Republicans are likely to challenge every aspect of a reconciliation bill proposed by Democrats and seek to cut out anything that might not qualify.
"Reconciliation is a lousy way to pass new laws that last," Gorman said. "They rarely stand the test of time."
Democrats Eye Fast Track Through Senate for Key Legislation
The design of policies such as a public health-care option — a government-run insurance plan that's meant to compete with private ones — will determine whether it saves or costs the government money, said David Kendall, a senior fellow for health and fiscal policy at Third Way. Lawmakers would need to decide how much the government insurance plan pays doctors, how much it collects in premiums, and who can join it.
The legislation's fate will also hinge partly on estimates by the Congressional Budget Office, which can shed light on a bill's flaws or simply find that a proposal costs too much.
The CBO frustrated Republicans with its 2017 assessment that Republicans' American Health Care Act would leave 23 million more Americans uninsured. Later that year, Republicans backed a budget resolution that allowed them to add $1.5 trillion to the debt over 10 years through tax cuts, and they had to negotiate legislation that fit within that limit.
To contact the reporter on this story: Alex Ruoff in Washington at aruoff@bgov.com
To contact the editors responsible for this story: Sarah Babbage at sbabbage@bgov.com; Robin Meszoly at rmeszoly@bgov.com