Senate Rematch Tops Races to Watch on Quiet Down-Ballot Tuesday
A quiet congressional primary day in Mississippi on Tuesday will likely crystallize a rematch of a competitive 2018 Senate race.
Sen. Cindy Hyde-Smith (R), who's seeking a full six-year term, is unopposed in the primary, and Mike Espy (D), a former congressman who was Bill Clinton's first Agriculture secretary, has nominal opposition in his party's primary.
Hyde-Smith defeated Espy by 7.3 percentage points in a 2018 special election runoff held after Hyde-Smith was appointed to the Senate earlier that year, following the resignation of Thad Cochran (R). In Republican-leaning Mississippi, Espy's 46.4% was the best showing by a Democratic Senate candidate since 1982.
Still, nonpartisan political analysts again give Hyde-Smith the advantage.
Hyde-Smith had $784,000 in her campaign fund on Feb. 19, compared with $206,000 for Espy, according to Federal Election Commission data.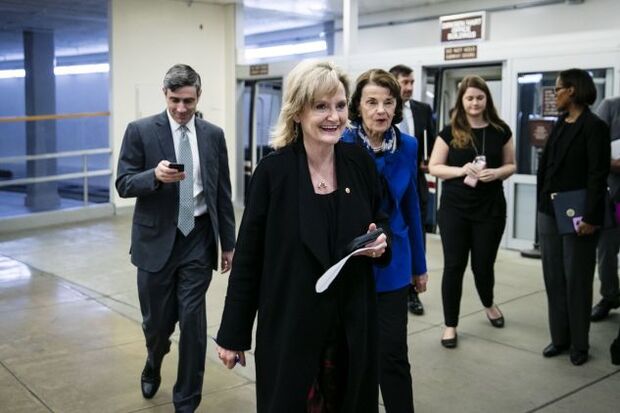 What Else to Watch
Rep. Steven Palazzo (R), an Appropriations Committee member who's in his fifth term representing the southern 4th District, has three primary opponents: Robert Deming, a lawyer and Biloxi city councilman; Carl Boyanton, a businessman; and Samuel Hickman, a former legislative aide to Rep. Trent Kelly (R) of Mississippi's 1st District.
Deming aired a TV ad that asked Republican voters to "send President Trump a real conservative" who opposes abortion and supports gun rights and a balanced budget. Boyanton self-financed most of the $158,000 his campaign reported in receipts through Feb. 19.
Palazzo won the 2018 Republican primary, 71%-29%, over Army veteran Brian Rose.
Democrats didn't field a candidate this year in Mississippi's 4th, which includes Gulfport and Hattiesburg and is strongly Republican.
Mississippi's other three House members also are favored to win new terms in November: Kelly, who is unopposed in the Republican primary in the northern 1st District; Bennie Thompson (D), the chairman of the Homeland Security Committee, who has held the 2nd District in Mississippi's Delta since succeeding Espy in 1993; and Michael Guest (R), who's in his first term representing the 3rd District in the central part of the state.
To contact the reporter on this story: Greg Giroux in Washington at ggiroux@bgov.com
To contact the editors responsible for this story: Kyle Trygstad at ktrygstad@bgov.com; Bennett Roth at broth@bgov.com