Senate GOP Keeps Distance From Mayorkas Clash as House Pounces
Dozens of House Republicans have moved to oust secretary
Senators wary, indifferent with bid likely to end in chamber
Bloomberg Government subscribers get the stories like this first. Act now and gain unlimited access to everything you need to know. Learn more.
Senate Republicans are largely staying out of the fight over whether Homeland Security Secretary Alejandro Mayorkas should lose his job as the Biden administration struggles to manage migrant crossings at the US-Mexico border.
"I've not thought about it at all," Sen. Jerry Moran (R-Kan.) said. "I don't pay very much attention to what's going on in the House."
The House GOP, flexing its control of the chamber since January, has made Mayorkas a top target of investigations, planned a half-dozen trips to the border to highlight problems, and threatened impeachment proceedings, which would be almost unprecedented for a Cabinet secretary.
Even if the House succeeds in impeaching Mayorkas, however, the Senate—where Democrats and independents aligned with them have a 51-49 advantage—is highly unlikely to convict and remove him from office. Conviction would require two-thirds voting in favor.
While Republican senators are dismayed by the secretary's handling of the border, many are keeping their distance from the impeachment ordeal across Capitol Hill. The dynamic highlights both the differing roles of the chambers and the tricky politics around impeachment—a spectacle that could help Republicans rally support in some conservative circles while deepening other voters' distaste for Washington drama.
Many GOP senators have remained circumspect or even indifferent to the notion of pushing Mayorkas out. Sen. Mike Crapo (R-Idaho) said impeachment is "the House's business" and insisted he hadn't followed the push "at all." Sen. Katie Britt (R-Ala.), the Senate's top Republican appropriator for DHS, said she has deep concerns about Mayorkas's performance but would withhold judgment on any effort to remove him as secretary until it reached the Senate.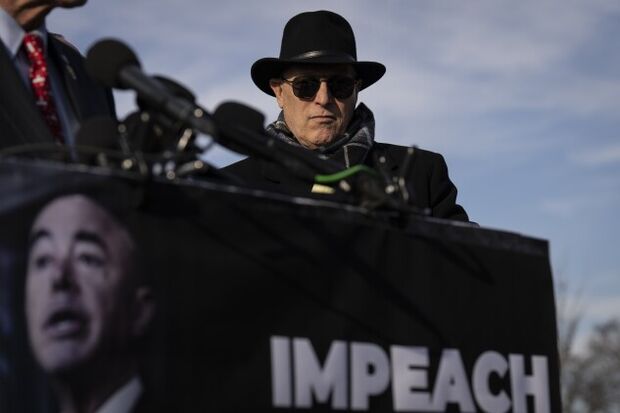 Even Sen. Lindsey Graham (R-S.C.), who raised the specter of impeachment in a November letter with Sen. Ted Cruz (R-Texas), is staying tight-lipped on prospects. "I'll leave that up to Kevin and his team," he said, referring to Speaker Kevin McCarthy (R-Calif.).
McCarthy, during a border trip in Arizona earlier this month, pledged to investigate the secretary's actions "wherever that takes us." Mayorkas says he has no plans to resign and has pointed to a recent drop in migrant encounters as evidence that a new suite of legal pathways and enforcement measures is working.
'Launching an Arrow'
Dozens of House Republicans have already introduced two resolutions to impeach Mayorkas, accusing him of dereliction of duty based on record migrant encounters since President Joe Biden took office. They insist they have enough information to pursue impeachment now.
House Republicans Target Mayorkas in Latest Impeachment Bid
That enthusiasm has drawn annoyance from some Senate Republicans.
"I understand launching an arrow, but I'm not sure they've got the right target," said Sen. Mitt Romney (R-Utah), who sits on the Homeland Security and Governmental Affairs Committee. He thinks Mayorkas has done a poor job but said he doesn't see any "high crimes or misdemeanors" that would meet the standard for impeachment.
Threats to oust Mayorkas should come only after a thorough investigation, Sen. Thom Tillis (R-N.C.) said, arguing that the facts known now about the secretary's handling of the border aren't enough to justify impeachment.
"We know the top-line issues, but if you've taken a look at the history of impeachment processes, they got very detailed and took months to get done," Tillis said. He called on House colleagues to ensure any proceedings they conduct be more robust than the impeachments Democrats led of former President Donald Trump, which many Republicans considered rushed.
Tillis and several other senators say House investigations are useful regardless of whether impeachment is the endgame. "It might be worth it to explore and to highlight his obvious shortcomings in terms of securing the border," Sen. Kevin Cramer (R-N.D.) said.
Only a few Senate Republicans have offered a full-throated endorsement of their House colleagues' impeachment pursuit.
"Secretary Mayorkas absolutely should be impeached. I think they will do it," Cruz said. Sen. Josh Hawley (R-Mo.) has also called for the secretary to be impeached.
Senate Democrats' Role
On the other side of the aisle, most Senate Democrats are also staying out of the fray on Mayorkas impeachment politics. They've offered general defenses of the secretary on some counts, while deferring to House colleagues on specific impeachment-related charges.
"The House will do what the House is going to do, so we'll wait to see if and what that is," Sen. Alex Padilla (D-Calif.) said. Padilla and several other immigrants' rights advocates in Congress have their own gripes with the secretary over proposed asylum restrictions.
Biden Rebuked by Democrats for Trump-Like Immigration Proposal
Sen. Gary Peters (D-Mich.), who leads the Homeland Security and Governmental Affairs Committee, said he'll push back on GOP messaging as needed. "I certainly will be helpful in any way to set the record straight as things evolve," he said.
The Department of Homeland Security has hired outside counsel to help navigate the mounting document requests and investigative demands from the House, and the administration is increasingly countering some GOP talking points about the border.
Sen. Chris Murphy (D-Conn.), the top DHS appropriator in the Senate, said he doesn't feel obligated to defend Mayorkas out of loyalty to the Biden administration and fellow Democrats.
"I see it as my responsibility as a public servant to stand up for somebody who I think is doing a good job," he said, crediting Mayorkas for "making sense of a broken system" of immigration laws.
To contact the reporter on this story: Ellen M. Gilmer in Washington at egilmer@bloombergindustry.com
To contact the editors responsible for this story: Robin Meszoly at rmeszoly@bgov.com; Anna Yukhananov at ayukhananov@bloombergindustry.com
Stay informed with more news like this – from the largest team of reporters on Capitol Hill – subscribe to Bloomberg Government today. Learn more.