Self-Driving Car Rules Lag for Years as Technology Speeds Ahead
Bloomberg Government subscribers get the stories like this first. Act now and gain unlimited access to everything you need to know. Learn more.
Lawmakers in Washington, as dozens of companies test self-driving cars, worry about a decades-old question: whether the nation's auto regulator has the expertise to assess the safety of emerging technology.
The National Highway Traffic Safety Administration has produced no firm regulations on self-driving cars since issuing its first voluntary guidance about four years ago. Meanwhile, several fatal accidents tied to use of autonomous technology have prompted the National Transportation Safety Board to criticize NHTSA for lack of oversight.
The slow pace revived questions about NHTSA's ability to regulate as well as its will. That idea popped up most recently in a February draft of self-driving car legislation, and Senate and House staff left space in it for how many personnel regulators should hire with expertise in cybersecurity, electrical and mechanical engineering, and software.
"In some levels, they're viewing it as letting technology lead, but I think in many ways, technology is waiting for that direction from the federal agency," said Robert Molloy, who leads highway safety at the NTSB. "This is one case with so many stakes, and so many designers, that I think that there's a clear role for the federal government to not necessarily pick winners and losers, but to facilitate the implementation of this technology in a safe way by providing parameters by which to do it."
Self-driving car legislation failed in the last Congress.
Autonomous cars promise to replace human drivers with computers, forcing the agency with a history of testing mechanical hardware to regulate software. And they'll have to do it with roughly the same number of engineers NHTSA had in 2014, according to the Office of Personnel Management, prompting safety advocates to push Congress for more staff with technical expertise.
"The assumption is we're creating a whole new sort of realm of responsibility for them," said Sen. John Thune (R-S.D.), one of the lead lawmakers of the legislation. "There would have to be some way of recognizing the additional manpower it would take to implement it."
Toyota Probe
Criticism of NHTSA's technical expertise goes back to 2012, when the National Academy of Sciences reviewed the agency's investigation into the cause of unintended acceleration in Toyota Motor Corp.cars. It raised questions about whether NHTSA understood electronic throttle control systems that were "simple and mature" compared with rapidly evolving automotive technologies.
It recommended that NHTSA establish a standing technical advisory panel of people with design, development, and safety expertise on automotive electronic systems.
"It's unrealistic to expect NHTSA to hire and maintain personnel who have all of the specialized technical and design knowledge relevant to this constantly evolving field," said Louis Lanzerotti, a professor who was chairman of the report committee, at the time.
Under current Secretary Elaine Chao, the Department of Transportation disbanded an Obama-era transportation automation advisory council that included top executives from General Motors Co.,Amazon.com Inc. and Apple Inc. The agency has since formed a new council that addresses automation across modes of transportation, such as tunneling, hyperloop, and self-driving cars.
NHTSA's Vehicle Electronics and Emerging Technologies research program broadly covers electronics functional and systems safety, and is studying cybersecurity and electronic reliability, the agency said in a statement Friday night. The agency also maintains a research facility in Ohio to test, monitor, and research this topic and other "emerging safety issues."
The agency has been testing automotive hardware and equipment against objective performance standards for decades, said Paul Hemmersbaugh, the agency's chief counsel under President Barack Obama. For example, NHTSA is relatively well-equipped to test how a car's brakes perform at a specific speed. To test a computer in a self-driving car, NHTSA would have to figure out the "myriad functions" that humans have previously performed, and figure out how to have standards for each activity, he said.
NHTSA Acting Administrator James Owens told a congressional committee in November that the agency wouldn't hesitate to issue a recall of any vehicle or equipment that poses "an unreasonable risk to safety."
"The court of public opinion, I would argue, is holding" the self-driving car industry accountable at the moment, said Doug Shinkle, transportation program director at National Conference of State Legislatures.
'Behind the Eight Ball'
Congress has given the agency roughly the same amount of money to work with—about $1 billion adjusted for inflation— since at least 2014, according to Office of Management and Budget records. They received $989 million for fiscal 2020.
The majority of that money goes to states, said David Friedman, NHTSA administrator under Obama. The agency then divides what's left among competing priorities, such as seat belt safety, distracted driving, and "creating smart rules of the road" for self-driving cars, Friedman said. The Department of Transportation's research arm also does some work on self-driving cars.
"In a way, they're just starting inherently behind the eight ball" when it comes to regulating self-driving cars, Friedman said. "And of course, it's even more challenging when you've got an administration that does not seem to accept the fundamental role of government in creating rules of the road for safety."
The relaxed approach to regulating self-driving cars, however, began under Obama.
Under Obama, the agency produced its first self-driving car guidance, with the goal of reducing "unnecessary barriers" to autonomous vehicle testing and development, according to that document. NHTSA's engineering staff shrank during Obama's second term, before those cuts were largely reversed under President Donald Trump, according to OPM records. The agency's self-driving car activities also involve research psychologists, math statisticians, data analysts, and economists, the agency said in a statement.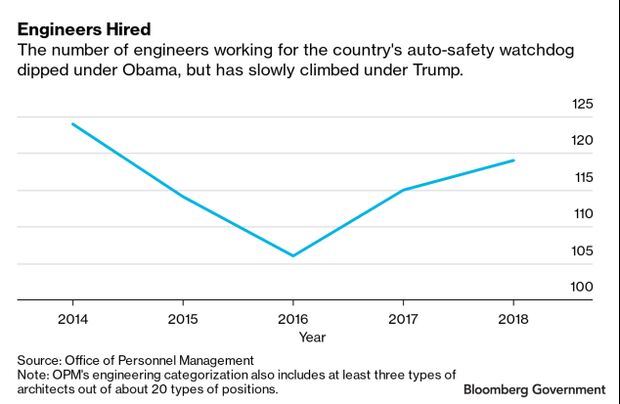 Trump's Transportation Department released a more expansive fourth version of that guidance in January, outlining a vision for how about 30 agencies across the government would promote unified federal rules on self-driving cars. Chao, in her speech announcing the updated guidance, said she wanted to encourage innovation, but stopped short of any specific rules that would hold self-driving car companies accountable for keeping the public safe.
The reluctance to impose rules reflects that self-driving technology is being developed not just by traditional automakers such as GM and Volkswagen AG, but newcomers like Tesla Inc.,Uber Technologies Inc., Alphabet Inc.'sWaymo, and Aurora Innovation, a company founded by an ex-Alphabet engineer that is building self-driving technology for traditional cars.
Established car companies have had strict regulations and a focus on safety for decades, said Melody Drummond Hansen, chair of the automated and connected vehicles industry group at O'Melveny & Myers LLP. Technology companies, however, aren't used to regulation, and may be more "risk-loving" culturally, she said.
Grocery Robots
Trump asked Congress to reduce NHTSA's budget by 2.5% in its fiscal 2021 budget proposal, with an ask of $7 million included "to complete the foundational research" on automated driving systems. The agency had a total of 119 engineers and architects as of September 2018, the most recently available data from OPM.
NHTSA has signaled in recent weeks that it may be moving toward gradual regulation.
Earlier this month it granted its first-ever exemption from federal safety rules to Nuro Inc., a self-driving startup building autonomous robots to deliver groceries. The exemption comes with strings attached: The company will be required to report data about its robot to regulators.
That data may help regulators develop firm standards for autonomous cars. Former NHTSA Administrator Mark Rosekind, who now heads safety innovation for self-driving car company Zoox, Inc., said at a Washington conference in January that regulators need more data about self-driving cars to be able to craft regulations. John Lobsiger, who works in safety affairs at Volkswagen, said the agency needs enough data "to feed technical parameters of a new test procedure."
"They won't even look at it unless you have enough cost-benefit data that will make it eligible for consideration," Rosekind said.
Safety Plans Optional
The agency has asked the public a few times for feedback on self-driving car topics, such as how it should define "driver" when a car is at least partially driven by software. The agency also recommends that companies testing self-driving cars submit self-safety assessments that address safety design elements.
However, fewer than 20 companies testing self-driving cars had submitted safety evaluations as of late February, out of at least 65 that are testing them in the U.S., according to California state records. The NTSB called on NHTSA to make those reports mandatory after a self-driving Uber car struck and killed a pedestrian in 2018.
The evaluations are also noticeably lacking technical details. One company's 33-page self-safety assessment, for example, devotes at least eight pages to explaining the company's business. Another includes bright headlines and photos describing how a self-driving car works.
"That's a sales pitch for them allowing their roads and their citizenry to be used as a test bed," said Shaun Kildare, research director at Advocates for Highway and Auto Safety, a group that has been critical of NHTSA's lack of regulation.
A self-driving car bill, if it becomes law, would create a framework for NHTSA rulemaking. It could take several years for the agency to write the actual regulations.
"This is not the last word with regard to automated vehicles," said John Bozzella, leader of the Alliance for Automotive Innovation, a group that represents almost all U.S. automakers. "It's not like Congress would pass this bill and we all go home and everything's great."
To contact the reporter on this story: Courtney Rozen in Washington at crozen@bgov.com
To contact the editors responsible for this story: Paul Hendrie at phendrie@bgov.com; Bernie Kohn at bkohn@bloomberglaw.com; Robin Meszoly at rmeszoly@bgov.com
Stay informed with more news like this – from the largest team of reporters on Capitol Hill – subscribe to Bloomberg Government today. Learn more.