Seafood's the New Meatpacking as Covid Outbreaks Spread (1)
(Updates with industry response in the 17th paragraph.)
Bloomberg Government subscribers get the stories like this first. Act now and gain unlimited access to everything you need to know. Learn more.
Processing plants in Alaska, the country's top seafood-producing state, have turned into Covid-19 hot spots, leaving the seafood industry to confront another problem on top of its financial woes during the coronavirus pandemic.
Several seafood companies have watched coronavirus cases climb among employees at plants or on fishing vessels. Joe McLaughlin, the state epidemiologist, called the outbreaks "reminiscent of the meat packing plant outbreaks in the Lower 48."
The industry already suffered an economic blow when restaurants shuttered—some temporarily, others permanently—drying up a market that typically buys about 70% of seafood products. Distributors now face $2.2 billion in unpaid debt due to the pandemic, the National Fisheries Institute estimates.
The seafood industry benefited from stimulus funds in previous coronavirus-relief legislation, but some lawmakers are pushing to provide companies with more financial assistance to purchase personal protective equipment for their employees, who often work in close quarters in plants or on ships.
The outbreaks are "not a surprise," said Mark Lauritsen of the United Food and Commercial Workers International Union, "especially when you consider an industry that is largely non-union and probably is not regulated like it should be."
"Seafood has gone to herculean lengths to protect its workforce and ensure its safe, healthy products make it to American tables," said Gavin Gibbons, spokesman for the National Fisheries Institute.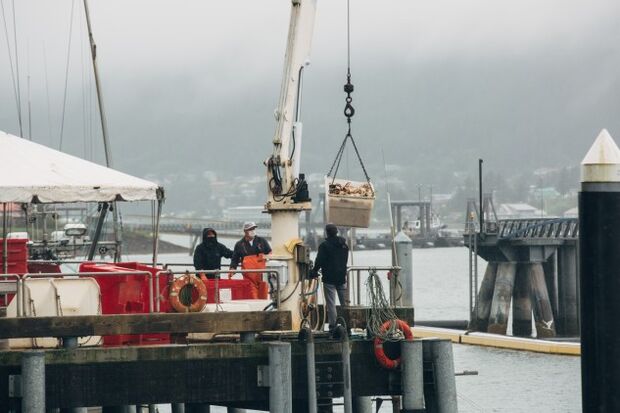 Food Supply
The industry doesn't anticipate large-scale disruptions at seafood plants, Gibbons said. Plants with positive cases may temporarily suspend operations for cleaning, safety review, and contact tracing, but "there have been relatively few COVID outbreaks related to seafood production," he added in a statement.
Alaska Sen. Lisa Murkowski (R) and Agriculture Committee ranking member Debbie Stabenow (D-Mich.) recently reintroduced the Food Supply Protection Act (S. 4453). The bill would help fishers and eligible seafood processors finance Covid-19 testing, personal protective equipment, and cleaning, among other expenses.
"Fishermen and the seafood industries are important contributors to food security and have been equally hit hard by the challenges attributed to the pandemic," Murkowski said in an Aug. 5 statement.
Neither she nor the state's other Republican lawmakers, Rep. Don Young and Sen. Dan Sullivan, responded to requests for comment.
The CARES Act stimulus law (Public Law 116-136) allocated $300 million in fisheries assistance. About 80% of the funds went to 10 states, with Alaska and Washington state collecting the largest awards of $50 million each.
Cases Mount
Several of this summer's outbreaks can be traced back to OBI Seafoods LLC, which operates 10 processing plants in Alaska. Its Alitak facility on Kodiak Island recently reported 37 infected employees, the company said in an Aug. 5 statement.
More than 150 workers out of 262 tested positive at the company's Seward plant in late July, city officials cited. Its Wood River facility identified 12 infected workers on June 22, and a smaller outbreak of three cases occurred at an Excursion Inlet plant, an OBI Seafoods spokesperson confirmed.
Icicle Seafoods Inc. and Ocean Beauty Seafoods LLC, two of the state's largest seafood companies, merged to form OBI Seafoods in June. A company spokesperson described Alaska's coronavirus-safety mandates on the seafood industry as the strictest of all businesses, adding that OBI Seafoods implements an extensive employee testing and quarantine program.
Other processors haven't been spared from the pandemic: Alaska Glacier Seafoods Inc. saw more than 60 Juneau plant employees infected in July, the city reported. The Anchorage facility for Copper River Seafoods Inc. turned into another viral hotbed, with 56 workers out of 134 testing positive as of July 22, the municipality's health department cited. Neither company responded to requests for comment.
Vessel Outbreaks
Fishing boats can also harbor the virus at sea, as demonstrated by outbreaks on three American Seafoods Co. vessels. One July incident left 85 out of 119 crew members infected, Seward city officials reported.
The cases occurred "despite our efforts to screen and test crews, place them in quarantine, and sanitize vessels and belongings," said Mikel Durham, American Seafoods CEO and Tyson Foods Inc. board director, in a July 22 statement. "We are paying all the costs of caring for our crew, such as medical care, transportation, food, housing and security to enforce isolation to prevent further spread."
With few employees hospitalized, the entire fleet is now back on the water, a company spokesperson added.
The seafood industry south of Alaska isn't immune to Covid-19 either, said David Veal, the American Shrimp Processors Association's executive director in Biloxi, Miss. "It is happening here," he said in a Wednesday telephone interview. Given the viral spread, "that's to be expected," Veal added, in spite of steps taken to protect both workers and employers.
Outbreaks have also been reported at seafood facilities in Maine and Oregon.
The pandemic "is a public health issue," Veal said. "We need to take stronger steps, whether it's at the federal level, the state level, to try to control it."
To contact the reporter on this story: Megan U. Boyanton in Washington at mboyanton@bgov.com
To contact the editors responsible for this story: Sarah Babbage at sbabbage@bgov.com; Paul Hendrie at phendrie@bgov.com
Stay informed with more news like this – from the largest team of reporters on Capitol Hill – subscribe to Bloomberg Government today. Learn more.