Schumer's Orbit of Lobbyists Poised to Gain From Leader's Rise
More than three dozen former aides work at K Street firms
Schumer faces big agenda after assuming majority leader
Bloomberg Government subscribers get the stories like this first. Act now and gain unlimited access to everything you need to know. Learn more.
A cadre of lobbyists with ties to Sen. Chuck Schumer may soon see their stars rise with the New York Democrat poised to become majority leader and heavily responsible for pushing through President-elect Joe Biden's agenda.
There are more than three dozen of his former aides on K Street, according to a Bloomberg Government analysis of LegiStorm data. They're scattered across think tanks, corporations, trade associations, and firms in Washington.
Those closest to him and his office include Heather McHugh, Schumer's former legislative director who founded Resolution Public Affairs and represents clients including the March for Our Lives Action Fund, which supports gun control legislation, Humana Inc., and Citigroup Inc.; Molly Ahearn Allen at American Continental Group, who spent five years with the Democratic leader; and Jessica Straus at Dish Network Corp., who led Schumer's fundraising operation.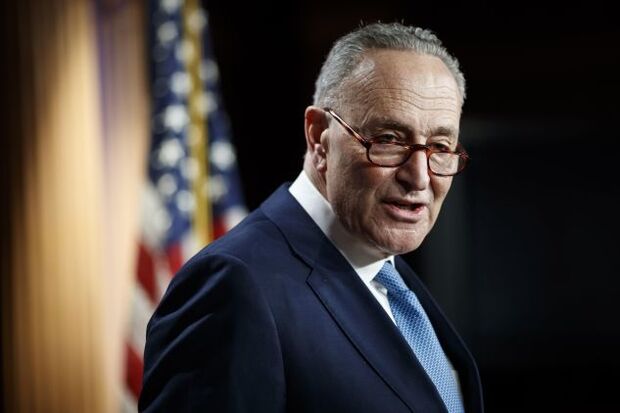 With a razor-thin majority and fault lines between moderate and progressive members, Schumer has a steep challenge ahead in passing legislation including another round of stimulus to address the coronavirus, an infrastructure improvement package, and climate change and energy efficiency measures. He will also have to devote considerable time at the outset to marshaling the votes to confirm Biden's nominees for cabinet posts and other political positions and handling the second impeachment of President Donald Trump.
Even if Schumer doesn't always rely on lobbyists for advice, corporate America and lobbying clients across the spectrum will still want to gain insight into how the leader thinks and operates.
"Developing your message, your rationale, and putting it into the hands of key members and the new majority leader, that's kind of always been a way of getting stuff done. I would argue you just need to be better at it when it comes to Schumer," said former Schumer aide Izzy Klein, who now runs the boutique lobbying firm Klein/Johnson with Matt Johnson, a former aide to Sen. John Cornyn (R-Texas). Klein's clients include CVS Health Corp., Oracle Corp., the New York State Broadcasters Association, and the U.S. Travel Association.
Revolving Door
The revolving door between congressional leadership offices and K Street affects both parties, said Craig Holman, a government affairs lobbyist at the watchdog group Public Citizen.
"Studies have shown that revolving door opportunities favor whichever party is in control of Congress and the White House," Holman said. "Former staffers of the controlling party, especially senior staffers, are sought for lobbying positions by wealthy special interests at a higher rate than former staffers of the minority party — Republican or Democratic."
For someone who's spent more than 40 years in Congress, Schumer has a relatively small orbit of close consultants. Unlike some members of Congress, Schumer doesn't have a group of outside influencers that he consults on a regular basis on legislative strategy, say those who have worked for the senator.
"To say that he has a kitchen cabinet of lobbyists that he might seek to influence him on particular issues — that's not the case. He really does rely heavily on staff and his colleagues," said Jason Abel, a partner at Steptoe & Johnson who served as chief counsel for Schumer on the Senate Rules Committee and counsel in his personal office.
Schumer's staffers "do a great job of reaching out on a whole range of issues to the right folks. Those of us who worked for him know that's how he works and respect it," Klein said.
The Brooklyn-born Democratic leader, his former aides said, is a force of nature and practically "glued" to his famously archaic flip phone, constantly talking with his aides and other policymakers when working to get legislative items across the finish line.
"His flip phone is essential to a lot of this. He will call colleagues, he will call staff, really in a non-stop effort to get things done. It's really all hours of the day," said Abel, who as a staffer was on the receiving end of those calls.
In December, Schumer's ringing phone interrupted him on the Senate floor; a couple of weeks later, he answered a call in the middle of a virtual meeting with Transportation Secretary nominee Pete Buttigieg, hurriedly saying he would call the person back.
Schumer's Orbit
Stacy Ettinger, who spent nearly a decade in Schumer's office before becoming a partner at K&L Gates, said anyone meeting with Schumer's office "should be prepared for tough questions and honest feedback."
Those described as close to Schumer and his office have the kind of relationship where staffers are able to ring them up and get a true read on what K Street is thinking on any particular issue, said one Democratic lobbyist who asked not to be named.
Some of his former staffers on that list include Carmencita Whonder at the top lobbying firm Brownstein Hyatt Farber Schreck and Ryan McConaghy, who led the Senate Democratic Policy and Communications Center and is now at Forbes Tate Partners. Whonder's clients include Apollo Global Management LLC and the Credit Union National Association. McConaghy registered in November to lobby for Blackstone Group LP.
Other former aides, such as National Retail Federation General Counsel Stephanie Martz and Erick Mullen at public affairs and lobbying firm Mercury, aren't registered lobbyists but remain in the influence world. Mullen worked on Schumer's first Senate campaign in 1998 and then served as a top staffer in his office.
Others have close ties even though they don't have a stint with Schumer on their resume. They include Robert Glennon, senior counsel at Hogan Lovells who specializes in tax, financial services, land conservation, and energy issues, and Tracy Spicer, a longtime aide to Sen. Ted Kennedy (D-Mass.) who founded Avenue Solutions, a boutique health care lobbying firm.
Jennifer Poersch, a lobbyist at HLPR Advocacy, is also close with Schumer and his team. Her husband, J.B. Poersch, is the president of Senate Majority PAC, the Schumer-aligned super PAC, and previously served as executive director of the Democratic Senatorial Campaign Committee.
Democratic lobbyists active in fundraising, such as Jeff Forbes of Forbes Tate Partners, David Castagnetti of Mehlman Castagnetti Rosen & Thomas, Shannon Finley of Capitol Counsel, and Steve Elmendorf, co-founder of Subject Matter who was chief of staff to House Democratic leader Dick Gephardt (Mo.), also have ties with Schumer and his staff.
Jimmy Ryan, another Subject Matter co-founder, worked with Schumer during his time on the House Judiciary Committee. Ryan was also chief counsel and floor policy director for Sen. Harry Reid (D-Nev.) when he was assistant Democratic leader and whip.
To contact the reporter on this story: Megan R. Wilson in Washington at mwilson@bgov.com
To contact the editors responsible for this story: Bennett Roth at broth@bgov.com; Kyle Trygstad at ktrygstad@bgov.com
Stay informed with more news like this – from the largest team of reporters on Capitol Hill – subscribe to Bloomberg Government today. Learn more.