Schumer Grasps for Democratic Unity With Majority on the Line
Democrats want to move past legislative setbacks, rack up wins
Leader offers incumbents some leeway, still needs every vote
Chuck Schumer began his second year as majority leader staring down the possibility that it may be his last.
The midterm elections in November could end the New Yorker's tenure leading a Democratic majority in the Senate – a distinct possibility given the history of midterm losses for the president's party, especially one with sagging poll numbers.
To aid his vulnerable incumbents, Schumer will look to push through big-ticket must-pass items, including legislation stalled by intraparty differences and Republican opposition. He'll also seek to confirm as many administration officials and judges as possible to notch wins for his party while it controls both chambers of Congress and the White House.
His tallest task remains the same: trying to keep every member of his tenuous 50-50 majority together.
"He's got a tough job," said Sen. Michael Bennet (D-Colo.), a former Democratic Senatorial Campaign Committee chairman who's up for re-election. "I certainly wouldn't want it."
Senators and aides say his successes reflect a light-touch approach that hinges more on constant accessibility to his caucus members rather than on ruling with an iron fist.
But some high profile struggles have brought criticism that Schumer has misjudged his caucus' ability to follow through on the ambitious agenda being pushed by President Joe Biden.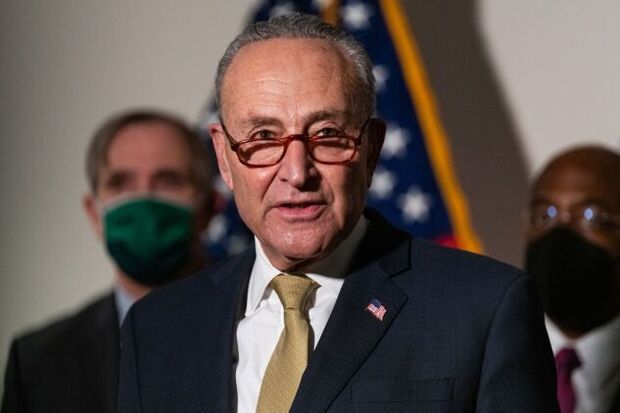 Key Stumbles
Schumer earlier this month scheduled a risky and ultimately doomed vote to change filibuster rules and pass a voting rights measure (H.R. 5746). Sens. Joe Manchin (D-W.Va.) and Kyrsten Sinema (D-Ariz.) opposed changing the rules.
"Facing an uphill battle from the start, we lost the vote," Schumer said in a floor speech last week. "But to have not voted would have been a far greater loss."
As a result of Manchin's opposition, Democrats have also been unable to act on the House-passed Build Back Better package (H.R. 5376), which would provide $1.7 trillion for domestic social programs and climate change mitigation.
"At the end of the day, you would have hoped that Schumer would have had enough leverage or done enough arm-twisting to bring Manchin and Sinema along," Joseph Geevarghese, executive director of the progressive advocacy group Our Revolution, said in an interview.
A spokesperson for Schumer didn't respond to an interview request.
No Margin for Error
Schumer has found places to keep his party together, which aides say reflect his light touch with members.
"He will push and cajole with the best of them," said Matt House, the managing director at Clyde Group and a former Schumer spokesman. "But when honey is required, he's more than happy to use honey to catch flies."
In some of the biggest votes of the 117th Congress, including the passage of the pandemic aid package (Public Law 117-2), no Democrats have defected on the final roll call. Caucus members haven't voted against any of President Joe Biden's lifetime appointments to the judiciary, a slate of nominees that Schumer expended hours of floor time to confirm.
"It is only a 50-50 Senate, and it only takes one to change," Senate Majority Whip Dick Durbin (D-Ill.) said. "So I think he's done a remarkable job."
"The fact that we have no margin for error I think makes it a little bit easier to get everybody united," said Brian Fallon, executive director of Demand Justice and a former Schumer spokesman. "You might have had some people take a walk if it was viewed as a freebie opportunity. But because a single defection would sink the nominee, I think that that has unified them."
He's also notched bipartisan wins, such as the infrastructure package (Public Law 117-58) signed into law and the U.S. Innovation and Competition Act (S. 1260) passed by the Senate and aimed at increasing U.S. competition with China.
Manchin and Sinema have argued more needs to be done to reach bipartisan consensus on legislation, while other Democrats had hoped the two centrists would get in line behind the party's agenda.
"The problem is when you try to jam people on party line votes, that doesn't exactly create an environment where it's possible to sort of pick up the pieces and do things on a bipartisan basis," said Sen. John Cornyn (R-Texas), a senior member of the GOP conference who has collaborated with Schumer on semiconductor funding in the competition measure.
Vulnerable Incumbents
Democrats up for re-election this year make up a critical part of Schumer's majority. To that end, senators say Schumer gives his vulnerable incumbents the space they need even as he's working to coalesce a diverse caucus.
Schumer for instance kept details of the proposed rules change close to the vest until just hours before the vote as Democrats on the ballot this fall stayed circumspect in whether they'd support the final proposal.
"When I'm here in Washington, I make decisions not based on what somebody else wants me to do or thinks I should do or how I should vote, but what's in the best interest of the people I represent and the American people," said Sen. Mark Kelly (D-Ariz.), who's up for re-election. "That's it. That's all that matters."
Sen. Jon Tester (D-Mont.), a former DSCC chairman from a state that votes solidly Republican for president, said Schumer gives lawmakers flexibility. "I think he's tried to do everything to get folks to come along," he said.
Sen. Catherine Cortez Masto (D-Nev.), another former DSCC chair up for re-election, praised Schumer for doing "a very good job of keeping our party together and getting important work done" without pressuring her to agree to the party's priorities.
For all the disappointment liberal Democrats feel for the stalled efforts to overhaul election administration and boost domestic spending, some progressive activists are sympathetic to the obstacles Schumer faces.
"I definitely recognize he has a tough job—and especially when it comes to voting rights and the filibuster—and recognize that he can't single-handedly make everything happen," Vote.org CEO Andrea Hailey said. "Having said that, I think we want to really feel like he's out there fighting as hard as he can and using as much political capital as possible to preserve our democracy."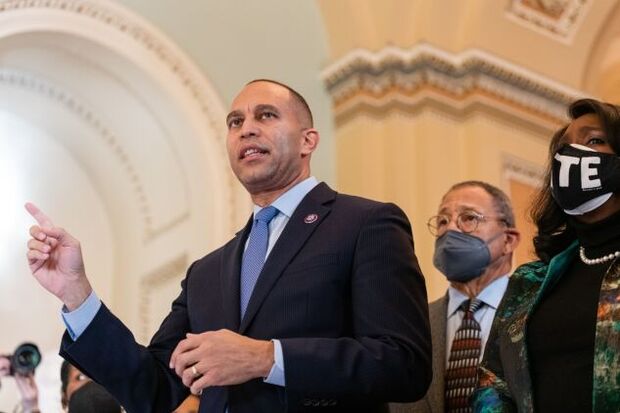 Schumer himself faces re-election this fall. While the filing deadline for the June primary won't come until April, Schumer has yet to attract any serious challengers from his left flank, and has earned support of some leading figures in the state party.
House Democratic Caucus Chairman Hakeem Jeffries (D-N.Y.), who could continue rising up the leadership ladder across the Capitol, said last week he plans to "fully and wholeheartedly support" Schumer's re-election bid.
"Leader Schumer has done a phenomenal job both in Washington, D.C., and at home," Jeffries said in an interview. "Because of his leadership, we've been able to accomplish some big things."
He's amassed a formidable campaign account, and nearly every major labor union in New York endorsed his re-election bid earlier this month.
Sochie Nnaemeka, New York director of the progressive Working Families Party, acknowledged Schumer's "hustle" this year, especially when it came to pushing for election changes.
"It's difficult to make a true assessment of Sen. Schumer's first year as majority leader when a lot of the work is still unfinished," Nnaemeka said.
To contact the reporters on this story: Zach C. Cohen at zcohen@bloombergindustry.com; Nancy Ognanovich in Washington at nognanov@bgov.com
To contact the editors responsible for this story: Bennett Roth at broth@bgov.com; Kyle Trygstad at ktrygstad@bloombergindustry.com; Loren Duggan at lduggan@bgov.com