Schumer Aims for Holiday Deadline; U.S. to Boycott Beijing Games
Senate Majority Leader Chuck Schumer is sticking to his plan to pass President Joe Biden's tax and spending measure by Christmas, despite a full agenda confronting lawmakers in the coming weeks. Meanwhile, the Biden administration officially announced it won't send officials to the Beijing Winter Olympics in February, although U.S. athletes are still slated to attend.
Here's what Bloomberg Government is watching so far today.
Schumer to Push Biden Economic Bill
Senate Majority Leader Chuck Schumer (D-N.Y.) told fellow Democrats he's still aiming to pass President Biden's nearly $2 trillion economic package before Christmas, a goal that is increasingly challenged by competing priorities that include raising the debt ceiling and the divisions in the party over the massive tax and spending plan.
"Now that the House has passed the reconciliation bill, our goal in the Senate is to pass the legislation before Christmas and get it to the president's desk," Schumer said in a letter today to all Senate Democrats. He said other priorities for the two and a half weeks before the holiday include a debt limit increase or suspension, an annual defense bill and some Biden administration confirmations.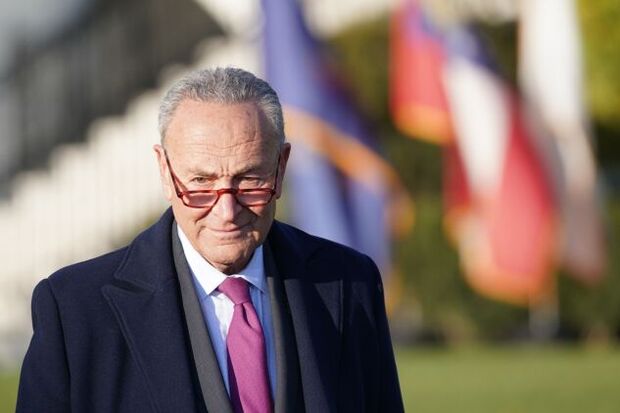 Schumer is still in negotiations with Senate GOP leader Mitch McConnell (R-Ky.) on how to process another debt limit increase after partisan rancor rattled financial markets over the last increase in October.
On the economic package, all Senate Democrats have yet to sign onto the package that is still under discussion, including moderates Joe Manchin (W-Va.) and Kyrsten Sinema (Ariz.).
Schumer said Democrats are still working through reviews with the Senate parliamentarian to ensure she agrees key aspects comply with the chamber's rules for reconciliation, the process Democrats are using to try to pass the economic package with only Democratic votes.
Schumer said the Senate aims to complete the defense bill this week, as well as nominations. Read more from Laura Litvan.
Biden Calls Drugs 'Outrageously Expensive,' Prods Senate to Act: Biden said prescription drug prices in the U.S. are excessively high and that his expansive tax and spending bill would help lower costs, as he prodded the Senate to pass the legislation. "We can agree that prescription drugs are outrageously expensive in this country," Biden said today at the White House. "It doesn't need to be that way."
The plan, which is part of the House-passed reconciliation bill, would follow through on Democrats' long-standing promise to direct the federal government to negotiate Medicare drug prices and to penalize drug companies for massive price spikes. Biden is seeking to appeal to voters who are concerned about rising inflation—and driving down his approval ratings in polls—by emphasizing how his economic plans would help average Americans.
Biden wasn't as definitive as Schumer about the timing of the legislation. Asked today if he expects the bill to be completed by Christmas, the president said he wants it done "as early as we can get it." But, he added, "I want to get it done no matter how long it takes." Read more from Jennifer Epstein.
EU Warns U.S. EV Subsidies May Inflame Tensions: The European Union warned U.S. congressional leaders and members of Biden's administration that the aggressive use of electric-vehicle credits in the reconciliation bill could run afoul of international trade rules and create "friction" in the transatlantic relationship. The EU's trade chief, Valdis Dombrovskis, sent a letter dated Dec. 3 to officials including Schumer and McConnell saying that the government subsidies would discriminate against European car manufacturers, according to a copy of the letter seen by Bloomberg. Read more from Jenny Leonard and Jorge Valero.
Also Happening on the Hill
Pelosi Says House to Take Up Uyghur Bill This Week: House Speaker Nancy Pelosi (D-Calif.) said the House will vote this week on legislation aiming to punish China for its treatment of Uyghur Muslims, a move sure to anger the government in Beijing and add to tensions between the world's two largest economies. Pelosi announced the schedule a short time after Biden's top spokesperson said U.S. government officials will boycott the Beijing Winter Olympics in February because of human rights abuses in China. "As one united international community, we have the opportunity and responsibility to hold Beijing to account and to stand up for human dignity and freedom in the region and around the world," Pelosi said in a statement, in which she also praised the administration's decision. Read more from Daniel Flatley.
U.S. government officials will boycott the Beijing Winter Olympics due to concerns about "crimes against humanity" and other human rights abuses, said White House Press Secretary Jen Psaki. The so-called diplomatic boycott means that athletes are free to compete even as administration officials stay home. The U.S. decision stops short of the full-scale measures seen during the Cold War and at other points in Olympic history. She said that officials staying home sends a "clear message" that "business as usual" isn't appropriate due to the U.S. concerns over human rights. Read more from Josh Wingrove and Jennifer Epstein.
Dole to Lie in State Thursday: Former Senate Republican leader and presidential candidate Bob Dole, who died yesterday, will lie in state in the U.S. Capitol Rotunda on Thursday, Schumer and Pelosi announced today. "Senator Dole was an extraordinary patriot, who devoted his entire life to serving our nation with dignity and integrity," Pelosi said in a statement. "May it be a comfort to his loving wife, his dear daughter and all his loved ones that a grateful nation joins them in mourning during this sad time."
GOP Prepares Gantlet for Biden's Fed Picks After Powell: Biden's remaining Federal Reserve picks can expect a tougher grilling than Chair Jerome Powell is likely to get from Senate Republicans, who are already warning about the central bank's regulatory reach before the nominees are even announced. The three openings on the seven-member board, including the pivotal vice chair for supervision slot previously held by Randal Quarles, give Biden the chance to dramatically reshape the Fed. He's under pressure from progressive Democrats, who were disappointed by his renomination of Powell and are clamoring for a diverse slate that would take on the financial risks of climate change and Wall Street speculation with new regulations. Read more from Steven T. Dennis.
Migrant Medical Probe Reveals Substandard Care: Leading House Democrats want swift action from the Department of Homeland Security after an investigation concluded that an immigration detention center doctor did not "meet acceptable standards of care" when providing services to migrants. The Homeland Security and Oversight and Reform committees launched a joint investigation last year in response to reports of forced hysterectomies and other medical abuse at the Irwin County Detention Center in Georgia. The panels' review of medical records was inconclusive on whether migrants were subject to forced surgeries but found the facility's doctor was providing substandard care. Read more from Ellen M. Gilmer.
Democrats Raise Concerns on Proposed WarnerMedia/Discovery Deal: Sen. Elizabeth Warren (D-Mass.) and other Democrats sent a letter to Attorney General Merrick Garland saying WarnerMedia's proposed merger with Discovery raises antitrust concerns. The lawmakers asked DOJ to conduct a thorough review, Catherine Dodge reports.
Defense & Foreign Affairs
Biden to Warn Putin Against Invading Ukraine: Biden will warn Russian President Vladimir Putin against taking further aggressive steps toward Ukraine or risk severe economic penalties, a senior American administration official said. Biden will make clear that there will be significant costs to Russia should Putin decide to attack Ukraine, but also that there would be benefits for the Russian leader if he makes a commitment to diplomacy, said the official, who spoke to reporters today on customary condition of anonymity. Read more from Nick Wadhams and Josh Wingrove.
Biden will speak with key European leaders today as countries seek to project a united front on Ukraine ahead of his call with Putin. Biden wants the discussion among the North Atlantic Treaty Organization's so-called Quint countries—the U.S., Germany, Italy, France and the U.K.— to further show Putin there is a collective determination to steer him off any plan to invade Ukraine, according to a person familiar with the plans who asked not to be identified talking about confidential matters. Read more from Alberto Nardelli.
Israel Tightens Rules on Cyber Exports: Israel said it will tighten supervision over the sale of cybersecurity exports, a decision that comes after a string of scandals involving foreign governments allegedly abusing technology developed by Israeli firms like NSO Group to spy on civilians. Countries will only be able to buy Israeli technology after signing a declaration that they will use it "for the investigation and prevention of terrorist acts and serious crimes only," Israel's Ministry of Defense said in a statement today. A number of U.S. State Department employees were recently hacked with NSO spyware. Read more from Yaacov Benmeleh.
Treasury Sanctions Associate of Israeli Billionaire Gertler: The U.S. Treasury sanctioned Congolese businessman Alain Mukonda for giving support to sanctioned Israeli billionaire Dan Gertler. The Treasury also blacklisted 12 entities in Democratic Republic of Congo and Gibraltar linked to Mukonda, it said in a statement on its website today. Gertler was sanctioned in December 2017 by the U.S. government, which said he used his close links to former Congolese President Joseph Kabila to amass a fortune "through hundreds of millions of dollars' worth of opaque and corrupt mining and oil deals." Read more from Michael J. Kavanagh and Kasia Klimasinska.
Politics & Influence
U.S. Sues Texas Over Allegedly Discriminatory Redistricting Plan: Attorney General Garland said the Justice Department sued Texas to block the state's new redistricting plan, alleging it was crafted to intentionally diminish the voting power of Black and Latino voters. Texas gained two new seats in Congress after the 2020 Census due to a large increase in minority voters in the state, but designed the districts to have White voting majorities, Garland said at a press conference today in Washington. Read more from Erik Larson.
Trump Agreements With IRS Must Be Released: The IRS must disclose information that is needed to inspect any compromise agreement Donald Trump made with the agency, but isn't authorized to disclose the former president's tax returns, a federal court ruled. The decision included partial wins for both the IRS and the Electronic Privacy Information Center, a nonprofit that requested personal and business tax records tied to Trump under the Freedom of Information Act. The center described the Friday decision as a victory in a statement released Saturday, and said the IRS must now conduct a search that may include a tentative agreement with Trump over a disputed tax refund of about $70 million. Read more from Aysha Bagchi.
Perdue Sets Up GOP Fight for Georgia Governor: David Perdue, the Georgia Republican who lost his U.S. Senate seat this year to Democrat Jon Ossoff, has entered the race for governor as Trump's favorite. His decision sets up a bitter intraparty battle to earn the GOP nomination and face the likely Democrat nominee, Stacey Abrams, in the November 2022 general election. The contest reflects a national debate about how much loyalty Republicans must show to the former president and his false assertions that the 2020 election was stolen from him. Read more from Brett Pulley and Margaret Newkirk.
Sununu Saw Himself as 'Frustrated' Senator: New Hampshire's Republican governor, Chris Sununu, said he chose not to run for the U.S. Senate because he lacks the personality and inclination to be a lawmaker rather than a chief executive. Sununu said he would seek a fourth term rather than make a run for the U.S. Senate last month, in a closely watched move that could affect the fight over control of the Senate in next year's midterms. Read more from Carey Goldberg.
Spicer, Vought Can't Force Way Back Onto Naval Board: A federal judge blocked former White House Press Secretary Sean Spicer and ex-Office of Management and Budget Director Russell Vought from returning to the board of the U.S. Naval Academy while they sue Biden over their ouster from the panel. U.S. District Judge Dabney Friedrich, a Trump appointee, denied the motion by Spicer and Vought for a preliminary injunction that would have forced Biden to return them to the board while the lawsuit proceeds. The former Trump administration officials sued in September after they were terminated. Read more from Erik Larson.
Around the Administration
U.S. Eyes Tighter Rules for All-Cash Real Estate Purchases: The Treasury Department will begin developing regulations that could expand reporting requirements for all-cash real estate purchases as part of the Biden administration's efforts to cut down on global corruption, according to two senior administration officials.
The new rule could force title insurance companies to turn over information about cash purchases funneled through shell companies in additional metropolitan areas, or implement new disclosures for commercial purchases in addition to residential sales, according to the officials, who requested anonymity to detail the effort before it's formally announced.
The rule-making process is an outgrowth of a new strategy to counter corruption that the administration is expected to unveil today ahead of Biden's democracy summit this week. Deputy Treasury Secretary Wally Adeyemo said today that the new scrutiny being paid to real estate transactions was part of a broader push at the department to stop corrupt practices that intersect with the U.S. financial system. Read more from Justin Sink.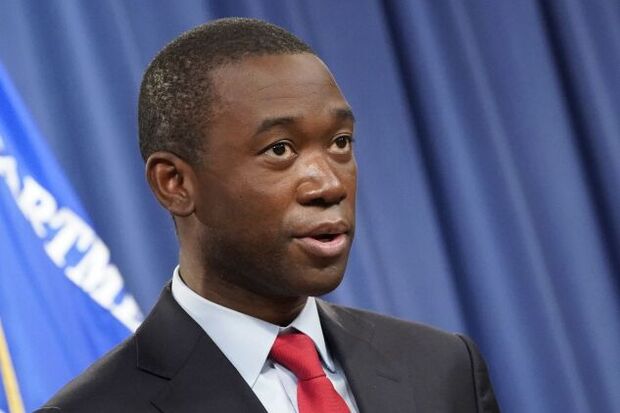 SPAC Merging With Trump Media Gets SEC Request: Digital World Acquisition, the blank-check company merging with Trump's nascent media firm, disclosed that it has received information requests from U.S. regulators. The Securities and Exchange Commission in early November sought records tied to meetings involving Digital World's board of directors, its policies and procedures related to trading and the identities of certain investors, the company said in a regulatory filing today. Read more from Sophie Alexander.
Fauci Says Ethics Drive Biden Covid-19 Policy More Than Trump's: Top U.S. infectious-disease expert Anthony Fauci defended Biden's Covid-19 strategy, saying the administration considers its ethical implications more than Trump's did. The Trump administration considered ethics when making decisions on Covid-19 only "spottingly," in comparison with Biden's, Fauci said today on a World Health Organization-led webcast on pandemic ethics. Fauci, who's also director of the U.S. National Institute of Allergy and Infectious Diseases, said ethics needs to be at the base of policies related to travel and resource-sharing, including for vaccines. Read more from Thomas Mulier and Corinne Gretler.
U.S. Strategic Oil Sale Attracts Foreign Bidders: The Biden administration's efforts to lower energy costs takes a step forward today, with bids due for the first 32 million barrels of crude planned for release from federal stockpiles. Although winning bids won't be announced until Dec. 14, at least two international oil refiners have expressed interested in the swap, according to people familiar with the matter. Read more from Sheela Tobben.
U.S. Urges Oil Companies to 'Step Up' on Energy Transition: The U.S. Department of Energy urged major oil companies to increase energy-transition efforts or risk being left behind in a rapidly-changing clean economy. "I don't think we're going to be successful unless major companies step up to the plate and are part of the solution," David Turk, deputy secretary of the Department of Energy, said at the World Petroleum Congress in Houston today. Read more from Kevin Crowley.
What Else to Know
Justices Appear to Back Immigrants on Status Review: The U.S. Supreme Court seemed likely to side with noncitizens seeking a more favorable immigration status by allowing them to challenge in federal court administrative decisions that went against them. The court-appointed amicus noted that the ruling is likely to matter in only a handful of cases, because the government already grants approximately 87% of requests to obtain a more favorable immigration status. Read more from Kimberly Strawbridge Robinson.
SCOTUS to Continue Limited In-Person Arguments: The U.S. Supreme Court will continue to hear arguments in the Washington courtroom with limited attendance in the new year, the court announced. The justices returned to the courtroom with Covid-19 precautions to begin the new term in October and they'll continue that practice with their January and February argument sessions, according to today's announcement. The court will continue to livestream arguments on its website. Read more from Jordan Rubin.
NYC to Be First City in U.S. with Business Vaccine Mandate: New York City Mayor Bill de Blasio said the city will become the nation's first to impose a vaccine mandate on private-sector workers starting on Dec. 27, characterizing it as a "preemptive strike" to head off a potential upsurge in Covid-19 cases in the face of the omicron variant. The mandate will take effect just days before de Blasio leaves office due to term limits. The mayor's decision to impose the mandate on in-person employees caught some businesses by surprise and may face legal challenges, as Biden's efforts to require vaccinations have. Read more from Elaine Chen.
To contact the reporters on this story: Michaela Ross in Washington at mross@bgov.com;
To contact the editors responsible for this story: Zachary Sherwood at zsherwood@bgov.com; Giuseppe Macri at gmacri@bgov.com