School Bathroom, Sports Battles Loom Αfter Supreme Court Ruling
Bloomberg Government subscribers get the stories like this first. Act now and gain unlimited access to everything you need to know. Learn more.
Transgender students stand to gain leverage in lawsuits over access to bathrooms and participation in school sports following last week's U.S. Supreme Court ruling on LGBT workers' rights. The decision raises the stakes for the Trump administration, which faces growing pressure to revamp its guidance to colleges and K-12 schools.
"It signals that schools, just like employers, have to ensure the fair treatment of LGBT people, including students and employees," said Adele Kimmel, a senior attorney at Public Justice, a nonprofit advocacy group.
The high court ruled June 15 that Title VII of the 1964 Civil Rights Act protections for sex discrimination extend to LGBT workers, a rebuke to the Trump administration's stance that existing civil rights laws didn't protect them. The Education Department under Trump has taken the stance that protections for transgender students aren't covered under Title IX of the Education Amendments Act of 1972.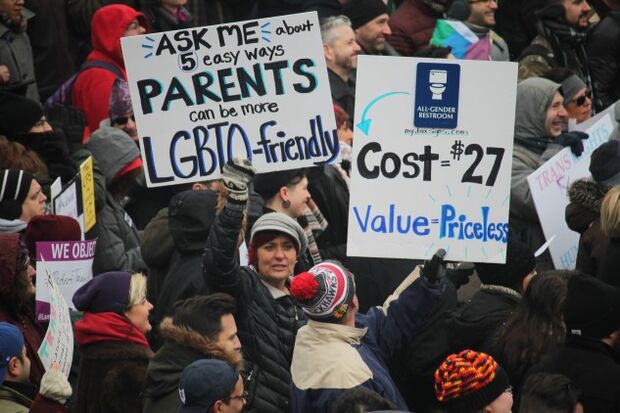 Title IX bars discrimination on the basis of sex in educational programs. Title IX is modeled closely on Title VII, which bars discrimination on the basis of sex for workers. Courts have used past rulings on Title VII to inform their opinions on Title IX cases.
Advocates argue the Supreme Court ruling will lead the government to revisit positions on school bathroom accommodations and transgender athletes. Yet, there were early signs that this would continue to be a clash with the administration.
"There is no question about the decision's reach. The Supreme Court made it clear who is covered under sex discrimination," said Chai Feldblum, an attorney with Morgan, Lewis & Bockius and the first openly gay commissioner at the Equal Employment Opportunity Commission. "This could bypass the agency. It will be transformative for the workplace, but also help kids and those in the health-care setting."
Bathrooms and Locker Rooms
The court settled three cases in its ruling—Altitude Express v. Zarda, Bostock v. Clayton County, GA, and R.G. & G.R. Harris Funeral v. EEOC. Justice Neil Gorsuch, who wrote the Title VII ruling, emphasized that the opinion didn't dictate specifically how workplaces should respond to bathroom, locker room, and dress code policies.
Such questions have been sticking points in both education and workplace disputes, particularly over gender identity. Attorneys say that the ruling will parallel Title IX cases, and should provide a framework for how those cases conclude.
Attorneys already fighting these battles in education have signaled that the Title VII ruling should be persuasive to the K-12 cases, as well, and the cases have relied on Title VII in the past.
Questions over LGBT student accommodations in K-12 schools almost always focus on bathrooms and locker rooms, Melissa Carleton, an attorney who advises education clients at Bricker and Eckler, said.
"It's the number one practical issue because it's the most controversial issue among parent and students," she said.
Lambda Legal is representing a student in an Eleventh Circuit court case over access to bathrooms for transgender students. Drew Adams, a transgender student from Jacksonville, Fla., asked his high school to allow him to use a restroom that matches his male gender identity. His case was the first trial involving transgender students' equal access to restrooms.
The Eleventh Circuit June 17 asked the attorneys in that case to file supplemental briefs advising the court on the impact of the Bostock ruling.
In May, the Fourth Circuit heard transgender student Gavin Grimm's case, again, and the attorneys and judges in that case made clear they would draw parallels between Title VII and Title IX. The American Civil Liberties Union represents Grimm.
Previously, the Supreme Court declined to take up the question about bathroom use by transgender students. Four students at Boytertown Area High School in Pennsylvania challenged the school policy that allowed LGBT students to use the bathroom that aligned with their gender identity.
Contradicts DeVos Policies
The Education Department has moved forward with its own interpretation of the law. The Bostock decision expands the rights of gay and transgender employees in the workplace as Education Secretary Betsy DeVos has taken steps that critics say have watered down protections for transgender students.
DeVos in 2017 rescinded Obama administration guidance clarifying schools' responsibilities to ensure students had access to bathroom facilities and locker rooms that match their gender identities. The Education Department later confirmed that it would no longer investigate civil rights complaints from transgender students prevented from using the bathroom of their choice.
More recently, the department's Office for Civil Rights found that a Connecticut schools policy allowing transgender athletes to compete in event based on their agenda identity violated the rights of cis female students.
The Supreme Court's decision should prompt the department to revisit those positions, advocates for LGBT students said.
Angela Morabito, an Education Department spokeswoman, said the agency is reviewing the court's ruling but couldn't share any updates on policies involving civil rights cases.
The Trump administration last week signaled that it would continue to oppose participation of transgender athletes in women's sports. Days after the Bostock decision, the Department of Justice filed a statement of interest defending Idaho's Fairness in Women's Sports Act in a lawsuit over the law, which bars transgender athletes from competition based on their gender identity.
Women's Sports
The idea that transgender students should be able to participate in the sport that aligns with their identity has been a flashpoint among those opposed to equal rights for LGBT individuals.
In a dissent of the Title VII ruling, Justice Samuel Alito warned of the majority opinion's transgender rights fallout for athletes. Applying the Title VII opinion to Title IX would "undermine one of the law's major achievements, giving young women an equal opportunity to participate in sports," he said.
Jennifer Braceras, director of the Independent Women's Law Center, called the court's ruling "a terrible day for women's sports."
The Women's Law Center has opposed competition by transgender athletes in women's sports. Braceras argued that the decision could lead to men seeking to participate in women's sports like field hockey as well.
"These issues should be hashed out by legislatures and not by the courts," Braceras said. "When the courts make these bold pronouncements and essentially change the meaning of a law that's been on the books for a very long time, there's no nuance."
In Connecticut, a group of high school female athletes challenged a school policy in federal court that allows transgender women to participate in school sports, citing an unfair advantage. The Trump administration and the Education Department's Office of Civil Rights have weighed in on the dispute, urging the court to interpret Title IX as giving female athletes equal footing with males.
The ACLU has asked to intervene in the case. Similar to arguments about the workplace, advocates say these arguments dismiss a transgender person's rights to live by their gender identity and not their biological sex at birth.
Paul Castillo, an attorney with Lambda Legal, said the Supreme Court's ruling affirms that Title IX requires schools to protect the rights of transgender athletes in all activities, including sports.
"Even though the Department of Education had rescinded its guidance with respect to transgender students, it could not erase the statute itself," he said.
To contact the reporters on this story: Andrew Kreighbaum in Washington at akreighbaum@bgov.com; Erin Mulvaney in Washington at emulvaney@bloomberglaw.com
To contact the editors responsible for this story: Cheryl Saenz at csaenz@bloombergtax.com; Paul Hendrie at phendrie@bgov.com; Robin Meszoly at rmeszoly@bgov.com
Stay informed with more news like this – from the largest team of reporters on Capitol Hill – subscribe to Bloomberg Government today. Learn more.