George Santos Will Stay in Congress and No Rule Stops Him (2)
House members aren't required to quit while fighting charges
Would-be successors are already campaigning for the seat
(Updates 16th paragraph with Santos saying he won't quit. A previous version corrected the editor's note to reflect that Santos pled not guilty.)
Bloomberg Government subscribers get the stories like this first. Act now and gain unlimited access to everything you need to know. Learn more.
No law or rule stops Rep. George Santos from staying in Congress while fighting criminal fraud and money laundering charges.
The Constitution doesn't bar convicted people from running for office, and Speaker Kevin McCarthy (R-Calif.) said that he would ask the first-term New York Republican to resign if he's found guilty.
Any member of the House can offer a privileged resolution to expel a colleague. It would get an automatic floor vote and require a two-thirds majority. In the past, though, lawmakers have waited until after their accused colleagues had their day in court.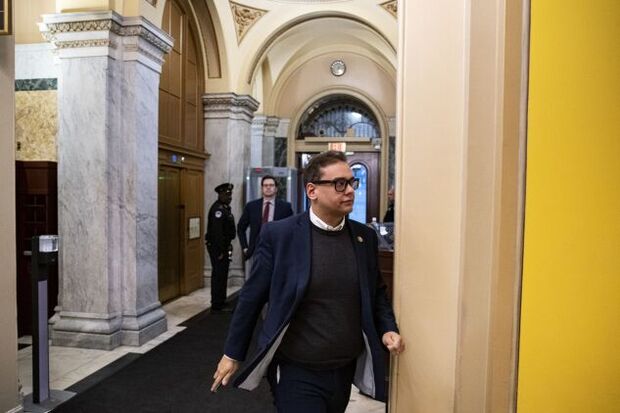 The last person expelled from the House, Rep. Jim Traficant (D-Ohio), had refused to quit after being convicted in 2002 of taking bribes and kickbacks and filing false tax returns.
Santos on Wednesday entered a plea of not guilty on all 13 counts in the indictment against him.
What's He Been Doing?
Santos has voted with his party 98% of the time when a majority of Republicans oppose a majority of Democrats, according to data compiled by Bloomberg Government.
When the House passed Republicans' debt-limit plan (H.R. 2811) on a 217-215 vote last month, Santos waited until the last minute to cast his vote from the well of the chamber, underscoring the importance of his vote to Republican leaders managing a razor-thin 222-213 majority.
He has introduced 11 bills, including one that would increase the limitation on the deduction for state and local taxes (H.R. 1260) and another that would require the president to receive an annual cognitive evaluation (H.R. 1528). No member of Congress has cosponsored any of Santos's bills.
He's cosponsored 82 bills.
He was appointed to the Small Business and Science committees and voluntarily removed himself from serving.
Does He Want to Stay in Congress?
Santos in March filed paperwork with the Federal Election Commission to raise money for a re-election bid. He raised just $5,333 in this year's first quarter, almost all of it in small unitemized donations. His campaign reported no first-quarter operating expenditures and refunded $8,353 in donations, shrinking his meager campaign cash-on-hand total to $25,096.
Democrats already seeking the seat include Josh Lafazan, a Nassau County legislator who placed third in the 2022 Democratic primary, and former state Sen. Anna Kaplan. Ex-Rep. Tom Suozzi, who left open the district after an unsuccessful campaign for governor in 2022, is considering a comeback bid.
Republican Kellen Curry, a former JPMorgan vice president and an Air Force veteran, announced his candidacy in early April.
What Happens If He Quits?
Santos said Wednesay that he's innocent and doesn't intend to resign. However, If there's a vacancy before July 1, 2024, Gov. Kathy Hochul (D-N.Y.) would call a special election.
Would He Probably Be Replaced By a Democrat or Republican?
New York's 3rd Congressional District backed President Joe Biden in the 2020 election by 8 percentage points, then went for Santos and Republican nominees for governor and senator in 2022 as Democratic candidates including Hochul underperformed statewide.
How Long Since a Lawmaker Was Charged With a Crime?
The most recent member of Congress charged with a crime was was Rep. Jeff Fortenberry (R-Neb.). He resigned in March 2022 after his conviction on charges related to an illegal campaign contribution.
Among the others who resigned after a guilty plea or conviction:
Rep. Duncan Hunter (R-Calif.) resigned in January 2020, one month after pleading guilty to using hundreds of thousands of dollars in campaign funds for personal use. In March 2020, Hunter was sentenced to 11 months in prison. President Donald Trump pardoned him in December 2020.
Rep. Chaka Fattah (D-Pa.) resigned in June 2016 following his conviction for participating in racketeering. He was sentenced to 10 years in prison.
Rep. Michael Grimm (R-N.Y.) resigned in January 2015 after pleading guilty to tax fraud. He was indicted in April 2014 and re-elected that November. In July 2015, ex-Rep. Grimm was sentenced to eight months in prison.
Rep. Trey Radel (R-Fla.) resigned in January 2014 following his arrest in October 2013 for cocaine possession. He entered a misdemeanor guilty plea in November 2013 and was sentenced to supervised probation.
Two who resigned before conviction:
Rep. Chris Collins (R-N.Y.) resigned in September 2019, one day before pleading guilty to insider trading. He was indicted in August 2018 and re-elected three months later. In January 2020, Collins was sentenced to 26 months in prison. Trump pardoned him in December 2020.
Rep. Jesse Jackson Jr. (D-Ill.) resigned in November 2012, when he was under criminal investigation for illegally spending $750,000 in campaign contributions. He pleaded guilty in February 2013 and was later sentenced to 30 months in prison.
Indicted, not convicted, continues to serve:
Sen. Bob Menendez (D-N.J.) was indicted in April 2015 on charges he used his office to perform official government acts for Salomon Melgen, a close friend and donor, in exchange for luxury travel and gifts. His federal corruption trial ended in a mistrial in November 2017, and the Justice Department in January 2018 dismissed remaining charges against him. Menendez was re-elected in November 2018 and is seeking a new term in 2024.
See also:
To contact the reporter on this story: Greg Giroux in Washington at ggiroux@bgov.com
To contact the editors responsible for this story: Katherine Rizzo at krizzo@bgov.com; Bennett Roth at broth@bgov.com
Stay informed with more news like this – from the largest team of reporters on Capitol Hill – subscribe to Bloomberg Government today. Learn more.