Sanders to Use Budget Gavel to Seek Aggressive Economic Aid
Sanders eyes virus, stimulus, infrastructure, climate measures
No reason to wait on tax increases for wealthy, Sanders says
Bloomberg Government subscribers get the stories like this first. Act now and gain unlimited access to everything you need to know. Learn more.
President-elect Joe Biden will look to one of his competitors from the campaign trail to shepherd his most significant legislation through the Senate, as Bernie Sanders (I-Vt.) is set to become chairman of the Budget Committee.
Democrats' upcoming majority in the Senate will make Sanders chairman of the panel that writes instructions for budget reconciliation, a maneuver that could enhance the party's ability to pass major legislation despite its slim control of the chamber. Budget reconciliation allows senators to pass budgetary legislation with a simple majority rather than the usual 60 votes. That means Sanders will not only drive the Biden administration and Democratic lawmakers to adopt progressive policies, but also write the budget resolution that will set the stage for measures on economic aid, the coronavirus response, infrastructure, and climate change.
Sanders will use the Budget Committee gavel to push for "extremely aggressive" measures on those topics, he said in a Tuesday phone interview.
"We have to be very, very aggressive, and I intend as chairman of the committee to use reconciliation to do just that," Sanders said.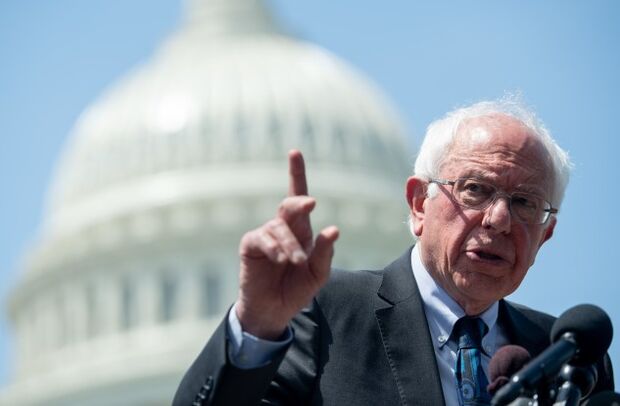 To begin, Sanders said he will push for measures that provide an additional $1,400 on top of the recent $600 stimulus checks. He also wants legislation that would help people grappling with hardships during the pandemic—including those who are facing eviction, can't afford to go to a doctor, don't have enough food, and are unemployed—in addition to measures that would repair infrastructure and combat climate change. And he sees no reason to wait to raise taxes on the wealthy and on major corporations, he said.
Two-For-One Opportunity
Lawmakers are still discussing their strategy for how to use reconciliation, Sanders said. First, they'll need the House and Senate to agree to the same budget resolution with instructions for authorizing committees to develop legislation that follows the resolution's guidelines. Those measures have to have an effect on the federal budget, or they could be removed from the final bill due to the "Byrd Rule," named after the late Sen. Robert Byrd (D-W.Va.). The measures also can't increase the deficit in any fiscal year outside the budget window, which often runs 10 years.
In the House, Budget Chairman John Yarmuth (D-Ky.) said in a Jan. 6 statement he's open to "potentially using reconciliation to advance critical priorities for American families."
Sanders has little in common politically with his partner on the Budget Committee, Sen. Lindsey Graham (R-S.C.), who is set to serve as ranking member. Sanders said he plans to contact Graham soon to talk about working together on the committee.
Democrats could get a two-for-one opportunity because they still haven't drafted a budget resolution for the current fiscal year 2021. That means they could use two resolutions—the fiscal 2021 and 2022 measures—this year, just as Republicans did in 2017 for their health-care and tax bills. But the number of reconciliation bills is "still open for discussion," Sanders said.
Tax, Climate Priorities
The coronavirus-induced recession shouldn't dissuade Democrats from raising taxes on the wealthy and on major corporations, Sanders said.
"Moving aggressively to raise revenue by telling the very wealthiest people in this country and the largest corporations who are seeing huge increases in their profits, that they're going to have to start paying their fair share back to us—I think that is something that we should be doing in the near future," Sanders said.
Biden's campaign tax proposal called for increasing the top corporate tax rate to 28% from 21% and increasing the top individual income tax rate to 39.6% from 37%, among other measures.
Sanders also said he's open-minded about the kind of climate legislation that could move through the reconciliation process. One option lawmakers are discussing is similar to what Biden proposed on the campaign trail: focusing on retrofitting buildings, pushing for clean transportation, and investing in wind and solar energy, Sanders said.
"The immediate concern that I have is having the United States lead the world in combating climate change, working with other countries, and creating many millions of jobs as we do that," Sanders said. "And we're willing to entertain any and all ideas that lead us in that direction."
To contact the reporter on this story: Jack Fitzpatrick in Washington at jfitzpatrick@bgov.com
To contact the editors responsible for this story: Zachary Sherwood at zsherwood@bgov.com; Michaela Ross at mross@bgov.com
Stay informed with more news like this – from the largest team of reporters on Capitol Hill – subscribe to Bloomberg Government today. Learn more.