Safeguards Sought for Income-Share Substitute for Student Loans
Students repay percentage of earnings for set period
Lawmakers looking at setting restrictions on contract terms
Colleges and investors are lobbying Capitol Hill to set rules for a growing alternative to student loans: financial agreements requiring students to repay schools directly from their earnings over time after graduation.
A bipartisan group of lawmakers, citing worries the terms of those pacts could come back to haunt students, is crafting legislation to limit the programs, known as income-share agreements.
The agreements are contracts between students and their school—either a college or a skills-based program such as a coding bootcamp. The school, usually in partnership with private donors, gives the student money for tuition and other expenses. In return, the student repays a percentage of earnings back to the school for a set period of time after graduation.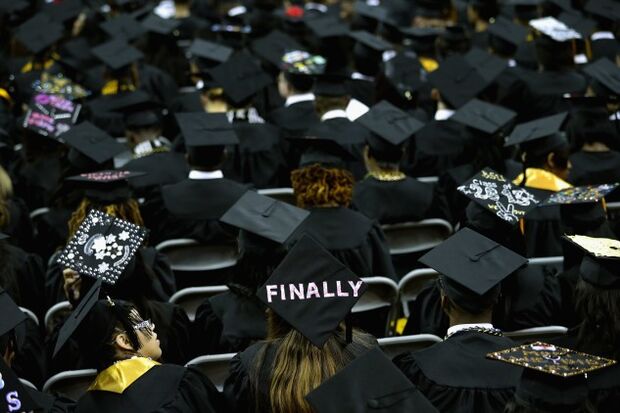 The programs are meant for students who have maxed out their federal loans and grants or are attending a short-term certificate program, which can't qualify for federal aid. While schools can make a profit on the agreements, they can be a better option for students than private loans, said Chuck Trafton, president and co-founder of Edly, a marketplace that sells shares of the agreements.
No Limits
"The industry needs regulations to protect students from bad actors, to ensure that schools have appropriate roles in these ISA programs," he said. "A lot of schools and investors haven't yet participated, partly because they are holding off waiting for regulations so they know the rules of the game."
The need for regulations is growing as more schools start offering income-share agreements. There are about 40 programs in use by colleges and skills-based programs. That's expected to quadruple to 175 by the end of 2020, with about $500 million in agreements to be originated, according to data from Edly.
Trafton said it's "extremely lucky" the programs have yet to be abused. Due to the lack of regulations, students could wind up sacrificing large portions of their earnings for decades as there are no limits monthly payments or repayment length.
Other ways the agreements could be exploited include requiring students make a monthly payment no matter how little they make or having high-earning students pay back several times the initial amount they received.
The Will for a Bill
While the details of a forthcoming income-share agreement bill are still in the works, the process is underway with lawmakers from both parties in the House and Senate.
Sen. Mark Warner (D-Va.), who is working on legislation with Sen. Todd Young (R-Ind.), said through a spokeswoman the agreements "hold a lot of promise and warrant a clear regulatory framework and baseline standards to ensure they continue to expand in ways that benefit students."
Two bills were introduced in 2017 to give the agreements a legal status, as well as set limits on what students would repay. Neither gained much traction.
Because the income-share agreements have only been around for a few years, a new, updated bill is needed to incorporate more of what has been learned in the past two years, said Will Nelligan, director of policy and strategic initiatives with the Education Finance Institute, a non-profit working on student loan policy.
"As our industry has grown and we've seen how programs have been designed, different contract terms and features, we wanted to keep the bill current so that it is responsive to what is actually happening," Nelligan said.
New Pitfalls?
Income-share agreements aren't without their critics on Capitol Hill.
Sen. Elizabeth Warren (D-Mass.), Rep. Ayanna Pressley (D-Mass.) and Rep. Katie Porter (D-Calif.) said the agreements combine "common pitfalls of traditional private student loans" with "the added danger of opaque terms and conditions that allow deceptive rhetoric and marketing that can obscure their true nature."
In letters sent earlier this month, the Democrats asked seven colleges with such programs to disclose whether the agreements included mandatory arbitration and banned class-action lawsuits, as well as what conditions would allow a student to get out of their contract.
To contact the reporter on this story: Emily Wilkins in Washington at ewilkins@bgov.com
To contact the editors responsible for this story: Paul Hendrie at phendrie@bgov.com; Jonathan Nicholson at jnicholson@bgov.com; Robin Meszoly at rmeszoly@bgov.com