Rural-Urban Divide Splits $400 Million Georgia Senate Strategies
Republican ads running in conservative areas outside Atlanta
Democratic spots focus on more diverse metropolitan market
Voters in rural Georgia and in metropolitan Atlanta are getting vastly different message frequencies from the two parties, who have unleashed hundreds of millions of dollars in ad spending ahead of two Senate runoffs next month.
New ad buys by two Republican-aligned groups, Peachtree PAC and One Nation, underscore the trend. More than 60% of the more than $50 million in combined booked airtime is in media markets outside Atlanta. That includes in Savannah, Columbus, Macon and other smaller cities and surrounding rural areas — where conservative white voters are prevalent.
That's a mirror image of Democratic candidates and groups, which have targeted the more racially diverse Atlanta with at least two-thirds of their total ad buys.
The disparate ad buying strategies, revealed in data from the ad tracking firm AdImpact, are a reflection of last month's election, in which nearly 60% of President-elect Joe Biden's statewide vote total came from the nine counties he won around Atlanta. Conversely, those counties accounted for only a quarter of President Donald Trump's statewide vote share.
Martha Zoller, a veteran Republican strategist and radio talk show host in Georgia, said both parties are focusing on turning out their bases in the odd-timed and abbreviated election.
"That is the most important thing for this runoff, because I don't think there are that many undecideds," Zoller said.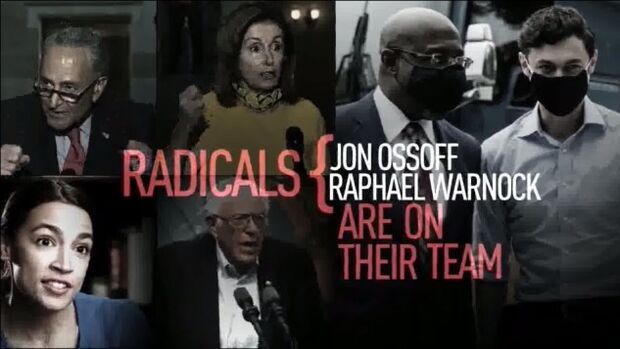 It makes sense for the parties to localize their ads, according to Mandi Bates Bailey, a political science professor at Valdosta State University in Georgia.
"Urban areas, and increasingly in the Georgia suburbs, are left-leaning and tend to support Democrats," she said in an email. "Similarly, Republicans, particularly during the Trump era, are better served by focusing on rural Georgia, older voters, and the less educated."
The latest spots from both parties, including a new $6.5 million buy from groups linked to the Democratic-aligned Senate Majority PAC, contribute to an overall advertising price tag of $436 million as of Dec. 13. That includes money spent or advertising space reserved between Nov. 5 and Jan. 5, according to AdImpact.
The firm is tracking TV, radio, and digital ads in races for the two Senate seats. Democrats must flip both seats, currently held by Sens. David Perdue and Kelly Loeffler, to win control of the Senate in the 117th Congress.
The new Republican ads double down on previous GOP messages, with film footage of city riots and pictures of Rep. Alexandria Ocasio-Cortez (D-N.Y), Sen. Bernie Sanders (I-Vt.), House Speaker Nancy Pelosi (D-Calif.), and Senate Minority Leader Chuck Schumer (D-N.Y.).
The Peachtree PAC ad calls Georgia Democratic challengers Jon Ossoff and Raphael Warnock radicals whose election would give their party control of Congress and lead to "amnesty for illegals, expensive government-run health care, defunding police."
The new super PAC spent $1.4 million to air the ad more than 1,000 times in its first three days, 65% of which aired in markets outside of Atlanta.
"The fate of our country hangs in the balance in Georgia," Steven Law, president of the Senate Leadership Fund, said in a statement confirming that his super PAC, which is aligned with Senate Majority Leader Mitch McConnell (R-Ky.), is working with the Peachtree PAC. The link was first reported by CNN.
One Nation is a nonprofit that provides tens of millions of dollars to the McConnell-linked super PAC and also sponsors its own "issue ads." The ads it's currently airing in Georgia skirt disclosure rules by not directly referring to candidates.
Mixed Messages
The urban mayhem linked to protests over police brutality that's been emphasized in the GOP ads contrasts with Democratic ads that discuss fears of racial profiling or say Republicans are only looking out for themselves and their rich donors.
One recent Ossoff ad features a Black mother from Douglasville, Ga., in the Atlanta suburbs, lamenting that she must warn her son about the way he acts because "someone may see him as a threat just because of the color of his skin." Ossoff's campaign spent more than $300,000 on the ad over the first two days it aired, including more than $200,000 to air it nearly 200 times in Atlanta.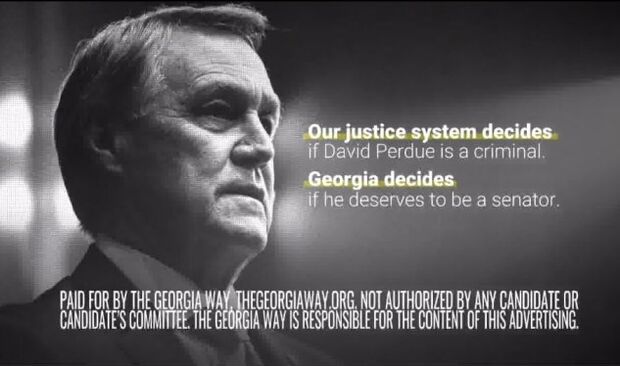 Perdue and Loeffler are being attacked in ads funded by the Senate Majority PAC, a Schumer-aligned super PAC. That includes the recent $6.5 million buy from affiliated groups Georgia Honor and The Georgia Way. The ads blast the Republican senators for profiting from stock trades during the coronavirus pandemic.
The latest Georgia Way ad cost $2.7 million, with virtually all of it going to the Atlanta media market, according to AdImpact data.
To contact the reporter on this story: Kenneth P. Doyle in Washington at kdoyle@bgov.com
To contact the editors responsible for this story: Kyle Trygstad at ktrygstad@bgov.com; Bennett Roth at broth@bgov.com