Rural Democrats Urge Inking Trade Deal to Fight Do-Nothing Image
Democrats from rural areas, many of whom face tough re-elections in 2020, are pushing their party leaders to complete the U.S.–Mexico–Canada trade pact before the end of the year to give them a solid legislative achievement and undercut GOP criticism they are just doing impeachment.
"It's only going to get harder to make a good deal as we get closer and closer to the presidential election," said Rep. Ben McAdams (D-Utah). "There's a window right now to get it done."
An agreement between House leaders and U.S. Trade Representative Robert Lighthizer is close to being done with enforcement provisions on labor and environment still being ironed out. AFL-CIO President Richard Trumka met with freshman Democrats on Tuesday morning to convey the message that it's important to strengthen labor enforcement in the final deal.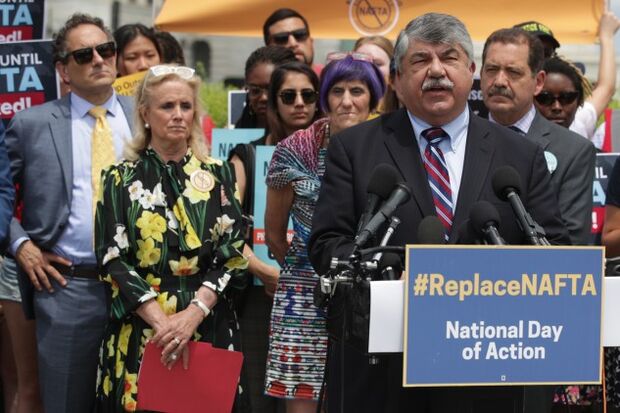 Rep. Cindy Axne (D-Iowa) said she told Trumka that while she supported the enforcement of labor regulations, farmers and manufacturers in her district were hurting due to the trade war and tariffs, which a new trade agreement would alleviate.
"The longer we wait, it increases the pain the folks in Iowa like our farmers are getting right now," she said in an interview.
Several lawmakers alluded to criticism they were doing little besides impeachment. President Donald Trump has branded them "Do-Nothing Democrats" despite the 100-plus bills the House passed this year.
"I was sent here by the people of my district to get things done and one of those big-ticket items is a solid trade deal with Mexico and Canada," Rep. Anthony Brindisi (D-N.Y.) said, leaving the meeting with Trumka. "That's what my district wants and that's what I'm trying to get towards."
McAdams said an agreement might be "even more important now, in light of the impeachment inquiry, that we show our constituents that we are still moving forward legislation that is good for the public."
Other lawmakers are working to calm the anxieties of the freshmen by emphasizing the need for not merely a good deal but one they can stand behind for decades.
Rep. Elissa Slotkin (D-Mich.) said veteran House members warned her they were still facing negative reaction from their 1993 vote on the North American Free Trade Agreement.
"The senior members are making it very clear that we all understand the stakes," she said.
Feeling Pressure
Rep. Jimmy Gomez (Calif.), a member of the group of Democrats meeting with Lighthizer, said the freshmen haven't been shy about making their needs known.
"They're feeling a lot of pressure," Gomez said. "But in the end, they still need a good agreement to vote for and something they don't have to run away from."
The trade deal still could get done before the end of the year, although it's competing for attention and floor time with the impeachment inquiry and an agreement on how to fund the government for the rest of fiscal 2020. The House passed another continuing resolution Tuesday to fund the government until Dec. 20.
Draft language for the trade agreement is being exchanged, Gomez said, and added that the final language could be complete a few days after a final agreement is reached.
"Anything is possible, to be honest with you," he said.
To contact the reporter on this story: Emily Wilkins in Washington at ewilkins@bgov.com
To contact the editors responsible for this story: Bennett Roth at broth@bgov.com; Robin Meszoly at rmeszoly@bgov.com