Ron Johnson's Future Clouds Landscape for Senate Majority Fight
Wisconsin Republican hasn't decided whether to run in 2022
Democrats are lining up to run against him or for an open seat
The stakes of the race, the ticking clock, and the repercussions of his indecision are ratcheting up the political intrigue as Sen. Ron Johnson chooses his next adventure.
But an answer to whether or not the Wisconsin Republican will run for re-election isn't coming anytime soon.
"We've got plenty of time to decide," Johnson said in an interview. "These campaigns are way too long and they cost way too much money. You don't have to decide or announce now."
Whether he seeks a third term is one of the most consequential unknowns on the 2022 Senate map.
Wisconsin, which voted for Joe Biden in the presidential election, has the potential to swing the majority—whether Johnson runs again or joins five Senate Republicans who are retiring. But his presence or absence from the ballot will fundamentally alter the makeup of the race.
If Johnson runs, it would avoid what could be a messy primary for Republicans and bridge gaps that have developed in other Senate battleground states between acolytes of former President Donald Trump and candidates seen as insufficiently loyal to him. Trump has said he'd like to see Johnson run.
If he doesn't, the Republicans running to replace him will need to overcome a late start, and the party will be banking on a candidate lacking Johnson's statewide electoral pedigree.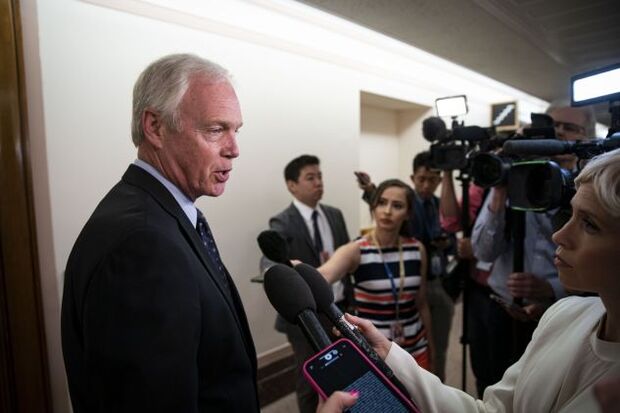 Democrats, meanwhile, are lining up and preparing to either take on the incumbent or vie for an open seat. Their expansive primary could prove to be expensive but is also a sign of how the party views its prospects.
"We have plenty of good candidates in the Democratic primary, and we're going to win that race," said Sen. Gary Peters (Mich.), chair of the Democratic Senatorial Campaign Committee.
Will He or Won't He
State Republican Party Chairman Andrew Hitt told PBS Wisconsin this month he's not expecting a decision from Johnson until "sometime in early 2022."
Johnson "genuinely hasn't made a decision yet" about whether to run, said Republican consultant Juston Johnson, who managed his first campaign in 2010. The consultant said he's optimistic the senator will run and that "he gives Republicans the best chance" to hold the seat.
Sen. Rick Scott (R-Fla.), who's leading GOP campaign efforts for 2022, is also optimistic Johnson will run again, said Lizzie Litzow a spokeswoman for the National Republican Senatorial Committee. Litzow said Republicans are determined to retain the seat no matter who runs and that the NRSC will continue to paint Democratic positions as "out of step with the voters of Wisconsin."
Flipping the Wisconsin seat is one of a handful of opportunities for Democrats to expand their majority in the 50-50 Senate. While an open seat is generally a preferred scenario, Democrats say they're bullish on the race even against Johnson because he's strayed from previous campaign messages focused on Wisconsin and become a national conservative ideologue focused on defending Trump.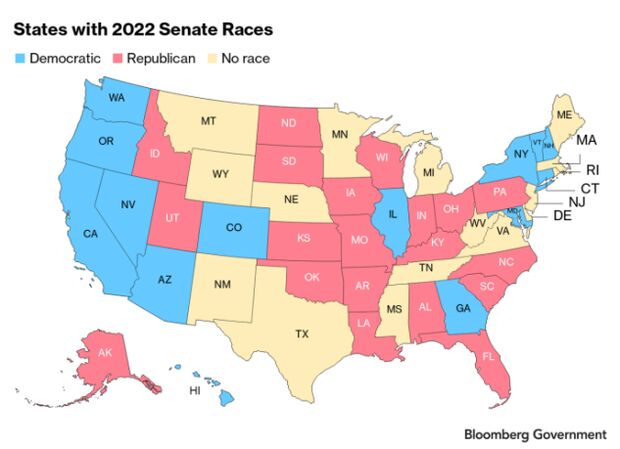 It's Johnson who's out of step with voters, according to Democrats. Recent examples include downplaying the Jan. 6 Capitol riot and his initial efforts to hold up making June 19 a federal holiday, resulting in him being booed while attending a Juneteenth celebration in Milwaukee. Democrats and union leaders in the state have also blasted him for holding up the China competition bill, accusing him of refusing to support efforts to revive his state's ailing manufacturing sector.
"Ron Johnson has completely lost touch with Wisconsin and reality, focusing on dangerous conspiracy theories and Trumpism instead of the kitchen table issues facing workers and families," said state Treasurer Sarah Godlewski (D), who announced her Senate candidacy in April and touts that she's already proven she can win statewide. "The stakes couldn't be higher this election, and Ron Johnson's not going to be easy to defeat."
Democratic strategists maintain that Trump's links to Johnson would be a burden in the general election, pointing out several Democratic statewide successes since Trump narrowly won the state in 2016. Should he run, Johnson would be the only Republican senator seeking re-election in a state Trump lost in 2020, though the GOP is also defending an open seat in Pennsylvania.
No Clear Favorite
Democrats don't yet have a clear favorite to take on Johnson, nor is there an obvious top Republican should he retire. Besides Johnson's late decision, the coinciding governor race—in which Gov. Tony Evers (D) is seeking re-election—further clouds the makeup of the potential GOP Senate field.
Along with Godlewski, other announced Democratic candidates include Tom Nelson, county executive for Outagamie County who ran for the House in 2018, and Alex Lasry, a Democratic fundraiser and senior executive for the Milwaukee Bucks, which his father co-owns. Lt. Gov. Mandela Barnes has also been mentioned as a possible candidate.
Juston Johnson said the crowded Democratic primary will help Republicans, with contenders "tripping over themselves to ingratiate themselves to Chuck Schumer and Nancy Pelosi and the liberal progressive wing of the party," he said.
Democrats "underestimate Ron Johnson at their own peril," he said. "Just ask Russ Feingold," the former Democratic senator unseated by Johnson in 2010 and defeated in a rematch in 2016.
Nancy Ognanovich in Washington also contributed to this story.
To contact the reporter on this story: Kenneth P. Doyle in Washington at kdoyle@bgov.com
To contact the editors responsible for this story: Kyle Trygstad at ktrygstad@bgov.com; Bennett Roth at broth@bgov.com