Rhode Island Governor Signs House Map With Barely Altered Lines
Legislature accepted status-quo map from commission
Democrats declined to shore up Langevin's 2nd District
Rhode Island's new congressional map incorporates tiny tweaks to the state's two districts after Democratic legislators declined to solidify their grip on the district of a retiring U.S. House Democrat.
The lines Gov. Dan McKee (D) signed into law preserve Democratic advantages in the eastern 1st District of Rep. David Cicilline (D) and the western 2nd District of Rep. Jim Langevin (D), though Langevin isn't seeking a 12th term this November in the more politically competitive district.
In the 2020 election, President Joe Biden won 56% of the vote in the current and new 2nd, which could be in play for Republicans in the November midterm election if the national political environment is unfavorable to Democrats. Biden won 64% of the vote in the 1st District.
The Democratic-controlled legislature accepted a minimal-change map that Rhode Island's advisory redistricting commission overwhelmingly recommended on Jan. 12, a week before Langevin announced his retirement. Democratic legislators praised the commission's months-long work and didn't try to amend its congressional map proposal during floor consideration Feb. 15.
"I think a lesser person might have played some games, and I think the fact that the bills came through as is speaks a lot to your leadership," Republican state Rep. Barbara Ann Fenton-Fung said as Democratic Speaker Joe Shekarchi presided.
( SUBSCRIBE to Ballots & Boundaries to follow how states revise political districts. )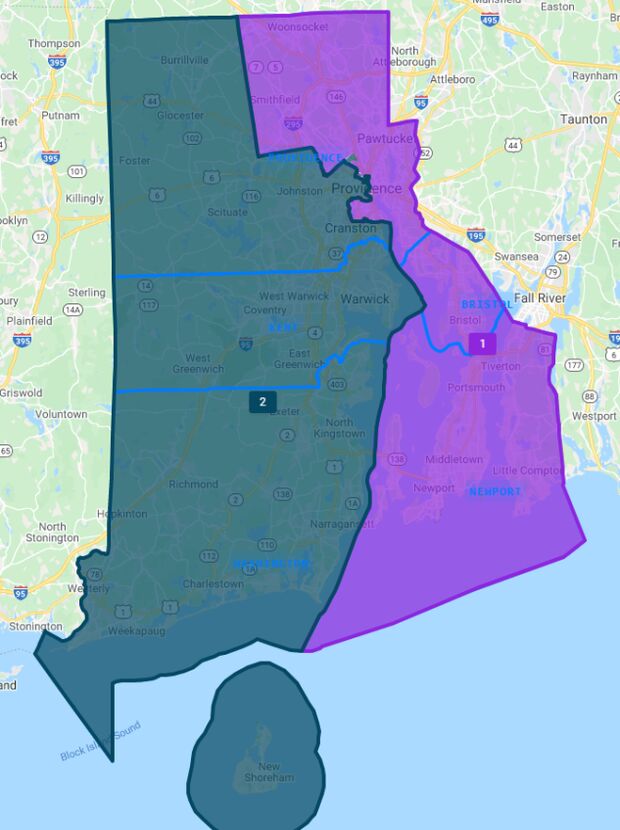 Republicans seeking to succeed Langevin include Fenton-Fung's husband Allan Fung, a former mayor of Cranston who was the GOP nominee for governor in 2014 and 2018.
The 1st includes the Democratic bastions of Newport and Pawtucket. The 2nd takes in Warwick and Cranston, which both voted for Biden in 2020, but also communities like Burrillville, Coventry, and Johnston that favored Donald Trump.
The two districts will continue to share heavily Democratic Providence, Rhode Island's capital and most populous city. The 1st presently includes 53% of Providence's residents; following the changes, the city's population will be evenly divided between the 1st and the 2nd. Rhode Island's other 38 cities and towns will remain wholly in their current districts.
The legislature advanced the redistricting measure, which also reconfigured state legislative districts, following votes of 58-8 in the House and 29-9 in the Senate.
McKee signed the redistricting bill Feb. 16, according to a notification Friday from Rhode Island's bill-tracking system.
Rhode Island was in danger of becoming a one-district state because of slow population growth in the 2010s. It barely held on to its two districts in the reapportionment of House seats following the 2020 census.
To contact the reporter on this story: Greg Giroux in Washington at ggiroux@bgov.com
To contact the editors responsible for this story: Bennett Roth at broth@bgov.com; Tina May at tmay@bloomberglaw.com