Return of Free Covid Tests Poised to Unleash New Wave of Fraud
Biden administration pledges $600 million for tests as cases rise
Thousands report receiving, getting billed for kits never ordered
Bloomberg Government subscribers get the stories like this first. Act now and gain unlimited access to everything you need to know. Learn more.
Retired Florida firefighter Mike Coombs caught Covid twice during the pandemic and didn't have trouble finding rapid tests.
But someone thought he needed a test kit—lots of them, actually.
Over 10 months, Coombs received more than 60 Covid test kits in the mail, charged to his Medicare ID number. He never asked for them and called US officials three times to report the unwanted tests. Still, more arrived.
Across the country, possibly hundreds of thousands of other seniors also got tests they never asked for, often charged to their Medicare accounts. The national fraud prevention group Senior Medicare Patrol in June deemed it the most-reported Medicare coronavirus fraud.
With new Covid cases rising, the Biden administration says it will again pay for free tests for families, setting aside $600 million to replenish its supply. That announcement also likely reopened the floodgates to more fraud.
"You know that there are some sitting in warehouses that were never used or given out and the fraudsters aren't going to want to waste that," said Rich Mennuti, a former FBI health-care investigations manager who advises government agencies on minimizing fraud. "They're not going to let an expiration date stand in their way."
The new test distribution initiative comes months after President Joe Biden declared the end of the pandemic emergency, but as questions remain about the cost and effectiveness of the government's strategy.
The administration paid to mail out 737 million Covid tests since January 2022 but has declined to release any information about who sought or received them. Bloomberg Government reported in June that Justice Department investigators launched a probe into who bilked Medicare for millions of dollars in test-kit reimbursements.
Federal prosecutors have brought charges in at least two cases against people they say bought or otherwise obtained patient ID numbers and charged Medicare for Covid test kits sent to seniors who never requested them or, in some cases, were dead.
The Centers for Medicare and Medicaid Services paused all payments for rapid tests over the summer, after a spike in complaints about providers sending unwanted kits, a spokesperson said by email. The agency said it has also temporarily cut off more than 100 providers from receiving any payments, but wouldn't identify them.
CMS says it had paid out $2.8 billion on test kits as of early September, but can't say how much of that paid for tests people didn't need, request or even get. Government regulators separately asked Congress earlier this year to fund new tools and resources to spot Medicare fraud from medical equipment suppliers.
"It's essentially a pay-and-chase system. Medicare pays first and asks questions later," said Alex Porter, former health-care fraud coordinator for the U.S. Attorney for the Central District of California."There's always going to be unscrupulous providers that are trying to take advantage of that system."
Coombs, the Florida retiree, said he stopped receiving tests in May, when Medicare generally stopped covering them for seniors.
What made Coombs' experience slightly different than others: Some of the tests he received came from a company run by a man with a home less than a mile away in his gated community.
Recouping Funds
Prosecutions this year in Florida and Alabama offer a window into how such alleged schemes can be so profitable.
In the first case, prosecutors accused Latresia Wilson, a central Florida emergency room physician, of enrolling to be a Medicare-approved doctor, then conspiring with Corey Alston, head of a Georgia-based provider called Heritage Pharma Group.
The pair allegedly paid $85,000 to an unnamed marketing firm for the names and identification numbers of thousands of Medicare beneficiaries, then sent tests to those patients, regardless of whether they wanted them, and billed Medicare. In less than a year, the pair ordered tests for recipients in all 50 states and collected more than $2.6 million from Medicare, according to the indictment.
Both Wilson and Alston have pleaded not guilty and are awaiting trial.
In the Alabama case, the US says a medical lab collected $14 million from Medicare for tests on behalf of more than 140,000 seniors who didn't ask for them, according to charges filed in August. For each, it was paid $94 per test from Medicare, far more than the $12 federal officials said they would pay suppliers for at-home rapid tests.
The FBI launched its investigation after more than 4,300 Medicare beneficiaries called or wrote the government to report getting the unwanted tests or being billed for them. Agents also found that at least 591 of the supplier's patients couldn't have ordered the kits because they were dead.
Investigators didn't lay out how the company collected so much identifying information, but a third of the test recipients were seniors who also had been targeted by a man convicted in a separate case for selling Medicare numbers, according to the complaint.
Historically, such frauds take advantage of the program's role as a safety net for seniors who can't afford those items on their own, said Mennuti, the former FBI agent. Medicare is wary of cutting off potentially legitimate suppliers, he said.
"Medicare is sometimes afraid to push buttons because sometimes there are only a few plans serving the people that need it the most in a community," Mennuti said.
Throughout the spring, federal and state officials issued repeated public warnings about the flood of unwanted tests.
Debora Stonich, a Medicare beneficiary, said 130 coronavirus tests arrived at her Allen, Texas, home over a few months. Many were expired or close to it.
She asked Medicare to stop paying the senders and even contacted Sen. John Cornyn's (R-Texas) office, she said. The packages haven't stopped.
"It was so annoying because I knew that Medicare was paying for them," Stonich said by phone. "And every time I got one, it would just set me off all over again."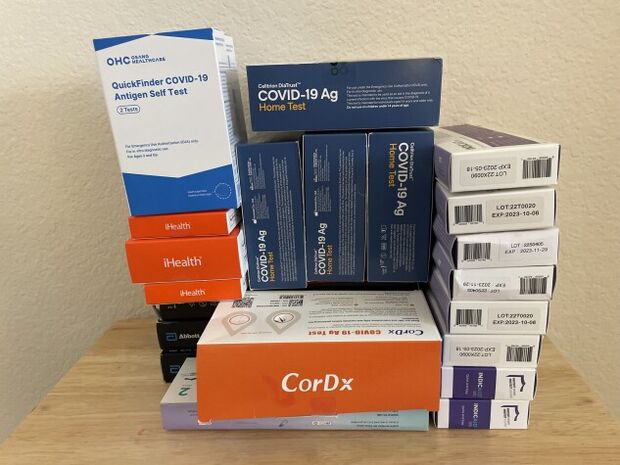 Notifying seniors that someone ordered equipment on their behalf or checking in with patients about what services they received would help agency watchdogs catch fraud before it grows, former health-care fraud officials said.
But that often doesn't happen until it's too late. A million-dollar scam might seem large, but it's almost negligible for a program that spends about $900 billion a year.
It took US investigators months to compile enough facts to charge two dozen people in 2019 with participating in a medical brace scam that cost the US $1.2 billion. The Justice Department accused defendants of charging Medicare for back, neck, and knee braces that seniors didn't need. The CEO of an involved medical supply company in Georgia was later sentenced to three years in prison.
Prosecutors had to prove that defendants knew their actions were illegal, all while companies continued to charge for unnecessary supplies, Stephen Chahn Lee, a former prosecutor in Chicago, wrote this year in the Northwestern University Law Review. Law enforcement's traditional tools aren't enough to keep up with the barrage of schemes out there, he wrote.
"With the right kind of monitoring, the government should have noticed when suddenly large numbers of doctors and nurses were ordering more than $1 million in orthotics and prosthetics although none had done so beforehand," Chahn Lee wrote.
Red Flags Raised
One of the many test kits Coombs received came from EZ Rx, a company with an address in nearby Boca Raton. State records list its manager as Jason Lavoie, a man Coombs didn't know but who, according to property records, owns a home less than a mile from his in Weston, a Fort Lauderdale suburb.
Lavoie has been connected to almost three dozen Florida companies over the past three decades, selling everything from windows to service animals, state records show.
In 2020, a Louisiana pharmacy owner accused him and his partners of duping her into filling bogus prescriptions, a scheme she called a "big bad dream" and one that cost her the business.
Lavoie's lawyers challenged the claim, and the lawsuit never made it to trial. The pharmacy owner, Lisa Prestenbach, said in an interview she ran out of money to pursue the case.
One of Lavoie's partners in the venture pleaded guilty the next year to an unrelated health-care fraud that involved billing Medicare for $2.5 million worth of knee braces on behalf of patients he never examined.
Lavoie didn't respond to more than a half-dozen emails and phone messages left by Bloomberg Government over the past three weeks seeking comment.
EZ Rx passed a required in-person inspection in 2021 by an outside accreditor approved by Medicare. But CMS declined to release any details of its dealings with EZ Rx, including how much it paid the company for rapid Covid tests.
Its delivery of test kits to Coombs followed a pattern. In fact, Weston officials logged so many complaints from seniors about unwanted Covid tests from companies registered to Lavoie that last October they dispatched then-city code officer Sheryl Salvage and two deputy sheriffs to the office park where one of his businesses was located.
There, they found a small, windowless room where two adults sat in front of computer screens. Standing at the door was Lavoie, wearing a Polo shirt and shorts.
In a conversation captured on video by one officer's body camera and obtained by Bloomberg Government, Lavoie described himself as the intermediary for a group of four pharmacies that sent out test kits to people who ordered them, usually online.
The Weston code officer explained that they had received more than 20 complaints from seniors nationwide about getting tests with a return address of his office.
"So, 20 complaints is a lot," Lavoie said, "but for 250,000 patients that we service, that's not really that crazy."
Salvage also told him the complainants said they never filled out any forms requesting the tests.
"They have, they have," Lavoie said, promising that he had "100%" proof of the requests.
He also told the code officer that patients using any of the company's test kits could use them for 18 months past the expiration date, and showed her a letter he said explained the extension and was included in the mailed kits.
(The Food and Drug Administration has approved the use of tests past their expiration date, but never by 18 months, spokesman Jim McKinney told Bloomberg Government.)
The Weston officials' visit with Lavoie grew tense when he refused to give deputy Sheriff Patrick Keegan his mobile phone number.
"That makes it even a little bit more sketchy though, Jason," the deputy said.
"What's sketchy?" Lavoie shot back. "I'm going to give you the number of the office. What do you need my number for?"
"Because I'm talking to you," the officer replied.
Ultimately, Lavoie handed over a card he said had his direct number—"so you have it and don't think anything's sketchy," he said.
On the video, the code officer told the sheriff's deputy she suspected the business was violating city codes regarding business tax receipts.
The Weston officials sent a report about their visit to the state's attorney general, but that office closed its investigation because Lavoie's businesses didn't appear to involve state funds, state records show. The state investigators forwarded it to federal fraud investigators.
But none of the agencies took any public action against him or the company, according to statements from Weston, the Florida attorney general's office, and the Justice Department.
By the end of the year, Lavoie was gone from the office, according to the building's management company.
But his operation continued: In the months that followed, seniors in seven states from North Carolina to California reported receiving Covid tests they didn't order from companies registered to Lavoie.
And nearly a year after the deputy's visit, an office just a few doors down from Lavoie's original spot lists its occupant as JRL Consulting Group, a medical equipment supply company authorized to bill Medicare. Lavoie is the company's Medicare contact, according to CMS records.
To contact the reporter on this story: Courtney Rozen in Washington at crozen@bgov.com
To contact the editors responsible for this story: John P. Martin at jmartin1@bloombergindustry.com; Bernie Kohn at bkohn@bloombergindustry.com
Stay informed with more news like this – from the largest team of reporters on Capitol Hill – subscribe to Bloomberg Government today. Learn more.