Restaurants Keep Up Lobbying for Relief After Nabbing Virus Aid
Restaurants awarded a $28.6 billion grant program in stimulus
The industry projects a $250 billion loss, prompting new battle
Bloomberg Government subscribers get the stories like this first. Act now and gain unlimited access to everything you need to know. Learn more.
It took a year for an upstart coalition of star-studded restaurateurs and chefs joined with the lobbying fire-power of the National Restaurant Association to secure a $28.6 billion grant program for their ailing industry.
Fresh from their success in garnering relief in the $1.9 trillion pandemic package (Public Law 117-2), restaurant advocates are gearing up to fight for more cash. They plan to leverage the same tactics learned in 2020 to help them navigate some of the same hurdles on Capitol Hill, where earlier efforts to help restaurants faltered repeatedly.
"This is a grassroots story," celebrity chef Tom Colicchio said a day before the legislation that included the Restaurant Revitalization Fund was signed into law.
"This is about a bunch of chefs and restaurant owners who were completely devastated, and who decided not to sit back and not to wait. They just took action," said Colicchio, head judge on Bravo's "Top Chef" and co-founder of the Independent Restaurant Coalition, which formed as the pandemic hit last year. He said the coalition is "here for the long haul."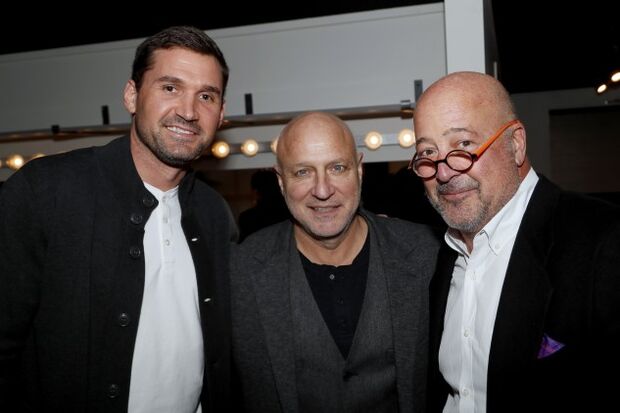 The push to replenish the program could begin ramping up by the summer, said Sean Kennedy, the National Restaurant Association's executive vice president for public affairs.
"We predict that the industry has lost $250 billion through the end of January of this year. So, with that, demand for relief is probably going to outstrip the supply of the Restaurant Revitalization Fund," he said in an interview. "The National Restaurant Association is going to have a lot of work ahead of itself over the next 12 months."
The fund, which will be administered by the Small Business Administration, is set to dole out grants of up to $5 million to hard-hit restaurants and up to $10 million to restaurant groups.
The creation of the fund was the result of a marathon advocacy effort that began last March as states began to close down dining establishments across the country. The association wrote its first letter to congressional leaders on March 18, 2020 that oulined out its request for help, including a proposed $145 billion relief fund.
The pandemic led the National Restaurant Association to create a massive grassroots organization nearly from scratch, leaning on state restaurant associations around the country, and making more than 919,000 contacts with Congress.
Hyperlocal Lobbying
"We made this as hyperlocal an issue as possible," Kennedy said. "Members of Congress, they know these restaurants. They've gone to birthdays, they've celebrated campaign events at these restaurants, and they know them in a unique way. That's very different from other industries. And so our job is simply to leverage that."
The Independent Restaurant Coalition came together — founded by celebrity chefs including Amanda Cohen, owner of Dirt Candy restaurant in New York, Naomi Pomeroy, a Portland-based chef, and Kwame Onwuachi, a former "Top Chef" contestant from Washington — in late March and became an advocacy force in its own right.
The coalition ran a commercial narrated by Morgan Freeman, created brand masks for members of Congress, held hundreds of Zoom meetings, and sent more than 100,000 emails primarily focused on securing a grant program for restaurant owners. The group sought $100 billion in help from the federal government.
Rep. Earl Blumenauer (D-Ore.), who put together a group of bipartisan supporters for the restaurant fund in the House, said during a media call the aid wouldn't have made it to the finish line without the coalition, which kept up its advocacy despite a number of disappointments along the way.
A grant program for restaurants was part of a House-passed stimulus package last fall, but it died in the Senate, which was then controlled by Republicans. President Joe Biden's original relief package omitted the restaurant fund.
Advocates give credit to Sens. Kyrsten Sinema (D-Ariz.) and Roger Wicker (R-Miss.), who crafted the language that appeared in the Senate bill, for uniting an industry that had been divided between franchise restaurants and smaller independent eateries. Unlike the measure the House passed last year, the final version also made funding available for restaurant groups and franchisees with up to 20 restaurants, a priority for the National Restaurant Association, which worked to protect both.
When Sen. Chuck Schumer (D-N.Y.) became majority leader, the restaurant aid was the first amendment to the stimulus he offered on the floor, and he did it while donning an Independent Restaurant Coalition mask. It was adopted on a 90-10 vote.
Erika Polmar, the coalition's executive director, said it would be keeping track of how the grant money is being distributed over the next several months and "focused on making sure the program is working," then taking cues from its members on what comes next.
"We are fully committed to continuing to serve this community and we are eager to hear what the community asks us to do," she said, adding that the $28.6 billion "won't be enough."
Schumer, in a media call with the coalition, said he'd be there to help "if, God forbid, we need to renew" funding for the grant program.
"I think we're going to have to take him up on that," Blumenauer said on the media call, noting that the battle for any future money could be fierce.
Other Wins
The National Restaurant Association had other lobbying victories over the past year, including urging states and cities to loosen rules to allow to-go cocktails and alcohol, which are high-margin products for restaurants. Washington, D.C., and 32 states eventually did so.
The group successfully lobbied alongside the hospitality industry to give hotels and restaurants expanded access and flexibility with the Paycheck Protection Program, including higher loan limits than other industries.
To contact the reporter on this story: Megan R. Wilson in Washington at mwilson@bgov.com
To contact the editor responsible for this story: Bennett Roth at broth@bgov.com
Stay informed with more news like this – from the largest team of reporters on Capitol Hill – subscribe to Bloomberg Government today. Learn more.