Research Money Bonanza Spurs Contest to Host New Federal Agency
States, cities, universities vie for $1 billion project
Capital area spurned as institutions lobby for ARPA-H
Bloomberg Government subscribers get the stories like this first. Act now and gain unlimited access to everything you need to know. Learn more.
Creation of a $1 billion-plus federal health research agency has touched off a race between deep-pocketed research institutions to bring the new entity to their state or region, lobbying reports show.
Biotechnology groups in Massachusetts, a hospital network in North Carolina, research groups in Texas, the Cleveland Clinic, and Atlanta's chamber of commerce were among those listing the forthcoming Advanced Research Projects Agency for Health on their lobbying disclosures this year. Over the past nine months, lobbying for a piece of the new agency has topped $100,000, according to disclosures.
"The idea of building something new is exciting, and we all want to be on the ground floor of it," said James Hunter, vice president of government relations at RTI International, a nonprofit research organization that's part of a North Carolina group trying to draw ARPA-H's headquarters to the state.
President Joe Biden has sold ARPA-H as a way for the government to fund high-risk, high-reward projects meant to accelerate the advancement of health technologies and biotechnology, funneling federal money to companies and researchers with promising, innovative ideas.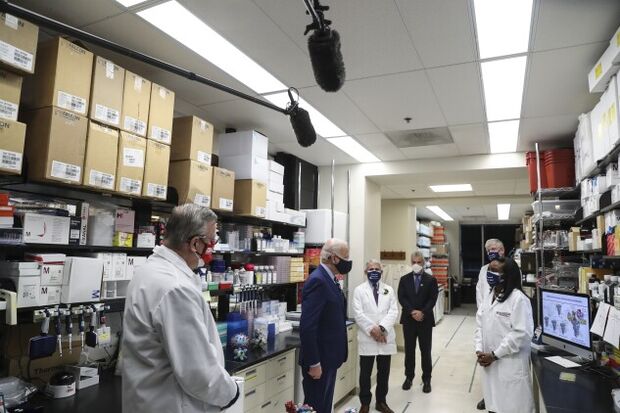 Lawmakers are making their own pitches. Bipartisan delegations from Georgia, Illinois, Massachusetts Missouri, North Carolina, Ohio, and Texas have sent letters to Health and Human Services Secretary Xavier Becerra asking to locate the new agency in their states.
These campaigns have focused on two goals: persuading lawmakers to pass legislation funding ARPA-H, and requiring it be headquartered outside the Washington area, showcasing to administration officials their region's qualifications to be its home.
HHS officials have yet to say where ARPA-H will be located. And they warned it won't have a sweeping campus like the National Institutes of Health — a 300-acre, 18,000-employee research facility in Bethesda, Md.
The biomedical research agency mimics similar programs at the Departments of Defense and Energy, which empower program managers to fund risky and innovative projects to create products or advance science — rather than the NIH model of awarding incremental grants that come with strict oversight. DARPA is headquartered in Arlington, Va., while ARPA-E is located in Washington, alongside the main offices for the Department of Energy.
Read More: Biomedical Agency Head Pick Paves Way for Biden's Cancer Goal
Money and Attention
Groups vying to be the home of the agency say they expect HHS to open a formal selection process, although agency officials have yet to outline one. Lawmakers may seek to require HHS to do so as part of future appropriations, the groups say.
Any such legislation would likely have to be part of a large package attached to a year-end government spending bill, congressional aides familiar with the discussion said, speaking on condition of anonymity. That bill would likely include fiscal 2023 funding for ARPA-H too, they said. The Biden administration has sought as much as $6.5 billion to get the agency fully running, but Congress has so far appropriated just $1 billion for it.
Read More: 'Poison Pill' Threats Blamed for Medical Innovation Bill Delay
The idea has bipartisan support from Sens. Patty Murray (D-Wash.) and Roy Blunt (R-Mo.), the Democratic and Republican leads of the Senate appropriations panel responsible for almost all federal health spending.
The level of federal investment has attracted a range of cities, companies, and universities. Some lawmakers, notably Sen. Richard Burr (R-N.C.), want any new funds or authorizations for ARPA-H to come with the requirement the new research group be located far from NIH's Maryland campus.
Boston-area universities, pharmaceutical companies, and their trade groups this year formed Coalition for Health Advances and Research in Massachusetts, or CHARM, to attract ARPA-H to the state.
The group organized state lawmakers and contacted the Biden administration to pitch the state, pointing to the presence of renowned universities and life science companies. Having the research agency's program managers in the state would mean becoming a hub for groups pitching them for funding.
"If it's not going to be in Washington, D.C., then there is no better place than here," said Steve Walsh, president and chief executive officer of the Massachusetts Hospital & Health Association, part of CHARM.
The group paid $20,000 to hire Ann Jablon, the former chief of staff of Rep. Richard Neal (D-Mass.), and Robert Diamond, a White House staffer under President Barack Obama, to lobby on its behalf this year. Part of that lobbying effort has supported the Senate's ARPA-H authorization, which included language requiring the agency be housed outside the nation's capital area, Walsh said.
Lawmaker Influence
A Texas coalition paid $30,000 each of the past two quarters to hire former Rep. Lamar Smith (R-Texas) to lobby on its behalf to bring ARPA-H to Texas, lobbying disclosures show.
Leaders of the group see being selected as a sign the state is on par with major life science hubs such as Massachusetts or California, drawing further esteem to cancer research and treatment centers such as MD Anderson.
"The real benefit to Texas would be to shine a light on the great assets we have here," said Wayne Roberts, chief executive officer of the Cancer Prevention and Research Institute of Texas, a publicly funded cancer research initiative. "ARPA-H could be President Biden's signature achievement and he's going to want it someplace it can succeed. We know it would be well-served in Texas."
Cities and universities are competing as well: the Atlanta Chamber of Commerce hired Robert Gardner, a former legislative staff for Senate Majority Leader Chuck Schumer (D-N.Y.), to lobby solely on ARPA-H this year, paying him less than $5,000.
Atrium Health, formerly known as the Carolinas HealthCare System, a hospital system that operates in the Carolinas, Georgia, and Alabama, also listed ARPA-H on its lobbying records. The company has spent more than $450,000 overall on lobbying in the first half of the year on a range of topics.
Cornell University and Boston University both listed ARPA-H on their lobbying disclosures this year, which listed almost $500,000 combined this year influencing Congress.
Earlier: Biden Taps Renee Wegrzyn to Head New Biomedical Research Hub (2)
Reality Check
The newly sworn-in ARPA-H director, Renee Wegrzyn, will decide in consultation with HHS Secretary Xavier Becerra where the new agency will be located, said Amy Reiter, a spokesperson for ARPA-H.
Reiter noted the agency's physical footprint will be "small by design" because program managers will travel regularly and get ideas from across the country.
"Regardless of ARPA-H's physical location, the agency's mission is to find and fund the most promising ideas, through fair and open competition, to help create high-impact solutions," she said. "These ideas are expected to come from around the country and, in some cases, internationally."
To contact the reporter on this story: Alex Ruoff in Washington at aruoff@bgov.com
To contact the editors responsible for this story: Robin Meszoly at rmeszoly@bgov.com; Anna Yukhananov at ayukhananov@bloombergindustry.com
Stay informed with more news like this – from the largest team of reporters on Capitol Hill – subscribe to Bloomberg Government today. Learn more.