Republicans Target Texas Special Election for Pre-November Boost
Flores seeking to pick up vacant district that's 84% Hispanic
Democrats better positioned in November with redrawn lines
Republicans are pushing for victory in a special election Tuesday in Texas that may provide a foretaste of party gains in the fall.
Mayra Flores, a Mexican-born Republican activist and health-care worker, faces Democrat Dan Sanchez, a former county commissioner, in the Hispanic-majority 34th District on the U.S.-Mexico border.
A Flores win would narrow the tiny Democratic advantage in the House and give the GOP a boost of confidence ahead of a Nov. 8 general election that probably will favor Republicans, given President Joe Biden's poor approval rating and the longstanding trend of the White House's party performing poorly in midterm elections.
To win outright, Flores would need a majority of the vote against Sanchez, one other Democrat, and one other Republican on the all-party, four-candidate ballot. A runoff election, if needed, likely would be held in August. The winner will complete the term of Filemon Vela (D), who resigned in March.
"This is America's most important race. My grassroots campaign is SURGING in the polls. If we win, we will flip the first Congressional seat RED, handing Nancy Pelosi and Joe Biden a MASSIVE loss," Flores said in a fundraising e-mail Monday.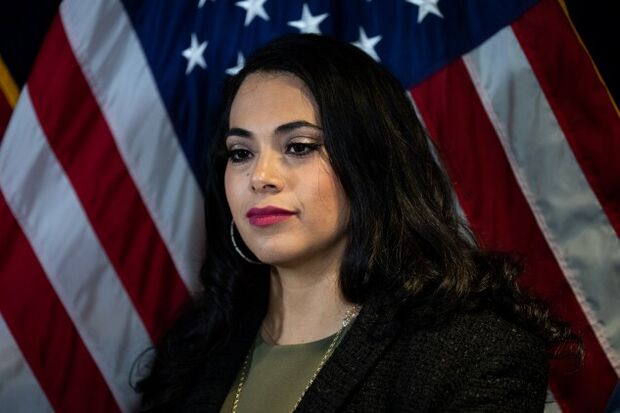 The special election is a gauge of Republican efforts to augment their 2020 election gains with Hispanic voters in Texas' historically Democratic Rio Grande Valley.
Texas' 34th District, which includes all of Cameron County in and around Brownsville and Harlingen, is 84% Hispanic — second-highest among the 435 congressional districts. Biden defeated Donald Trump in the 34th by just 4 percentage points in the 2020 election, a substantial narrowing from Trump's 22-point loss there in the 2016 election.
Flores, who's been running for Congress since February 2021, has dominated fundraising. Of the $1.1 million she raised through May 25, $752,000 came in the final 55 days of the reporting period, Federal Election Commission reports show. Sanchez, who began his campaign only in April following Vela's resignation, raised $146,000 through May 25.
New Lines
Flores won the GOP primary race in March for a full term in a reconfigured 34th District.
Democrats say that even if Flores prevails in the special election, she would be a caretaker congresswoman for a few months and won't win in November in a more Democratic and compact configuration of the 34th District that Biden would have won by 16 points. Redistricting excised some pro-Trump counties in the north and added more of Hidalgo County on the border.
Flores would face a more formidable Democratic opponent: Rep. Vicente Gonzalez, who currently represents the 15th District and shifted to seek re-election in the 34th after redistricting. Gonzalez had $1.3 million in cash on hand on March 31, compared with $100,000 for Flores on May 25.
"If Republicans spend money on a seat that is out of their reach in November, great. But Mayra Flores is a far-right, MAGA extremist who is completely out of touch with South Texans," Monica Robinson, a spokeswoman for the Democratic Congressional Campaign Committee, said in a statement. "The DCCC is focused on winning seats in November and we are committed to ensuring Hispanic voters get the representation they deserve when Vicente Gonzalez is elected to a full term this fall."
To contact the reporter on this story: Greg Giroux in Washington at ggiroux@bgov.com
To contact the editors responsible for this story: Bennett Roth at broth@bgov.com; Kyle Trygstad at ktrygstad@bloombergindustry.com