Republicans Score in New York and Florida: Ballots & Boundaries

Any hope Democrats had of limiting Republican gains in the U.S. House of Representatives in 2022 through redistricting were all but dashed with the Florida Legislature's approval of the map made to order for Gov. Ron DeSantis.
That alone would have made yesterday a big redistricting day for Republicans. Then New York piled on.
A panel of five mid-level appellate judges ruled 3-2 that the Democrats in charge in Albany engaged in unconstitutional gerrymandering. If that ruling's upheld by New York's highest court, those new congressional district boundaries with their pro-D tilt won't be used in November.
That's especially noteworthy because in some states, courts are allowing maps of questionable constitutionality to be used in this cycle to avoid disrupting election processes while litigation continues.
Republicans need a net gain of five congressional seats this fall to retake the U.S. House majority.
Under Florida's new map, it would be hard for the GOP to avoid picking up four seats there, creating a Florida delegation of 20 Republicans and eight Democrats (it's currently 16-11).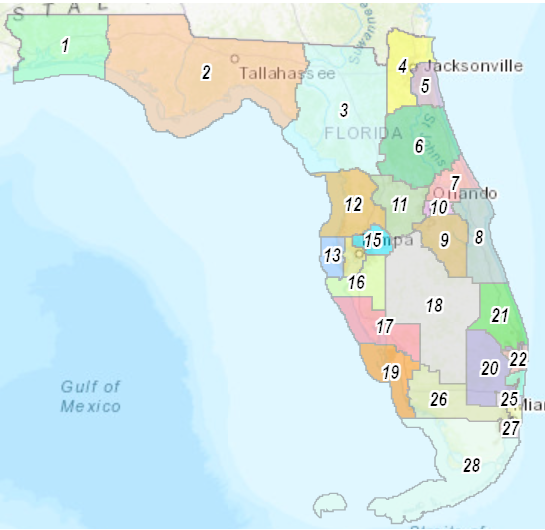 Florida's the biggest state yet to finish redistricting. The others still undone are Missouri and New Hampshire.
No word yet on when DeSantis (R) will sign the plan his staff takes credit for creating. As for New York, the Court of Appeals could hear arguments as soon as next week. The primary's June 28, at least for now. — Greg Giroux and Jennifer Kay
(Was this newsletter forwarded to you? It's free. SUBSCRIBE )
NEW HAMPSHIRE: SUNUNU MAP DOA
Gov. Chris Sununu is acknowledging that he lacks the votes to get his preferred congressional map through the New Hampshire House redistricting committee, which is holding a hearing today. You can watch the hearing HERE.
The map "does not have the support of the majority of the committee members" though "I look forward to seeing what other opportunities this committee brings to the table that can pass," Sununu (R) wrote to members of the committee, which is controlled by his party.
The governor's plan would make less sweeping changes to New Hampshire's two districts, both held by Democrats, than a map Sununu threatened to veto. — Greg Giroux
NEW MEXICO: ONE AND DONE?
New Mexico's three congressional districts could have a one-cycle lifespan.
A state district court judge said it's too late to make changes without creating chaos for the June 7 primary but the gerrymander lawsuit brought by the state GOP may have implications for future elections.
The lawsuit hinges on whether the districts violate New Mexico's equal protection clause by diluting Republican votes. — Brenna Goth
OHIO: SECOND PRIMARY
One of the redistricting cycle's impacts in Ohio is a bifurcated primary. Lawmakers were determined not to let litigation interrupt the May 3 election, so it's going forward without the statehouse races.
The second half of Ohio's two-part primary election, just for legislative seats, now has a date: Aug. 2.
A federal court ruling set the failsafe primary date and map for legislative elections, unless state officials act before May 28. The ruling also means that state House and Senate district maps previously found to be unconstitutional can get a one-cycle free pass. — Kenneth P. Doyle
ELECTION MISINFORMATION PROBE
Congressional Democrats want to hear from local elections officials about conspiracy theories and misinformation affecting their jobs. In letters to state-based organizations of local elections administrators in Arizona, Florida, Ohio, and Texas, the chairs of the House Administration and Oversight and Reform committees are seeking comments about their efforts to counter misinformation.
As former President Donald Trump and his allies continue to make false claims of widespread election fraud, elections administrators have become the focus of political attacks, anonymous threats, and new laws that add criminal penalties for technical infractions of election law. — Ryan Teague Beckwith
Finished Maps
Alabama|Arizona | Arkansas | California| Colorado |Connecticut |Georgia |Hawaii| Idaho | Illinois | Indiana | Iowa | Kansas | Kentucky |Louisiana| Maine | Maryland | Massachusetts | Michigan | Minnesota | Mississippi |Montana | Nebraska | Nevada | New Jersey | New Mexico | North Carolina |Ohio| Oklahoma | Oregon | Pennsylvania | Rhode Island |South Carolina |Tennessee| Texas | Utah | Virginia|Washington | West Virginia | Wisconsin
Caught Our Eye
GOP mega donor Steven Hotze has been charged in connection with a bogus election fraud scheme ion Texas. (The Texas Tribune)
New York Democrats are searching for way to remove from the ballot the name of the ex-lieutenant governor, who faces a five-count felony indictment. (Spectrum News NY1)
Looking Ahead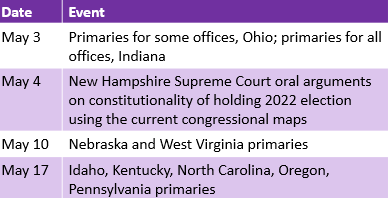 More Resources
Add Us to Your Inbox
Click HERE to sign up for Ballots & Boundaries, your check-in on redistricting, state voting laws, and initiatives.
To contact the reporters on this story: Brenna Goth in Phoenix at bgoth@bloomberglaw.com; Kenneth P. Doyle in Washington at kdoyle@bgov.com
To contact the editor responsible for this story: Tina May at tmay@bloomberglaw.com