Republicans Mull Birth Control Vote as Democrats Highlight Issue
House to vote Thursday on bill codifying access to contraceptives
Support for measure among GOP may lag same-sex marriage bill
House Republicans will be allowed to vote today to codify access to contraception if they want to as Democrats are poised to use votes against birth control access against the GOP in the midterms.
The hands-off approach by House Republican leadership follows a vote Tuesday when 47 Republicans joined all House Democrats to enshrine same-sex marriage in law (H.R. 8404). Both measures are part of the Democratic response to the ruling overturning Roe v. Wade, and in particular Justice Clarence Thomas' call to revisit rulings that had provided national rights to contraception and same-sex marriage.
House Minority Whip Steve Scalise (R-La.) downplayed his decision not to whip the vote on the contraception legislation (H.R. 8373).
BGOV Bill Summary: H.R. 8373, Contraceptives Access
"There's not that many bills we whip," he said, noting that he was instead focused on unifying the party to oppose the six-bill "minibus" spending package on the floor.
Even with the go-ahead to vote their consciences, the number of House Republicans who support the contraception legislation may be small amid pressure from anti-abortion-rights groups.
National Right to Life and Susan B. Anthony Pro-Life America oppose the measure and plan to score lawmakers on their votes. Both groups said in statements that the bill's definition of contraceptives could include abortion-inducing pills.
The measure "is just the latest ploy for the Democrats to impose abortion on demand until birth nationwide and funnel money to the abortion lobby," said SBA Pro-Life America President Marjorie Dannenfelser.
Energy and Commerce ranking member Cathy McMorris Rodgers (R-Wash.), who says said she supports access to contraception, raised similar concerns with the bill's language in a Rules Committee hearing this week, calling the bill "poorly drafted."
In the same hearing, Rep. Kim Schrier (D-Wash.) defended the bill as going no further than what was already currently legal under two Supreme Court cases on contraception, Griswold v. Connecticut and Eisenstadt v. Baird.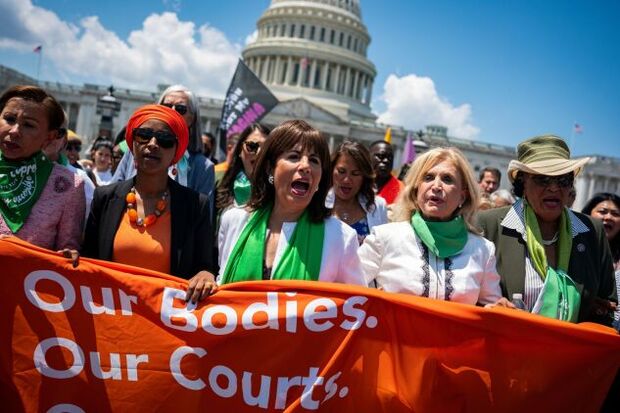 Scalise said Republicans plan to offer a motion to recommit to point out the issues many in the party have with the bill.
But while Republicans widely opposed Democratic proposals on abortion rights when they were considered last week, access to contraception generally receives more support in polling. A Gallup poll conducted in May found birth control to be considered "morally acceptable" by 92% of respondents, the highest of all 19 issues polled, including divorce.
GOP votes on the legislation are likely to be used in Democratic messaging ahead of November as the party seeks to limit Republican gains.
Democratic Congressional Campaign Committee spokeswoman Helen Kalla said in an email that the party's House campaign arm will "continue holding Republicans accountable as they pursue their relentless crusade to rip away a woman's right to make decisions about her own body."
Potential GOP Support
At least two Republican supporters of the same-sex marriage bill are mulling also backing the contraceptives measure.
Rep. Nancy Mace (R-S.C.) said she supports contraception access, especially in states with abortion bans, and is leaning toward voting for the bill.
She's says she's prepared for a fight over the issue in the midterms, even though her district leans more Republican after redistricting.
"I think it's going to be harder than people realize to get a majority," she said in a Tuesday interview. "Social issues, cultural issues are pushed by both sides."
Mace also introduced legislation Wednesday with Rep. Ashley Hinson (R-Iowa) allowing women to access over-the-counter birth control pills.
Rep. Brian Fitzpatrick (R-Pa.) said he's willing to support the legislation if he doesn't find any "poison pills" in his review of it. He said he's frustrated there wasn't more collaboration between Democrats and Republicans on the bill given general bipartisan support for contraception.
"If you don't have any strategy for the bill to pass the Senate, then you're not legislating," he said. "You're engaging in a messaging exercise for political purposes."
The prospects for the House bill after Thursday's vote are unclear.
The companion Senate bill (S.4557) from Sen. Ed Markey (D-Mass.) has no Republican cosponsors. Sen. Susan Collins (R-Maine) has been working with Sen. Tim Kaine(D-Va.) on a bill dealing with contraception access.
To contact the reporter on this story: Emily Wilkins in Washington at ewilkins@bgov.com