Republicans Bet Outside Money on New Hampshire Senate Race (1)
Republican Don Bolduc turns to party, super PAC to pay for ads
Incumbent Maggie Hassan had 80 times more cash, leads in polls
(Updates with comment from New Hampshire Republican activist in 19th paragraph.)
Republicans are pouring money into a New Hampshire Senate race to bail out a nominee party leaders didn't even want.
Their candidate, Don Bolduc, a retired Army general, needs the money. He spent a little more than $100,000 to air his first TV ad on Tuesday, but his campaign committee likely can't afford many more.
Bolduc reported just $92,000 in cash in late August, according to the latest report to the Federal Election Commission. He trailed Sen. Maggie Hassan's cash on hand total of $7.3 million by a factor of about 80-to-1.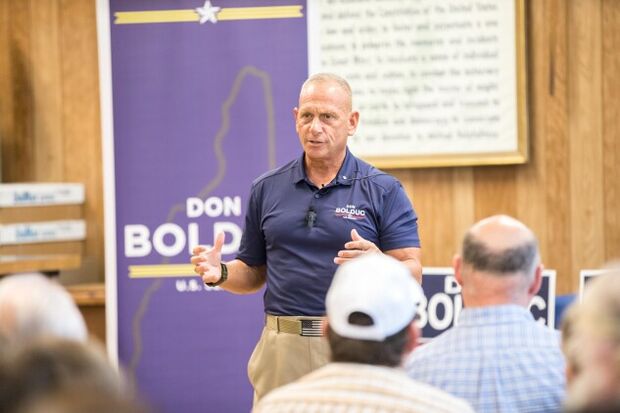 Hassan (D-N.H.), who's seeking a second Senate term, also leads Bolduc by an average of about 6.6 percentage points in public polls conducted after the Sept. 13 primary, according to the Real Clear Politics website, which rates the race a tossup.
"It's a bit baffling," Cook Political Report with Amy Walter analyst Jessica Taylor said of the big GOP spending in New Hampshire. But she added in a phone interview that having weak candidates in key Senate races has been a problem for Republicans "across the board" this year.
"Republicans have got to play the field and see if they can move the race and make it competitive," said Taylor, who rates the New Hampshire contest as "leans Democratic."
"If you have the money to do that, it's understandable," she said.
New Hampshire has been a swing state in past elections and Hassan narrowly won in 2016 by just over 1,000 votes, making her a tantalizing target for the GOP. It's one of 10 Senate races rated most competitive by the Cook Political Report, though none of the others has as wide a disparity in candidate funding and polling.
Republicans are eyeing the Granite State to help the party achieve the net gain of at least one seat it needs to take the Senate majority. A longshot win there or a more likely win in Arizona, Georgia or Nevada — where Republicans are targeting Democratic incumbents as well — are the best prospects for flipping a seat.
GOP Leaders Opposed Bolduc
Bolduc, who has shared former President Donald Trump's unfounded claims that the 2020 election was stolen, ran and lost in a Senate primary that year but remained active, holding town hall meetings with Republican activists. After winning this year's primary, he bragged about sponsoring no TV ads and instead meeting directly with voters.
New Hamphire Gov. Chris Sununu, who national Republicans tried to recruit for the Senate race, said before the primary that Bolduc "would have the hardest time" of any Republican candidates in the general election. Sununu later said he believed Bolduc would beat Hassan in the November election.
Late New Hampshire Senate Primary Divides Republican Voters
Financial support for Bolduc's campaign now is almost entirely dependent on the national Republican Party and outside groups. These include the Senate Leadership Fund (SLF), a GOP super PAC that Democrats say provided money to a "pop-up" group that spent nearly $5 million trying to defeat Bolduc in the primary.
SLF, which is aligned with Senate Minority Leader Mitch McConnell (R-Ky.), has pivoted since the primary, spending millions on ads to help Bolduc challenge Hassan, according to independent expenditure reports to the FEC and data from the ad tracking firm AdImpact. SLF said shortly before the primary it would spend $23 million to defeat Hassan, no matter who the GOP nominee was.
"This is a top-tier pickup opportunity for us, putting the Senate majority within reach," SLF President Steven Law said in announcing the super PAC's New Hampshire plans.
The National Republican Senatorial Committee also has reserved more than $10 million in air time for future ads in the New Hampshire race, according to AdImpact data. The NRSC and SLF didn't respond to a request for comment about whether their spending plans have changed.
The GOP super PAC and the NRSC have spent about $3.7 million on ads since the primary highlighting Bolduc's military record and attacking Hassan's ties to President Joe Biden and other Democrats and her support for increased funding for the IRS.
Bolduc's own fundraising has picked up since he won the primary, and his campaign committee said in a memo its next FEC report due Oct. 15 will show more than $1 million in receipts in the quarter ended Sept. 30.
"We are clear-eyed about the fact that Senator Hassan is spending more money than us," Bolduc campaign spokeswoman Kate Constantini said in an email. "But all the cash in the world cannot reconnect her with the electorate she has become utterly detached from in six years in Washington."
Sununu ally Stephen Duprey said Bolduc is a flawed candidate who faces "a very uphill race" against Hassan. Spending on campaign ads is "strategically smart for Republicans to see if the race tightens," Duprey, a former chairman of the New Hampshire Republican Party, said in a phone interview. But if the ads don't close the gap in polling, he said, the national party could still pull the plug on plans for additional millions in outside spending.
Democratic Super PAC Spending
National Republicans are pouring in money for Bolduc "because they know he will be a 'yes' vote for a nationwide abortion ban and to end Social Security and Medicare," Hassan campaign spokeswoman Sydney Petersen said in an email. She added that the race is likely to "come down to the wire" because of the state's closely divided electorate.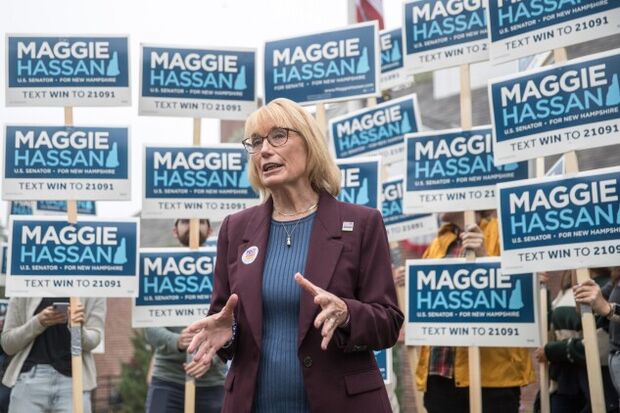 Hassan's campaign has spent more than $3 million on ads since the primary touting her independence, fiscal responsibility and support for police funding. She's been aided by another $550,000 spent by the Senate Majority PAC (SMP) a Democratic super PAC aligned with Senate Majority Leader Chuck Schumer (D-N.Y.). SMP said it expects the race to remain competitive and is spending $3.7 million on an ad buy targeting Bolduc on abortion rights and painting him as an extremist.
"McConnell's own super PAC even burned through millions of dollars to say Don Bolduc's 'crazy ideas' made him unelectable," J.B. Poersch, president of SMP, said in an email, pointing to the pre-primary ad spending
The Democratic super PAC has reserved nearly $9 million worth of advertising for the full campaign, according to AdImpact data. That would add to the Hassan campaign's planned total spending of nearly $24 million.
The Democratic Senatorial Campaign Committee says it's sticking to its plans to spend in the race. The party committee's first ads are set to air next week. It's reserved more than $4 million in future air time for independent ads after helping Hassan pay for almost $4 million in coordinated ads.
Because candidates are legally entitled to advertising rates as much as six times lower that outside groups, Democrats are airing far more TV spots than Republicans despite being outspent in recent weeks. The ads sponsored by Hassan and her allies have aired almost 10,500 times since the primary, compared with nearly 7,000 airings for Republican ads.
To contact the reporter on this story: Kenneth P. Doyle in Washington at kdoyle@bgov.com
To contact the editors responsible for this story: Angela Greiling Keane at agreilingkeane@bloombergindustry.com; Loren Duggan at lduggan@bgov.com