Republicans Aren't Writing Off Doug Jones. Neither is Jones.
Alabama Democrats, Republicans say race closer than polls show
Jones attacks Tuberville on college football career, ties to Trump
Bloomberg Government subscribers get the stories like this first. Act now and gain unlimited access to everything you need to know. Learn more.
Sen. Doug Jones (D) is running one of the strongest campaigns a Democrat has run in Alabama in many years — and that assessment comes from a Republican.
In a state President Donald Trump carried with 60% of the vote in 2016, and where almost two-thirds of voters cast straight party-line ballots, both Democrats and Republicans say the race between Jones and former Auburn University football coach Tommy Tuberville will be close, despite Tuberville having a 15 percentage point lead in polls. The seat may be the GOP's best pick-up opportunity as the party fights to defend other seats, including in Georgia and South Carolina, and maintain Senate control.
But even with the odds stacked against him, Jones has outraised Tuberville by a wide margin. Neither candidate has done much campaigning, but strategists say Jones' barrage of ads — 10 in September alone — shows the campaign is playing to win. The Cook Political Report and Inside Elections both rate the race as "leans Republican," meaning they see it as competitive.
"The Jones campaign is very aggressive and is working very hard. They're taking it seriously," said Chris Brown, an Alabama Republican campaign consultant. "Will it be enough? No, it won't be enough. But he's running the best race a Democratic statewide candidate has run in 20 years."
Jones narrowly won a special election in 2017 to fill the seat left vacant when then-Sen. Jeff Sessions resigned to become Trump's attorney general. His narrow win over former judge Roy Moore was considered an upset by both parties despite allegations that Moore had preyed on teenage girls. Jones also benefited from high turnout among Black voters.
Ryan Williamson, an assistant political science professor at Auburn, said it took "all those unique circumstances" to put Jones ahead. Tuberville doesn't have Moore's flaws, Williamson said, and may not need to do more than remind Republicans to vote and try not to reveal his inexperience.
"Even against Roy Moore, who was an extremely flawed candidate at best, he only won by one and a half percentage points," Williamson said of Jones. "It was impressive that he won in 2017, and it would be even more impressive if he won this year."
Putting Up a Fight
Jones has $8.7 million in cash on hand, compared to Tuberville's $550,000, according to the most recent Federal Election Commission filings. A majority of his fundraising has come from large individual contributions, many from out-of-state. He raised $1.6 million from donors in California and $1.3 million from New York.
Jones has spent $9 million so far on advertising, according to Advertising Analytics, running ads blasting both Trump and Tuberville and focusing on the Birmingham and Mobile markets. The Democratic-aligned Duty and Honor PAC has also spent about $500,000 on ads for Jones.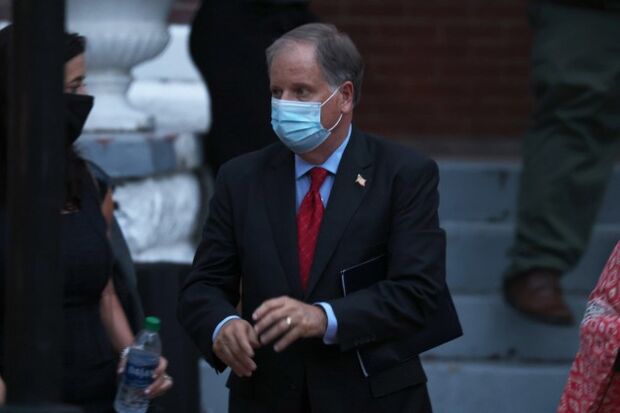 In a recent spot, Jones attacked Tuberville for the ways he has left several coaching jobs, saying "it's not just that he's a quitter, it's how he quits." The ad reminded voters in the college football-mad state about Tuberville's exit from Auburn with a $5 million buyout. In another, Jones highlighted his own record of supporting veterans while referencing a segment on Fox News about reports that Trump called service members "suckers and losers."
Earlier ads focused on Tuberville's investing in what was later alleged to be a Ponzi scheme, saying he has the "wrong kind of experience." Tuberville's business partner was criminally charged and Tuberville faced a lawsuit that said he defrauded clients out of $1.7 million.
Tuberville's only three ads have focused on his personality as a coach and how he supports veterans and Trump.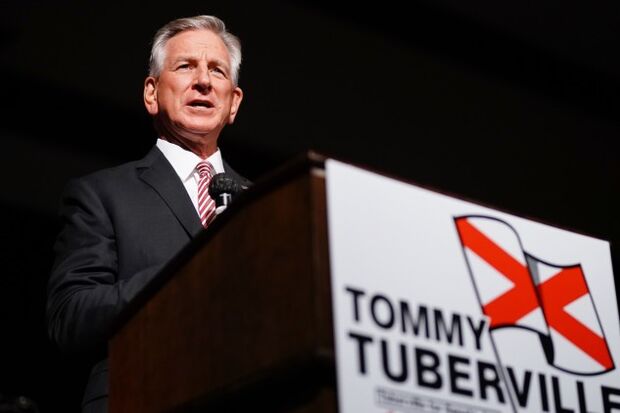 Alabama Democratic strategist Zac McCrary said Jones's fundraising advantage has helped him be able to define Tuberville. Alabama voters don't necessarily want a candidate as inexperienced or as tied to Trump as Tuberville, McCrary said. Republicans, on the other hand, say criticizing Trump likely won't go over well given how popular the president is in the state.
Earlier in September, Tuberville was criticized by media organizations for saying, in reference to the Voting Rights Act, "it's run by our government. And it's run to the, to the point that we, it's got structure to it. It's like education. I mean, it's got to have structure." After the Sept. 29 presidential debate, Tuberville defended Trump's performance, saying he believed the president did condemn white supremacist groups.
"Even if Alabama is going to vote for Trump, which it almost certainly will," McCrary said, "I think there are a lot of Trump voters who would rather have a senator who is independent of whoever the president is than somebody who's a lockstep vote in the pocket of either president."
Lizzie Grams, Jones' campaign press secretary, said in a statement that voters are drawn to Jones' support of the Affordable Care Act and how he has been a "independent voice for the state."
"Alabamians know who has their back, and who will never quit on them," Grams said," and that's Doug Jones."
Not 'Maliciously Stupid'
Alabama has straight-ticket voting, which allows people to cast ballots just by indicating their party preference at the top. About 65% of the ballots in 2018 were straight-ticket, according to the Alabama Secretary of State's office.
Tuberville is "not driving anyone to the polls" but many rural Republicans will vote straight-ticket to re-elect Trump, Brown said.
"No one is like, 'I've gotta go vote for Tuberville,' other than the Republicans who want to make sure there's a Republican majority for the Senate," Brown said. "Trump at the top of the ballot will make a big difference."
David Mowery, an Alabama campaign consultant who has worked for candidates of both parties, said the high number of Republicans in the state will make the difference for Tuberville. He's not the "bogeyman candidate" that Moore was, Mowery said.
"Tuberville's made some gaffes and he'll probably make some more," Mowery said. "There's just this threshold of he doesn't seem actively evil or maliciously stupid."
The Underdog, Again
There's still time for Jones to have a late surge, McCrary said. He said there's been "some revisionist history" of the 2017 election that now sees Jones' win as less of an upset than it was viewed at the time.
Mowery said he didn't think Jones could win in 2017 until he did, and he expects Jones to do better than Democratic presidential nominee Joe Biden. Jones has focused his campaigning in urban areas of the state, where there is enthusiasm for him, Brown said.
McCrary said Jones has room to sway voters who aren't enthusiastic about Tuberville. Tuberville has kept a low profile since defeating a comeback attempt by Sessions in the Republican primary, and Jones has the resources to educate voters about how to split tickets.
"The 2017 conventional wisdom was no matter how bad of a candidate Roy Moore was, Democrats just couldn't win a U.S. Senate race in Alabama," McCrary said. "Some of those people are saying Democrats just can't win reelection in a presidential election year. Jones still has a chance to go in there real strong and surprise people."
To contact the reporter on this story: Samantha Handler in Washington at shandler@bloombergindustry.com
To contact the editors responsible for this story: Bernie Kohn at bkohn@bloomberglaw.com; Bennett Roth at broth@bgov.com
Stay informed with more news like this – from the largest team of reporters on Capitol Hill – subscribe to Bloomberg Government today. Learn more.