Republican Tapped to Serve in Secretive Ethics Role No One Wants
Guest replacing Walorski but tenure may be short-lived
Panel enforces policies for House, investigates lawmakers
Rep. Michael Guest has a new job as the top Republican on a panel that enforces ethics rules for House lawmakers — replacing the late Rep. Jackie Walorski (Ind.) in a role some describe as thankless.
Guest (Miss.) is taking over as ranking member of the secretive House Ethics Committee for the rest of the year, said Mark Bednar, spokesman for House Minority Leader Kevin McCarthy (R-Calif.). Walorski died in a car crash earlier this month.
It isn't clear how long Guest will stay on the panel, which deals with thorny issues that have put Republicans in a difficult spot while Democrats hold control of the chamber. Guest also has ambitions to take over the top GOP slot on the House Homeland Security Committee.
Read More: Indiana Congresswoman Jackie Walorski Dies in Car Accident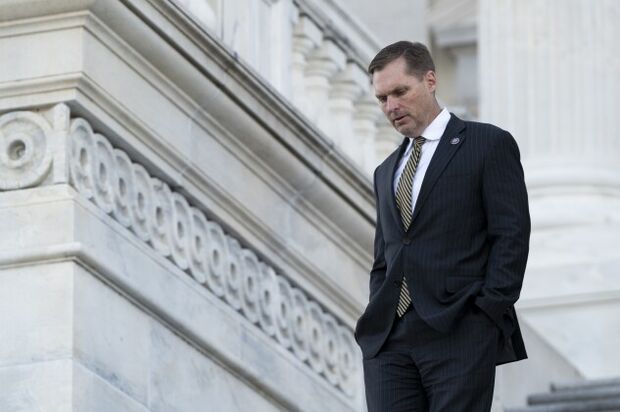 Guest's office and Tom Rust, the Ethics Committee's staff director, declined to comment. A spokesperson for the panel's chair, Rep. Ted Deutch (D-Fla.), didn't respond to a request for comment.
The evenly divided panel is tasked with advising colleagues on the chamber's ethics rules and investigating allegations of improper or illegal conduct. It usually operates out of the public eye as it weighs punishments against colleagues, ranging from a written condemnation to expulsion from Congress.
"You need a consensus, you need a bipartisan agreement do anything," said former Rep. Charlie Dent (R-Pa.), a former Ethics chair.
The job has become more politically fraught during the pandemic and in the aftermath of the Jan. 6 insurrection. The Ethics Committee has been charged with enforcing mandates that members pass through magnetometers to detect guns, and wear masks on the floor to prevent the spread of Covid-19.
Among the dozens of investigations it has conducted in recent years, the Ethics Committee has recommended admonishment of Rep. Matt Gaetz (R-Fla.) for apparently threatening former President Donald Trump's attorney Michael Cohen, referred former Rep. Duncan Hunter's (R-Calif.) misuse of campaign funds to the Justice Department, and fined Rep. David Schweikert (R-Ariz.) for mismanaging his official and campaign funds.
Guest, a former district attorney, this year has served as the top Republican on the Ethics subcommittees tasked with probing allegations that Rep. Madison Cawthorn (R-N.C.) improperly promoted a cryptocurrency, and responding to the indictment of former Rep. Jeff Fortenberry (R-Neb.) on campaign finance charges.
Read More: Votes for a Bipartisan Jan. 6 Panel Weigh on House Republicans
'Somebody's Got to Do It'
Dent compared the job of probing the actions of fellow House members to running internal affairs investigations in a police department, or serving "a tour of duty."
"It can lead to some very uncomfortable elevator rides with your colleagues," Dent said.
If Republicans take control of the House in the midterm elections, Guest — who has largely voted with his party on key priorities since joining the House in 2019 — may have his eye on another gavel.
Since Rep. John Katko (R-N.Y.)'s retirement announcement, Guest has been competing against more hawkish colleagues for the job of top Republican on the Homeland Security Committee. That post offers a more public role, with an opportunity to shape investigations and legislation on border and election security. He wouldn't be able to lead both committees.
"He is a member who likes to spend the time talking to people who know issues and can help him learn issues that he is unfamiliar with," said Andrew Howell, a Monument Advocacy lobbyist who works on homeland security issues. "He takes the time to convene smart folks get their points of view and integrate them into his thinking when he is looking to know more about an issue."
Read More: Republicans Eye Top Spot on Immigration, Election Security Panel
McCarthy and other members of leadership will ultimately decide whether Guest stays on to lead the Ethics panel, replaces Katko on Homeland Security, or neither.
But Dent said the leadership understands the Ethics post is "not an enviable task," which could help Guest build favor with colleagues who will choose what, if any, top post he holds in the next congressional session.
"It's not an assignment anybody really seeks," Dent said. "But somebody's got to do it."
With assistance from Emily Wilkins and Ellen M. Gilmer
To contact the reporter on this story: Zach C. Cohen in Washington at zcohen@bloombergindustry.com
To contact the editors responsible for this story: Sarah Babbage at sbabbage@bgov.com; Anna Yukhananov at ayukhananov@bloombergindustry.com