Republican Group Targets McConnell on Election Security Measures
Ads urging action airing in Kentucky, states of other senators
McConnell has opened door to more election security money
A Republican group at odds with President Donald Trump is pushing Senate GOP leaders to take up election security measures that proponents say are needed to guard against Russian interference.
Republicans for the Rule of Law, a group that includes former Reagan and Bush administration officials, is launching a new television ad campaign Wednesday criticizing Majority Leader Mitch McConnell (R-Ky.) and other GOP senators for not moving on the issue.
Chris Truax, a member of the group's legal advisory board, said McConnell doesn't want to anger Trump, who has downplayed Russian meddling in the 2016 election.
"He knows President Trump will get very upset about a bill and he will veto it and then they'll have to override the Trump veto and that will cause endless political distress for all the members of the caucus," Truax said in an Aug. 20 interview.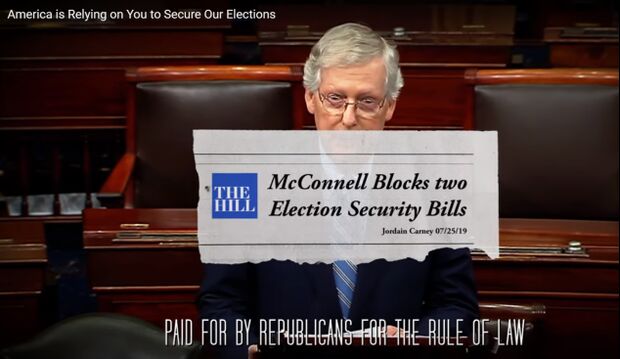 The group is also targeting some of McConnell's fellow Republicans who have backed election security legislation. Ads also will run in the homes states of Senate Rules and Administration Committee Chairman Roy Blunt (R-Mo.), Judiciary Chairman Lindsey Graham (R-S.C.), and Sens. Marco Rubio (R-Fla.) and James Lankford (R-Okla.). McConnell and Graham are up for re-election in 2020.
The ads, which cost $400,000, will air almost daily through the end of the August recess. They will run statewide during Fox & Friends as well as on Meet the Press and Fox News Sunday in the lawmakers' hometowns.
The group is an offshoot of Defending Democracy Together, a 501 (c)(4) organization that doesn't have to disclose its donors. The organization's leaders include William Kristol, a longtime GOP commentator and founder of the Weekly Standard and Christine Todd Whitman, former New Jersey Governor and Environmental Protection Agency administrator under President George W. Bush. They've advocated for the Trump administration to take a tougher stance against Russian President Vladimir Putin.
Truax said the group wants McConnell to allow lawmakers to consider measures that have already been the focus of Senate committee deliberations. They include legislation ( S. 1060) Rubio cosponsored to create sanctions on foreign actors found to have attacking election systems, a bill (S.1356) Graham wants to improve the transparency of advertisements, and a measure (S. 1454) Lankford cosponsored to better protect voting systems from cyber threats. All have Democratic co-sponsors.
Democratic Donor
Truax declined to discuss the organization's donors. McConnell's re-election campaign noted that one of the donors of Defending Democracy Together is Democracy Fund Voice, founded by Pierre Omidyar, a Democratic contributor who started eBay Inc., and his wife Pam. The group said on its website that it provided $1.6 million in grants to Defending Democracy Together and Republicans for the Rule of Law in 2018.
Omidyar has made hundreds of thousand dollars in campaign contributions since 1999, mainly to Democratic candidates and party committees, according to Federal Election Commission reports. He also contributed nearly $500,000 to two anti-Trump super PACs during the 2016 presidential campaign.
Omidyar's foundation has contributed to the Republican group, "along with more than a dozen other large-dollar contributors, and literally thousands of other donors around the country," said Carson Putnam, chief of communications for Republicans for the Rule of Law.
McConnell hasn't endorsed any of the election security bills, telling Kentucky Secretary of State Alison Lundergan Grimes (D), in a Aug. 2 letter that the Senate already has passed a number of other measures and also provided $380 million in the fiscal 2018 omnibus (Public Law 115-141) for election security. But McConnell also hasn't "foreclosed doing more in appropriations," said his spokesman Doug Andres.
The fiscal 2019 omnibus didn't provide funding for the election security program, which is administered by the Election Assistance Commission.
Grimes, who unsuccessfully ran against McConnell in 2014, is pushing McConnell to back the House elections and ethics overhaul legislation (H.R.1), even though the GOP leader has called it a "power grab" aimed at federalizing election systems.
`Moscow Mitch'
Democrats are also pushing McConnell to act. Progressive groups recently nicknamed him "Moscow Mitch" and set up billboards in Kentucky showing him in a Russian military uniform.
State and local officials who want more help to address hacker threats said a starting point in the Senate is likely the House-passed version of the fiscal 2020 Financial Services spending bill (H.R. 3351) that would provide $600 million to the Election Assistance Commission for election security grants. The Senate Appropriations Financial Services and General Government Subcommittee could consider putting such funds in their own version of the bill, they said.
Senate Finance Committee ranking member Ron Wyden (D-Ore.) said during an Aug. 20 conference call organized by Public Citizen that voters also need to start flooding the Capitol switchboard Wednesday with calls to pressure McConnell to act on election security.
With assistance from Kenneth P. Doyle and Michael Smallberg
To contact the reporter on this story: Nancy Ognanovich in Washington at nognanov@bgov.com
To contact the editors responsible for this story: Bennett Roth at broth@bgov.com; Adam Schank at aschank@bgov.com