Reopening Indian Country Schools Seen Risky While Broadband Lags
Bloomberg Government subscribers get the stories like this first. Act now and gain unlimited access to everything you need to know. Learn more.
The federal government's September timeline for reopening 53 American Indian schools for in-person classes is premature and may be politically motivated, congressional Democrats say, even as access to broadband for virtual learning lags.
The Bureau of Indian Education plans to reopen brick-and-mortar schools in 10 states on Sept. 16, it told tribal leaders in a memo last week. The bureau is housed within Indian Affairs at the Interior Department.
President Donald Trump has pressured K-12 schools for weeks to reopen in the fall despite outbreaks of coronavirus cases and his administration has backed conditioning additional federal relief on in-person classes. The White House argues keeping schools closed would harm children and the economic recovery. While many school districts have rejected White House pressure, federal officials operate the 53 schools.
The bureau needs to provide more information about spending on sanitary and health protocols before announcing a return to classes, Raul Grijalva (D-Ariz.), chairman of the House Natural Resources committee, said.
"You can't talk about opening these schools without looking at the context of what Indian Country went through with the Covid-19 pandemic and is still going through," Grijalva, who announced he had tested positive for Covid-19 earlier this month, said in an interview.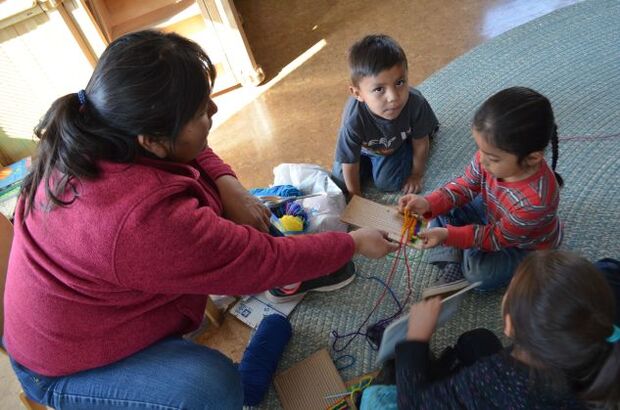 In the Navajo Nation, which is served by Bureau of Indian Education schools, there were 9,356 Covid cases and 477 deaths linked to the virus as of this week, according to the Associated Press.
Tom Udall (D-N.M.), the vice chairman of the Senate Indian Affairs Committee, said the federal government shouldn't push mandates that ignore local virus transmission rates or tribal preferences.
"This decision is more evidence of the administration's cruel calculus that scoring political points is more important than looking out for Native lives and respecting Tribal sovereignty," Udall said in a statement.
The Bureau of Indian Affairs didn't immediately respond to a request for comment.
Learning Options
Although schools will have a range of options, including full-time attendance and rotating schedules to reduce class sizes, brick-and-mortar schools will be open "to the maximum extent possible," Tara Sweeney, assistant secretary of Indian Affairs, said in the Aug. 6 memo announcing the September start date.
"Students more effectively learn and grow while attending school during in-person academic instruction," Sweeney wrote. "The BIE is also better able to ensure continuity in student academic services and enrichment when students are present at school."
Reopening plans at the Bureau of Indian Education recommend allowing families to choose between in-person or virtual learning for students.
Many U.S. school districts reopening classes are offering the same options. Grijalva said American Indian families won't have much of a choice because of limited home internet access.
"The digital divide in Indian Country is deeper than it is anywhere else in the country," he said.
More than 34% of American Indian and Native Alaskan households lack high-speed home internet, the highest rate for any racial or ethnic subgroup, the Alliance for Excellent Education and National Urban League reported last month.
Many schools in Indian Country also serve large geographic areas, which some argue could raise the danger of exposure to transmission.
'What's the Rush?'
It's "an outrage" that the Interior Department is going to open BIE schools for in-person education as early as September, Nicole Horseherder, mother of two school-aged children and a member of the Navajo Nation, said in an interview Thursday.
Tribal governmental offices, including several under the Interior Department and Bureau of Indian Affairs, are closed for in-person interaction, she said. "Why are they demanding BIE schools open when they're not making the same kind of decision for other people?" she said. "What's the rush?"
Horseherder said her children will attend school online. "There's no reason why kids need to be physically in school to learn," she said.
Percy Deal, also a Navajo member, said it would be better if the Bureau of Indian Affairs ensured instead that every child has access to the tools they need to learn online.
"The virus effect on the Navajo Nation has been extremely high," he said. "The numbers are increasing among kids. If the BIE opens up these schools, all it's going to take is one kid, one staff member, or one parent in a school environment for a big explosion of cases to happen."
Consulting Tribal Leaders
American Indian students should be provided a high quality education as safely as possible, a spokeswoman for John Hoeven (R-N.D.), chairman of the Senate Indian Affairs Committee. The Bureau of Indian Education's guidance enables school leaders to work with the bureau and local tribes to determine how best to reopen schools safely, the spokeswoman said.
Bureau of Indian Education-funded K-12 schools were allocated more than $153 million through the CARES Act (Public Law 116-136).
A school reopening task force at the Bureau of Indian Education took public comments on reopening concerns, Tony Dearman, bureau director, told lawmakers in a hearing last month. Officials also met three times with tribal leaders in July over reopening plans.
Bureau schools and staff were working on individual reopening plans based on available local resources. The agency had also consulted tribal health agencies and the Indian Health Service to discuss reopening plans, he said.
To contact the reporters on this story: Andrew Kreighbaum in Washington at akreighbaum@bgov.com; Tripp Baltz in Denver at abaltz@bloomberglaw.com
To contact the editors responsible for this story: Robin Meszoly at rmeszoly@bgov.com; Sarah Babbage at sbabbage@bgov.com
Stay informed with more news like this – from the largest team of reporters on Capitol Hill – subscribe to Bloomberg Government today. Learn more.