Remap Panel is Asked to Segregate the Rich: Ballots & Boundaries

Here's a twist on keeping "communities of interest" intact in congressional redistricting.
Some residents of Jefferson County, Colo., on the west side of the Denver metro area, don't want to be lumped into a revised 7th District (shaded in brown on the draft map below) with wealthier suburbs in Douglas County. Their argument is that the interests of the rich are different than those of lower- and middle-income people.
On transportation, for instance, one county has more public transit riders, and the other has more car commuters. Homelessness and affordable housing are bigger issues in Jefferson.
Kip Kolkmeier was among the Jefferson County residents who used a public hearing to urge the state's redistricting commission to define "communities of interest" as "people who need the same government services you need" and "people who have the problems that need to be addressed that are similar to yours."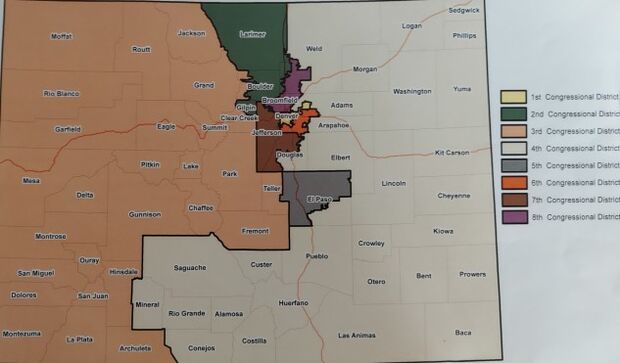 Jefferson County has about 582,000 residents, and each newly drawn district is going to have about 721,000 people. Keeping all of Jefferson County in one district would mean dividing other counties to get the right number of people per member of Congress, said commission member Bill Leone.
"How do we explain to the people in those other counties why they're going to be carved up?" he asked. — Tripp Baltz
(Were you forwarded this newsletter? Subscribe for free.)
THEY PROSECUTED, WE COUNTED
To quantify how much election fraud can be documented, reporters with Bloomberg contacted more than 100 officials in all 50 states. All but three states (North Dakota, South Dakota, and Texas) responded.
The reporters asked about criminal charges and convictions for voting fraud between November 2018 and the present. To be as thorough as possible, we supplemented that by researching news reports and we consulted the Heritage Foundation's database.
Bottom line: During a timeframe when hundreds of millions of people participated in thousands of elections around the country, it was possible to document about 200 cases in which the evidence was compelling enough for prosecutors to take to court. READ MORE — Alex Ebert
MONEY MOVES TO WASHINGTON …
We'd been wondering about the cost of Texas Democrats' extended stay in Washington, D.C., where they've been meeting with members of Congress while remaining out of state to deny a quorum and thwart, at least temporarily, enactment of new voting laws. Former U.S. Rep. Beto O'Rourke's group, Powered by People, is financing $600,000 of those expenses, the Texas Tribune Reported.
… AND FROM WASHINGTON

Speaker Nancy Pelosi sent another big political donation to help Democrats blunt Republican redistricting efforts ahead of the 2022 election. Pelosi's PAC to the Future sent $125,000 last month to the National Redistricting Action Fund, which is the 501(c)(4) social-welfare arm of the National Democratic Redistricting Committee. Pelosi's PAC sent the same amount in March to the NDRC, which is led by former Attorney General Eric Holder.
The temporarily self-exiled Texas House members are to meet with Pelosi (D) and some of them will testify Thursday before a U.S. House subcommittee.
Tomorrow is the 58th anniversary of the March On Washington, when Martin Luther King delivered his "I have a dream" speech. Voting rights marches are planned in Austin as well as Atlanta, Houston, Miami and Phoenix. — Greg Giroux
RELATED: Texas House Speaker Signs Civil Arrest Warrant for Democrat Who Returned to Washington (Texas Tribune)
GEORGIA: FUTURE FRAUD
Georgia House Speaker David Ralston (R) announced a plan to include new funding for the Georgia Bureau of Investigation to start probes where election fraud is suspected.
The money will accompany legislation in the 2022 session allowing the bureau to initiate such investigations without a request from any other local or state authority, such as the Georgia Secretary of State, whose office oversees elections. — Atlanta Journal-Constitution
PENNSYLVANIA: ANOTHER STATE DECERTIFIES MACHINERY
The Keystone State's top election official has decertified the voting machines of sparsely populated Fulton County after officials disclosed that the county had agreed to requests by local Republican lawmakers and allowed a software firm to inspect the machines as part of an "audit" after the 2020 election. — AP
MARYLAND: SEE YOU IN DECEMBER
Leaders of Maryland's General Assembly are considering convening in special session during the first full week of December to tackle congressional redistricting. — Maryland Matters
Must Reads:
Texas has won two new congressional seats thanks to a surge in the population of people of color, who vote more often for Democrats. But the state's Republicans will benefit because they'll draw the maps allocating political power for the next decade. — Margaret Newkirk and Greg Stohr
It's become easier to find examples of states where gerrymanders are consistently effective. — Larry Sabato's Crystal Ball
Resources
Add Us to Your Inbox
Click HERE to sign up for Ballots & Boundaries, your weekly check-in as states change voting laws and revise political districts, influencing power and policy decisions for the next decade.
To contact the editors responsible for this story: Tina May at tmay@bloomberglaw.com; Katherine Rizzo at krizzo@bgov.com